Kingdomino Gets Free Pnp Expansion
Kingdomino Creator Bruno Cathala has released a free print and play expansion for the popular game kingdomino check out how you can get a copy for yourself and how to play below.
About Kingdomino
In Kingdomino, you are a Lord seeking new lands in which to expand your kingdom. You must explore all the lands, including wheat fields, lakes, and mountains, in order to spot the best plots, while competing with other lords to acquire them first.
The game uses tiles with two sections, similar to Dominoes. Each turn, each player will select a new domino to connect to their existing kingdom, making sure at least one of its sides connects to a matching terrain type already in play.
The order of who picks first depends on which tile was previously chosen, with better tiles forcing players to pick later in the next round. The game ends when each player has completed a 5×5 grid (or failed to do so), and points are counted based on a number of connecting tiles and valuable crown symbols.
How to Play Kingdomino The Court

Each person builds their kingdom following exactly the same rules as in the basic game. But in addition, at the end of their turn, they can do one of the following.
EITHER spend 2 different resources from their kingdom to recruit a character or construct a building from those that can be seen (the pieces selected in this way are only replaced when the following row of dominos is formed) 
OR spend 4 different resources from your kingdom to recruit a character or construct a building to be chosen from the pile of tiles that is face-down. The pile of tiles is shuffled and placed face-down afterwards. 
A piece obtained in this way is placed on A SQUARE CONTAINING NO CROWN OR RESOURCE 
(but not necessarily on one of the squares containing the resources used for this purchase) 
A building can only be placed on land that is appropriate (mill in a wheat field, etc…) 
Characters can be placed on any type of land (as long as there is no crown or resource)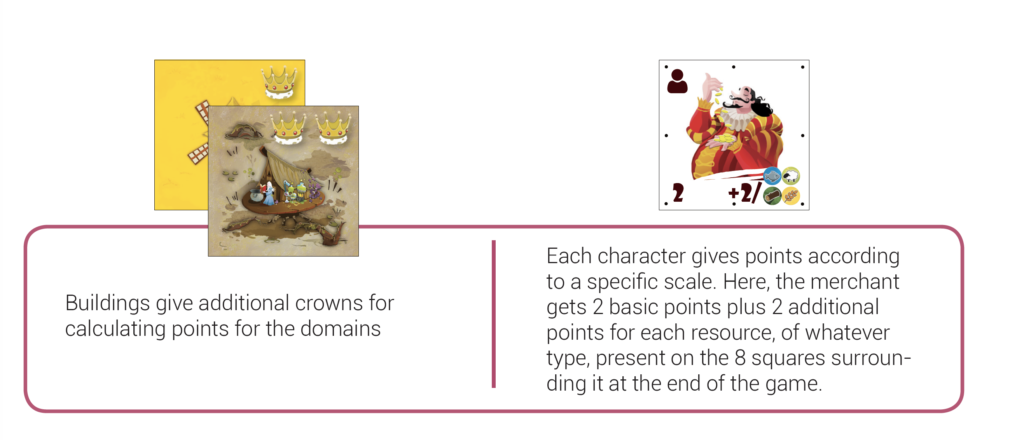 Download