Free Dungeon & Dragons Campaigns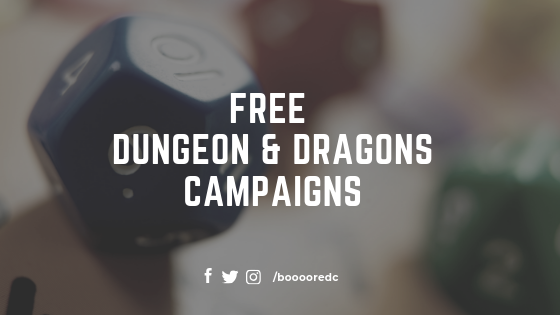 One of the most often questions we hear DMs (new and experienced) asking about is where to find free adventures and similar content for D&D Fifth Edition.
The solution we hear most of the time is the suggestion to homebrew your own campaign and a link to a resource to make this process a bit simpler but sometimes Homebrewing a campaign can be hard for a beginner or even a veteran player if you are time-poor. So we have put a list together of free campaigns.
So if you are looking for something simple to play with your group there are some great free D&D Campaigns that you can download and get started right away.
If you are new to Dungeons & Dragons and have just stumbled across this post during your internet journey then make sure you check out our Beginners Guide to Dungeons & Dragons
Here is a full list of some D&D Campaigns we found that are free for personal use — length varies, but most do not extend beyond 3-4 sessions.
Note: All Wizards of the Coast documents go directly to WotC's own servers – not hosted by me or any other third party. The material they provide is for personal use only and should be not be resold or redistributed.
Did you like this list please get the word out and share it with your friends. Are there any campaigns we missed add them to the comments section and we will add them to this list.