Z-MAN Games Releases the Best Version of Love Letter Yet! and it's Free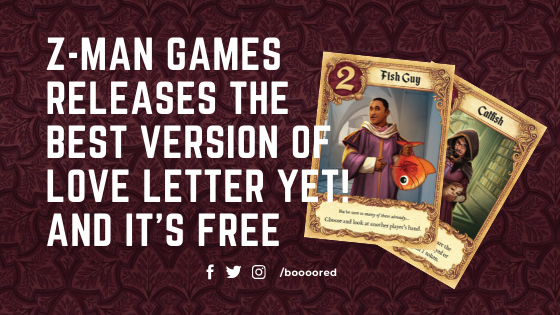 In this new edition of the game, the original characters of Love Letter face the brave new world of online dating in Love Letter: Sender, a free print-and-play card game!
Courtship isn't as easy as sending a simple letter anymore.
Unique obstacles stand between you and happily ever after: Fish Guys, misleading Group Photos, duplicitous Catfishes, and a host of other eccentric characters crowd the dating pool. Can you persevere through the perils of online dating to find your Perfect Match?
How to Play this Dating App? Style Love Letter
To play, download the printable file below.
Print and cut out the cards, and then follow the same rules for setup and play as Love Letter using tokens of your choice.
How do you win the dating game? Starting with a one-card hand, take turns drawing a card and playing one of your two options. Use card effects to try and knock other players out of the round; the fewer players left at the end, the less competition for coveted match tokens.
Stay in the game and try to find your Perfect Match!
About Love Letter
Love Letter is a game of risk, deduction, and luck for 2–4 players. Your goal is to get your love letter into Princess Annette's hands while deflecting the letters from competing suitors.
From a deck with only sixteen cards, each player starts with only one card in hand; one card is removed from play.
On a turn, you draw one card, and play one card, trying to expose others and knock them from the game. Powerful cards lead to early gains, but make you a target. Rely on weaker cards for too long, however, and your letter may be tossed in the fire!
DOWNLOAD Love Letter Sender