Ticket to Ride Fans it is time to celebrate.
Days of Wonder have done it again with the news of the release of a 15th-anniversary edition of the classic version of Ticket to Ride.
This release of Ticket to Ride or ticket as its referred to lovingly by fans will contain translucent versions of the classic Ticket to Ride USA trains and will also include a few other surprises to celebrate the 15th year of this iconic game.
Ticket to Ride Anniversary Releases
This is not the first time an anniversary edition has been released of this game with the ten year anniversary marking the release of an edition with a larger board and custom stylized trains containing everything from animals to coal.
The tenth-anniversary edition also had great retail success during and after its release with copies of the game now selling on eBay for double its original retail value.
What is Ticket to Ride
Ticket to ride for those that are yet to play it is a train placement game that revolves around players attempting to complete train tickets by placing there trains on their desired routes to gain the most victory points and win the game.
This game has been called a classic and has been given the title of a gateway game into the modern board game hobby with its easy to learn rules and simplistic but engaging gameplay it is been known to convert many people into the world of modern tabletop games.
The publisher days of wonder has released an official product description along with a list of what will be included in this celebratory version of Ticket to ride.
Official Description
Ticket to Ride celebrates its 15th anniversary in style with this new edition celebrating years of adventures on the rails! This edition features translucent train cars and a special booklet detailing the history of the game.

In Ticket to Ride, players build tracks across the United States. Players compete for train cards that allow them to claim routes between iconic American cities. Points are earned for every route completed, but ticket cards can earn players many more points if they connect the two cities shown on the ticket. But they must be careful: uncompleted tickets will cost players points!
What's in the Box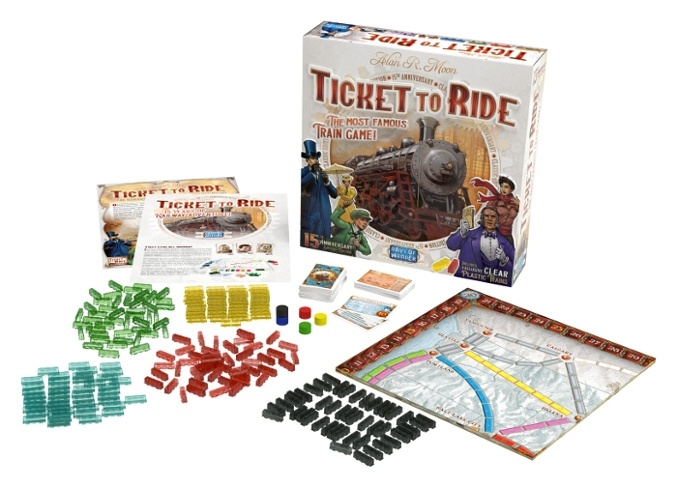 Contents:
1 Board Map of North American Train Routes
240 Clear Plastic Train Cars
110 Train Car Cards
30 Destination Tickets
1 Summary Card
5 Wooden Scoring Markers
1 Rules Booklet
1 Retrospective Booklet
Release Date
Ticket to Ride 15th-anniversary edition is not yet available for purchase but you can preorder it online now from some retailers however most have noted the following disclaimer on their websites.
Ticket to Ride 15th Anniversary Edition is expected to be released sometime in August. However most suppliers have not provided a detailed release date, so it might delay
Update
Update: This Game Has now been released: Check out Mightyape to Grab a Copy HERE