Wingspan Fans will Love this Print and Play Game
From the Creator of Wingspan you need to check out this print and play board game.
Tussie Mussie
GAME DETAILS: Players: 2-4 | Ages: 8+ | Length: 20 minutes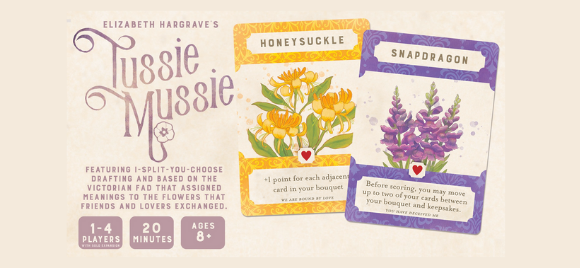 Designed by Elizabeth Hargrave, the creator of the bestselling birdwatching board game Wingspan, this tiny card game is based on the Victorian practise of exchanging small bouquets of flowers, with each bloom carrying its own subtle message of love or friendship.
This Game has impressed gamers since it won the 2018 Gen Can't design contest and is an amazing edition to your board game collection.
Along With the stunning artwork by Beth Sobel this game Features I-Split-You-Choose drafting, players draw 2 cards and offer one face-up and another face-down to their neighbour. The neighbour takes their choice and the active player receives the other. After everyone has 4 cards, face-down cards are revealed and everyone scores their collection. After 3 rounds the scores are totalled to determine a winner!
It's a beautifully simple game that is easy to create due to its low number of components
Offical How to Play
The active player draws two cards and looks at them. They will need to offer both to their neighbour, except one will be face-up and the other will be face down. Their neighbour will choose one card and the active player receives the other, so the decision here is very important. 
Once they decide which card to reveal, they place them onto the table. 
The neighbor must choose one to take based upon the information they have available in front of them. This is also a key decision. Will they take the face-up card or go for the unknown in the face-down card? These decisions get harder and harder as the game goes on as players can see what other players are collecting.
Once taken, the card's orientation is maintained, but if a face-down card was taken, the owner may now look at it to see what they received. 
The active player keeps the other card, maintaining its orientation as well. 
Cards are placed in order of receipt from left to right and must remain in that order for the round. 
After each player has 4 cards, the round ends and players move into the scoring phase of the game. 
Face-up cards are considered your Bouquet and remain in place. 
Face-down cards are considered your Keepsakes. Pull them closer to you, forming a second row but maintaining their order from left to right (and retaining the gaps formed between the Bouquet cards), and reveal them.  
Cards with abilities trigger in any order that you choose.
Then score your card abilities from left to right. Each Heart is worth 1 point as well. This example would have been an 8 point round. Not bad!
Players then compare total scores. Play to 3 rounds. The winner is the player with the highest combined score from all 3 rounds.
How to Buy
Get a Free Print and Play Copy
Get a Copy of Tussie Mussie Free on the Button Shy Games Blog
PNP: https://www.dropbox.com/s/2zmpa5oz18zcd25/TussieMussie-PNP.pdf?dl=0
Rules: https://www.dropbox.com/s/2fvfecxwek1kjin/TussieMussie-Rules.pdf?dl=0
Get a Full Color Print and Play Copy
You can check out a low color print and play here for $3: 
https://www.pnparcade.com/collections/new-games/products/tussie-mussie
Buy a Physical Copy from button Shy Games
Get a Copy for $12