Are you looking for some cheap games on a budget well we have you covered with some great games that all cost under $40 USD this months game Photosynthesis may be the game for you?
Photosynthesis
Cost $39
Game Details:
Players: 2–4
Playing Time: 30 Min
Age: 14+
Welcome to the world of Photosynthesis, the green strategy board game! Plant and shape the ever-changing forest as you cultivate your seeds and your strategy. Take your trees through their life-cycle, from seedling to full bloom to rebirth, and earn points as their leaves collect energy from the revolving sun's rays. Carefully pick where you sow and when you grow, as tees in the shadows are blocked from light, and from points. This game features realistic gameplay and beautiful graphics.
The sun shines brightly on the canopy of the forest, and the trees use this wonderful energy to grow and develop their beautiful foliage. Sow your crops wisely and the shadows of your growing trees could slow your opponents down, but don't forget that the sun revolves around the forest. Welcome to the world of Photosynthesis, the green strategy board game!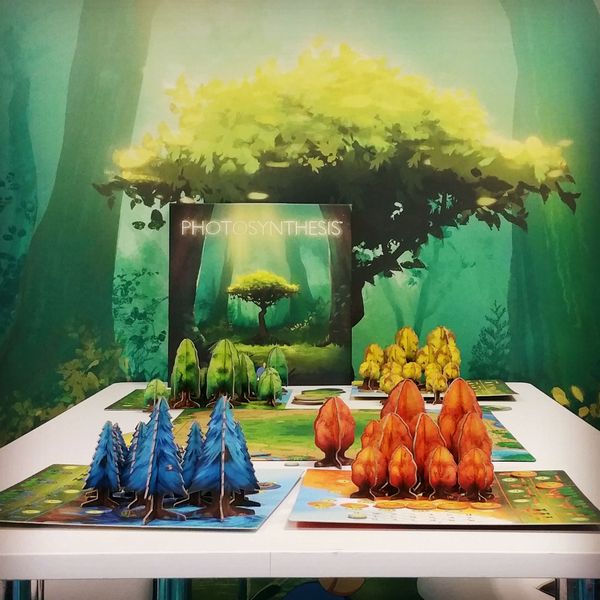 The concept behind Photosynthesis is so simple, it's brilliant. Each player places two trees in a hexagonal, game-board meadow. As the sun rotates around the meadow's six edges, your trees soak up sunlight. Unless they're behind and in the shade of other trees. You spend your sunlight like a currency to grow your trees taller; thereby collecting more light and making a longer shadow to cast on your opponents. Or you can spread and grow seeds to make more trees. To gain points, fell your giant trees faster than your friends. That's it.
Because of its sheer logicality, Photosynthesis is an absolutely perfect game to lure in folks new to the world of modern board games. Veteran gamers will find much to love as well. Sure, flora aren't known to be the most cutthroat of life's kingdoms, but you can revel in touches of nakedly competitive meanness as your shadows smother you opponent's ill-laid shrubs.
This game is sure to be a blast with your friends and at such a cheap price point there is no reason to add it to your collection
Where to Buy: MightyApe *affiliate Link AU SHOPPERS