Pandemic Hot Zone Released in Print & Play Format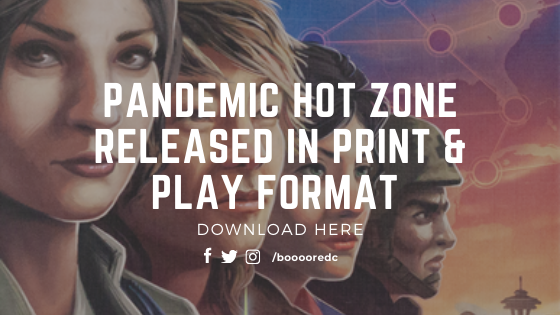 Pandemic Hot Zone is the latest release in the pandemic series by Matt Leacock.
The game is the first in a series of smaller, more portable versions of the beloved award-winning 2008 cooperative game.
This game being released in a free-to-play format is a fantastic new micro addition to the pandemic franchise.
What's Different
In Pandemic: Hot Zone–North America, you are members of a specialised disease fighting team
You will need to fight diseases across North America while working to discover the cures. Using your unique skills, you must work together to stop the spread of a global pandemic, you know just like real life.
This Version however has a big change in this new game is that Your Cards are always played face up!
Making this the most cooperative pandemic game yet.
However most of the other rules are the same to the classic game.
There are the same actions just like the classic pandemic: Dive/Ferry, Share Knowledge, Direct Flight, Treat Disease, Discover a Cure, Treat Disease. These actions are used by the players to try to cure and eradicate the diseases.
Watch it played has released a short video recapping the rules if you need a refresher while your warm up your printer.
How to Download it
Check out our guide on How to Create Print & Play Games if you need some help
The print-and-play files available below include Hot Zones small board (making it really portable and easy to play) and all of the cards you need to experience the game for yourself.
You'll have to gather a handful of proxy tokens to replace the usual pawns, cubes, and progress markers, either from other games or miscellaneous household finds. (if you have an old copy of Legacy this is perfect for this!)
Once you print the files, cut along the guidelines, and assemble your board, your game is ready to play.
Download the print-and-play files here!