My Ultimate Travel Game – Ticket To Ride New York
The first-ever big box game I purchased was Ticket to Ride.
I am without a doubt a ticket to ride fanboy its the game I played on my honeymoon. It's the first game I introduced my wife to and is hands done one of the most played games in my collection.
With all this in mind, I defiantly have a positive bias towards the ticket to ride franchise of games, however, Ticket to Ride New York has done something unique that has given it a special place in my board game collection.
This game does something special that adds to an already crowded franchise of Ticket to Ride Games with over 15+ games in the series a person can easily dedicate a whole day to trying to play them all and have trouble doing it.
This a huge accomplishment for any board game even more so for one that was first released in 2004
However, New York has something different about it and its not the dynamics of the board that make it stand out or the theme it's actually something very simple.
The physical size of the game makes It perfect for a holiday or vacation.
The Perfect Holiday Game
Let me explain why Ticket to Ride New York is a fraction of the size of a normal ticket to ride game.
Let me show you, the image here has two copies of ticket to ride the classic original game and new york.
As you can see from the image new york is a lot smaller than the classic game making it a perfect travel companion.
The game also features the familiar gameplay from the Ticket to Ride game series players do the standard collect cards, claim routes, draw ticket actions on there turns. The game, however, is played on a scaled-down map of Manhattan that allows you to complete a game in no more than 15 minutes.
The board is tiny at about 11 x 18 inches making it perfect to store your carry on luggage or suitcase.
The map itself is also considerably tighter than other Ticket to Ride maps perfect for those situations where you would like to play a game but want to play short rounds.
Great for those on vacation.
How the Game has Changed
In this compact version of Ticket to Ride Player have the same goal in mind complete routes to score points however players will now start with a supply of 15 taxis a change from the previous versions of the game.
They will also start with two transportation cards in hand and one or two destination tickets that show locations in Manhattan (and Brooklyn).
Your ticket to scoring points is just like the original game will be the routes your connect and create.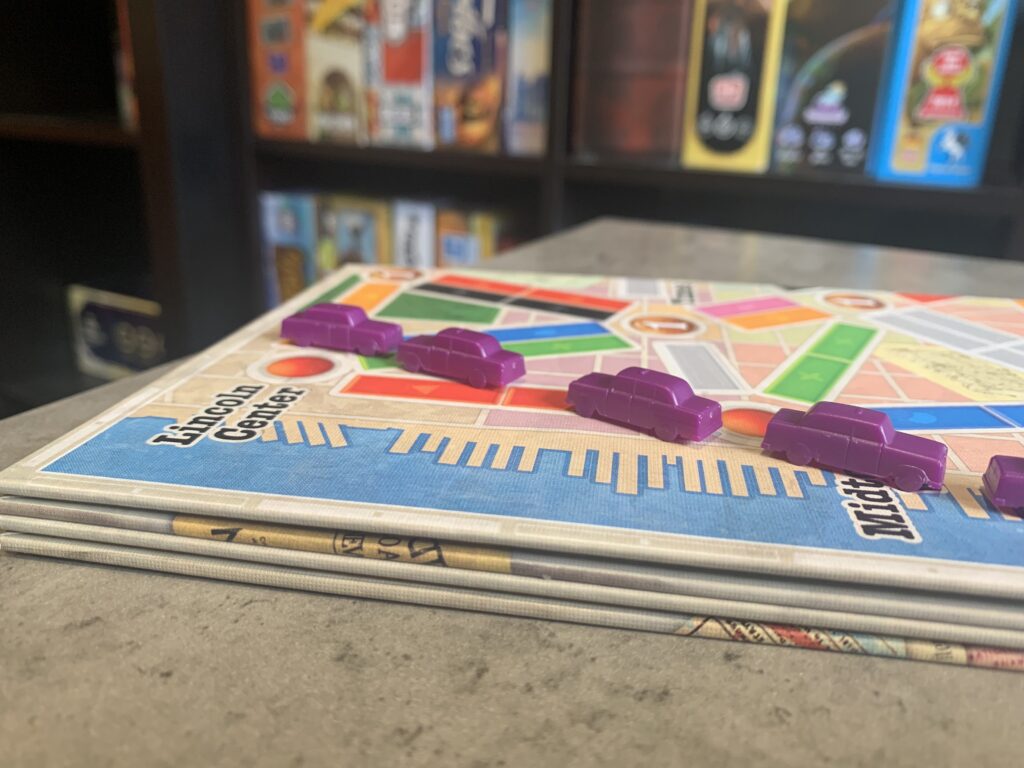 On each player turn, you will either draw two transportation cards from the deck or the display of five face-up cards (or you take one face-up taxi, which counts as all six colors in the game); or you claim a route on the board by discarding cards that match the color of the route being claimed (with any set of cards allowing you to claim a gray route); or you draw two destination tickets and keep at least one of them.
Players take turns until someone has no more than two taxis in their supply, then each player takes one final turn, including the player who triggered the end of the game.
Players will then sum their points, scoring points for the routes that they've claimed during the game, the destination tickets that they've completed (by connecting the two locations on a ticket by a continuous line of their taxis), and the tourist attractions that they've reached with their taxis.
You lose points for any uncompleted destination tickets, then whoever has the high score wins!
The game feels a lot like the original on a tighter schedule with the shorter rounds that are even more critical, but seasoned players will find themselves having a similar experience and feeling to playing the larger games in the franchise.
Just in a smaller box.
The Cost – is it affordable?
Ticket to Ride New York will only set you back around $20USD Amazon Affiliate Link Here or $35 AUD Mightyape Affiliate Link Here
So around a weeks worth of coffees maybe less depending on what you order.
Overall its a great cheap game to add to the collection, especially if you like to travel.