Can you survive in this Free Printable Medieval Deck Builder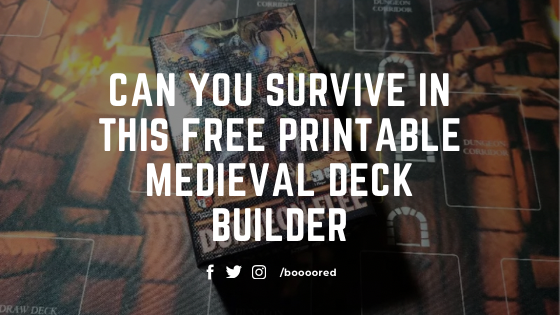 This single player game is a perfect print for those looking for a great one player challenge.

Dungeon flee is a fantastic print and play deck builder with a medieval theme the deck consists of 104 cards representing six dungeon levels, monsters, treasures, traps, doors, empty corridors, dead ends and stairs up.
While you are exploring a nearby dungeon, you found a horde of monsters planning something big for your nearby village.
You were attacked and fell off a ledge in to the void. Left for dead by the monsters, you now have to make your way out of the dungeon and back to your village. You have no ideas where you are or how to get out but you have to escape and your are running out of time.
Each corridor you take could lead you closer to the exit or directly into a dead end. Keep running and if you hit a dead end turn around and continue running. You can't stop and you must escape. Each turn presents new dangers and possible treasures.
If you can survive long enough to make it through four stairs up you escape the dungeon alive. Take too long or hit too many dead ends and you may never make it out alive.
This is a fantastic game with only 104 cards it's about the size of two standard decks of playing cards. The artwork is true to theme and a fantastic print for print and play enthusiasts or even something you can do at your local print shop if printing your own game is intimidating.

Grab a copy of the print and play files here on board game geek (account required)