Board Games you can play for Free – Lord Of The Fries
If  you are a bit tight for cash but are still looking for some new games and have access to a colour printer and ready to do some arts and crafts well this post is for you.
The board game community has got your back with some fantastic games that you will love in print and play format, this category is full of great free games that you and your friends will love, all in a printable version.
This featured Print and Play Game is Lord Of The Fries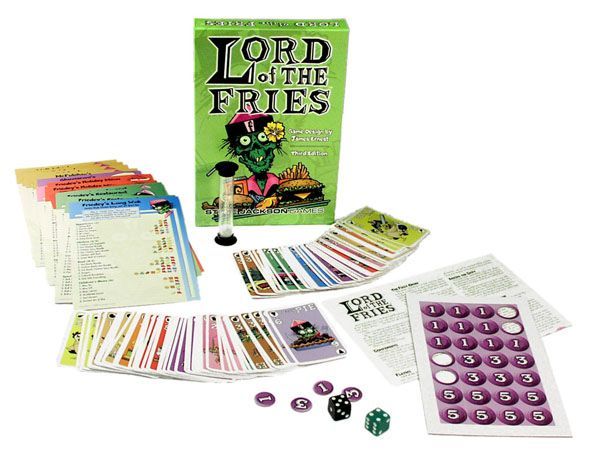 Lord of the Fries is a thematic sequel to Give Me The Brain!. It takes place at the same restaurant, has the same cast of characters, and requires roughly the same equipment. But the game is entirely different. 
Players choose orders (sometimes randomly, sometime not) from the figuratively colorful Friedey's menu, and try to fill them with cards from their hands. Some orders are easy, like the Cowabunga. One Cow Meat, one Bun. Some are a little harder, like the Chickabunga Conga: same as a Chickabunga (Bird Meat plus Bun), plus Fries and a Drink. Sound easy? Now try your hand at a Lord of the Fries, a Meat Munch, or the infamous Patriarch (Fish Meat, Cheese, Bun, Fries, Drink, and the oft-maligned Strawberry Pie).
Check out more about the Game at https://cheapass.com/free-games/originals/lord-of-the-fries/
Download Lord Of The Fries Below