Free Escape Games – Print & Play Unlock
This Post Contains Affiliate Links for Relevant products, But is not a paid advertisement all opinions are my own
We at Boooored Love the option of roadtesting a boardgame before we commit to a purchasing a game. Luckily the team at Asmodee understand this and have released five copies of there Escape room game that you can download and print from home.
Asmodee has released Five Free Escape Games for Players to Print and Play these free Escape games are called 5th Avenue, The Elite, Doo-Arans dungeon, Temple of Ra & A Tutorial game.
For those that are new to the world of Print & Play Games, these games are free and have been released for people to download and print but are not for retail sale. So please feel free to download these and try them out.
Unlock! An Escape Game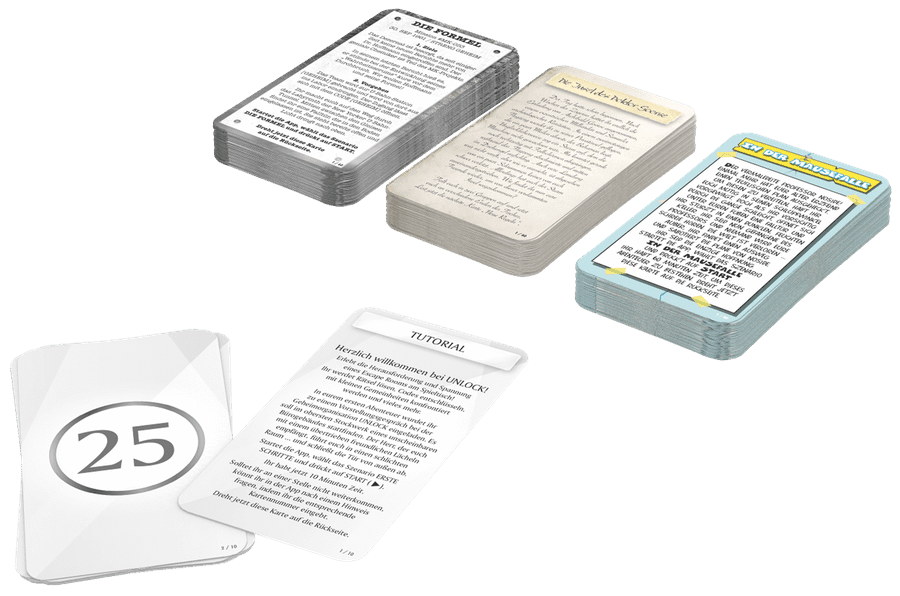 The Series is very fittingly titled Unlock! and is a cooperative card game inspired by escape rooms that use a simple system of cards which allows players to search scenes, combine objects, and solve riddles. This game provides players with a unique experience that feels remarkably similar to a physical escape room. When players play Unlock! they get to embark on great adventures, while seated at in the comfort of there own home using only cards and an easy to use companion app available on both IOS and Android devices that can provide clues, check codes and monitor the time remaining before the game ends. This gives players the same time pressures they would experience in a physical escape room.
The game is suitable for 1 – 6 Players as recommended on the box in the past we at boooored have also tried adding more players to a campaign with one playthrough we even had 12 people playing. This strategy to increase the player count, however, it had its negatives just like the experience you would have if you added 12 people to a physical escape room this game is so much better when following this recommended player count. We found that adding all these additional players just becomes too crowded as people debate over what to do next or try to share as they observe the cards looking for hidden clues.
That being said if you have an extra player or two don't feel like this game won't work for your group as the player count really is flexible and our 12 players still had a fantastic time playing this game.
With all that being said the Unlock series of games are some of our favourite escape room's in boardgame format we even wrote a whole post decided to the series that you can read here Escape Rooms You Can Play Without Leaving The House with new games being added to the series on an ongoing basis they can be a cheap way to have that ongoing escape room experience and are well worth the investment.
However, I can hear you say but this post promised us free print and play games. Don't worry we did not forget Unlock has a bunch of demos that you can download and play for free. These are full adventures that will help you get a sense of what the series is about and are a great way to spend your Friday night. We do recommend if you really enjoy them I would make the investment in a full game to take it to the next level as the free campaigns are quite short in comparison and leave you wanting more.
I purchased this game for the first time we got three campaigns and played them over three weeks then ran a round-robin at a boardgame event allowing players to spend the whole night playing the three rooms in teams. With the Clear Favourite being the Squeek and Sausage Campaign, however, there was not a single disappointment but if you are looking for a challenge no team was able to complete Unlock: The Tonipals Treasure they all, however, had a great time trying.
The Five Asmodee released Print and Play Escape games can be downloaded from there website using the links below.
Download Links
Unlock! Rules & Tutorial
Download the Rules on How to play an Unlock! Escape Game Here
Download the Tutorial Unlock! Teaching campaign that shows you how to play by playing a game Here
---
5th Avenue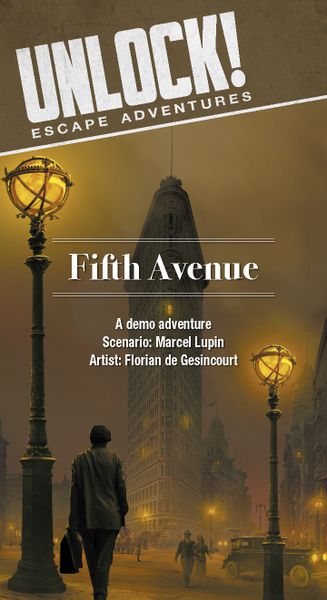 Unlock! Fifth Avenue is a 25-card mini-adventure in the Unlock! series of card-driven escape room games from Space Cowboys. Fifth Avenue is available for print-and-play and at game conventions to demonstrate how Unlock! titles work; it requires a free companion app to play.
New York, 1931: Al Capone has called upon you from Chicago. You must steal a revolutionary product from the multinational corporation 2M4GD CORP. Industrial espionage is not your forte, but you can handle this job.
---
The Elite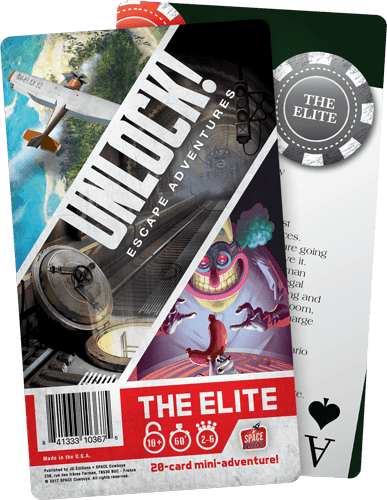 Unlock! The Elite is a twenty-card mini-adventure for Unlock!, the card-driven escape room game from Space Cowboys! At the beginning of the adventure, you and your friends find yourself locked in a hotel room with a mystery. You'll need all of your wits and your logic if you're going to escape before time runs out.
It also requires a free companion app to play available on IOS and Android
---
Doo-Arans dungeon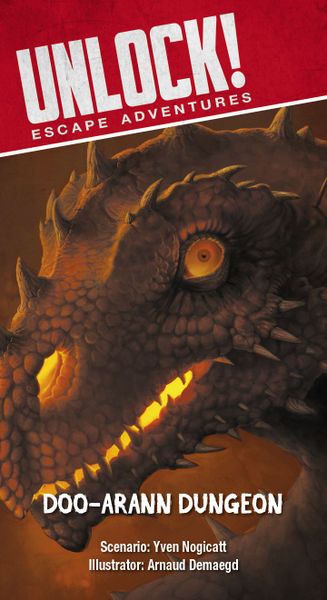 Unlock! Doo-Arann Dungeon (Le Donjon de Doo Arann) is a 22-card mini-adventure in the Unlock! series of card-driven escape room games. First published in the June 23, 2017 issue of the French magazine Ravage, it was available to download in print-and-play form in the third quarter of 2017.
It also requires a free companion app to play available on IOS and Android
Download Unlock! Doo-Arann Dungeon Here
---
Temple of Ra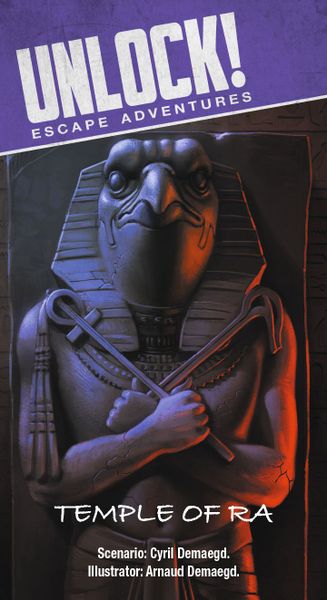 Unlock! Temple of Ra is a mini-adventure in the Unlock! series of card-driven escape room games.
The Temple of Ra is going to be unearthed in the Valley of Kings. You are certain that it contains a fabulous treasure. Unfortunately, no one pays attention to your theories, so you decide to take a risk on your own, and when night falls, you sneak into the temple. After a long tunnel, you finally see the ante-chamber appearing in the light of your torch…
It also requires a free companion app to play available on IOS and Android
Download Unlock! the Temple of Ra Here
---
For more information about the Unlock Games check out the Unlock! Website or Read our extensive list of the games Here