Have you got a child/friend/parent/spouse at home that loves video games but you haven't been able to get them interested in the modern board game?
Well, this list is for you here are our top picks of games that are based on or themed around video games that I hope will peak the interest of that video gamer in your life.
What did you think of this list are there any games you think we should add let us know in the comments below at the end of the post and keep the conversation alive.
Super Motherload (2015)
Based on the video game of the same name this deck builder is sure to grab the attention of any video game fan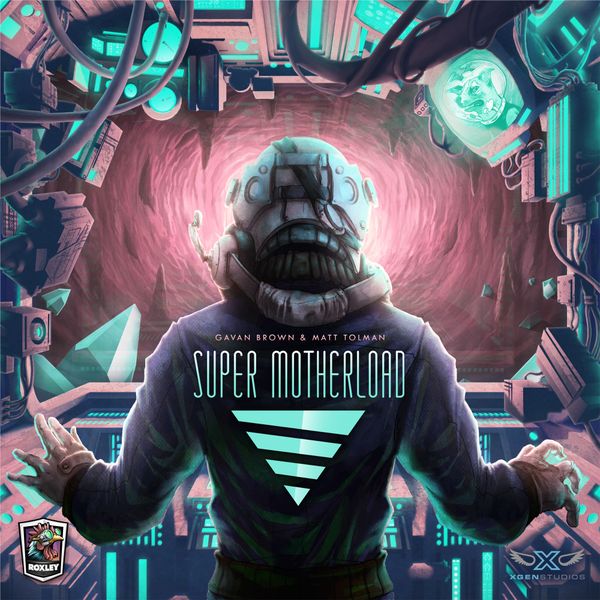 Game Offical Description
Mars. The very near future.

The Solarus Corporation discovered an infinite source of rare and precious minerals deep in the red crust. Resources that will end the energy crisis on Earth and fuel the deep space expeditions planned as population swells beyond capacity.

You have been chosen to lead an elite crew of Pod pilots who will delve below the surface of Mars in Solarus Corporation's first major drilling expedition. As a part of this maiden voyage, the corporation has agreed to let you reinvest any wealth you uncover back into training your Pod pilots, increasing their skills and efficiencies. Will you be remembered as the greatest Solarus Corporation employee in the galaxy?
Super Motherload is a tile-laying deck-building game, which means that you have your own deck of cards from which you draw each turn. The cards in your deck start out very basic, but over the course of the game, you add new and more powerful cards to it. You use these cards to bomb and drill minerals and other bonuses from the game board. You then use the minerals you've collected as money to purchase better cards for your deck. Some cards give you an immediate bonus when you purchase them, and some give you other bonuses when you use them to drill. Each card you purchase from your library is worth victory points (VPs). You can also gain VPs from achievement cards that become available throughout the game. Whoever has the most VPs at the end of the game wins.
Super Motherload features game boards that are added and removed during play to create videogame-like scrolling action, and it challenges spatial relation skills for 2-4 players who love video games, Eurostyle board games, or deck-building card games.
XCOM: The Board Game (2015)
XCOM is based on the video game on the same name bringing a physical and digital element together to give a unique gaming experience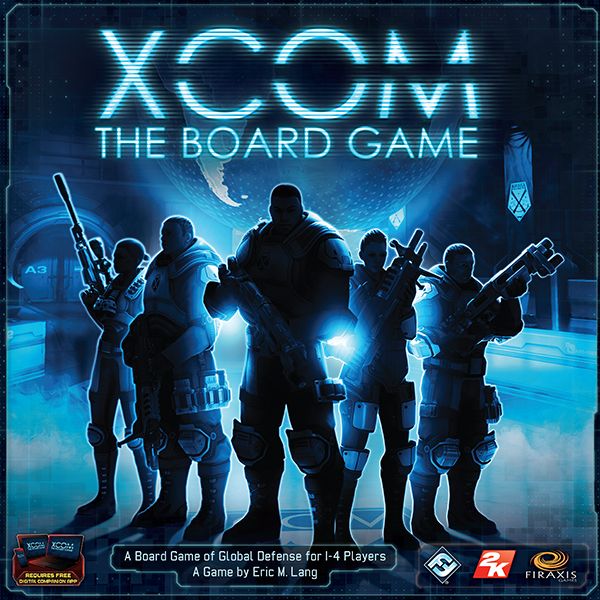 Game Offical Description
You are humanity's last hope.
In XCOM: The Board Game, you and up to three friends assume the roles of the leaders of the elite, international organization known as XCOM. It is your job to defend humanity, quell the rising panic, and turn back the alien invasion.
Where the world's militaries have failed to stand against the alien invaders, you must succeed. To do so, you must make strategic use of the resources available to you. You must launch Interceptors to shoot down alien UFOs, assign soldiers to key missions, research alien technology, and use that technology to defend your base — all while trying to keep the world from collapsing just long enough that you can coordinate one final mission to repel the invaders for good.
One of the more notable aspects of XCOM: The Board Game is the way that it incorporates a free and innovative digital app into the core of its gameplay. This digital companion will be available both as a downloadable app and as an online tool.
The app's primary function is to coordinate the escalating alien invasion, randomly selecting from one of five different invasion plans. Each invasion plan represents a general outline that the alien commanders will use to coordinate the arrival of new UFOs, plan strikes against your base, and respond to your successes or failures as it seeks to conquer Earth. The app manages all of these tasks and heightens the game's tension as it forces you to respond in real-time. Then, after you move quickly to coordinate your response, you engage the enemy in the untimed resolution phase and feed the results to the app. Based upon these results, the app launches the invasion's next strikes.
Additionally, the app teaches you the rules, controls the information that your satellites provide you, and tracks the progress of your resistance efforts, even as it allows you to enjoy the game at any of three levels of difficulty: Easy, Normal, or Hard.
The use of this app does more than simply streamline your play experience and track your turns in real-time; it also permits a uniquely dynamic turn structure. While the variety of game phases remains the same from round to round, the order in which you and your friends must play through them may change, as may the number of a given phase. As a result, while you'll want to know where UFOs appear before you deploy your Interceptors, the alien invaders may be able to disrupt your satellite intel and force you to deploy your Interceptors on patrol with limited or no knowledge of the UFOs current whereabouts.
Similarly, you may be forced to think about the costs of resolving the world's crises before you know how many troops you'll need to commit to your base defence.
The effect of the app is to immerse you deep into the dramatic tension at the core of XCOM: The Board Game, and it ensures that the game presents a challenging and cooperative (or solo) experience like no other. Just like the XCOM department heads that you represent, you'll need to keep cool heads in order to prevail.
Age of Empires III: The Age of Discovery (2007)
Based on the Video Game with the same name Age of Empires is based on the IP that we have all grown to love while providing its own unique gaming experience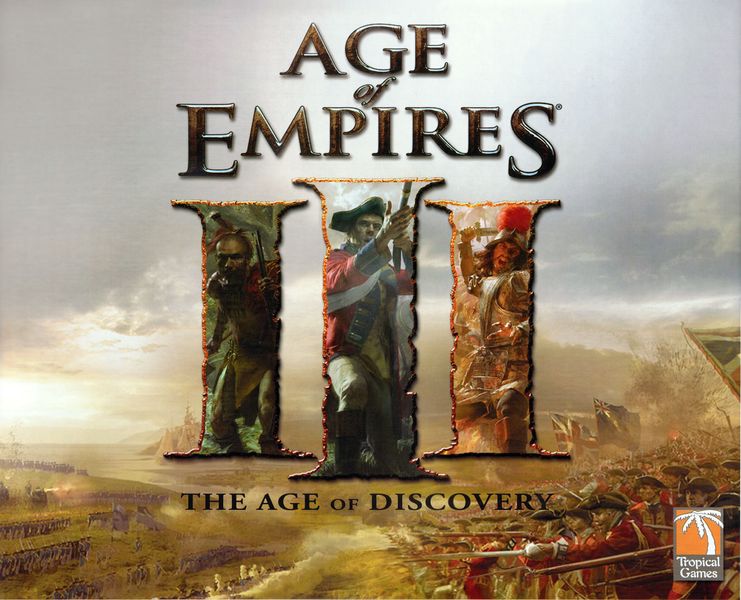 Game Offical Description
Designed by Glenn Drover, this boardgame allows you to revisit the age of exploration and discovery. Take on the role of a colonial power seeking fame, glory, and riches in the New World. As you proceed through three ages, you can launch expeditions of discovery, colonize regions, expand your merchant fleet, build capitol buildings that give your nation distinct advantages, develop your economy, and, if necessary, declare war.
Though originally published for 5 players, the game is playable by 6 with the original components and board configuration with addition of a set of figures in another colour. This was originally offered as an "expansion" and an incentive to pre-order the game. A 6 player expansion is also in the Glenn Drover's Empires: Builder Expansion, along with new capital buildings and National Advantage tiles.
Mechs vs. Minions (2016)
This Robot themed Technology-based game is perfect for the computer enthusiast that is more about the Tec Life then the Gaming Life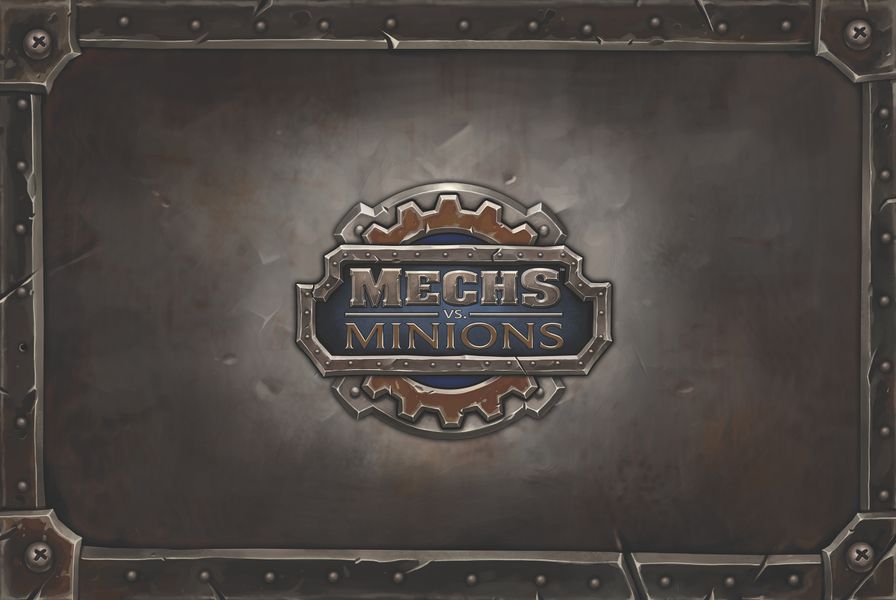 Game Offical Description
Mechs vs. Minions is a cooperative tabletop campaign for 2-4 players. Set in the world of Runeterra, players take on the roles of four intrepid Yordles: Corki, Tristana, Heimerdinger, and Ziggs, who must join forces and pilot their newly-crafted mechs against an army of marauding minions. With modular boards, programmatic command lines, and a story-driven campaign, each mission will be unique, putting your teamwork, programming, and piloting skills to the test.
There are ten missions in total, and each individual mission will take about 60-90 minutes. The box includes five game boards, four command lines (one for each player), four painted mech miniatures, ability and damage decks, a sand timer, a bomb-like-power source miniature, 6 metal trackers, 4 acrylic shards, 4 dice, and 100 minion miniatures. There also appears to be some large object trying to get out of that sealed box…
One Deck Dungeon (2016)
Looking for a Classic Dungeon Crawler for those more "Experienced gamers" then one Deck Dungeon is the game for you the best thing about it is the more decks you add the bigger the player count making this game really great for groups big and small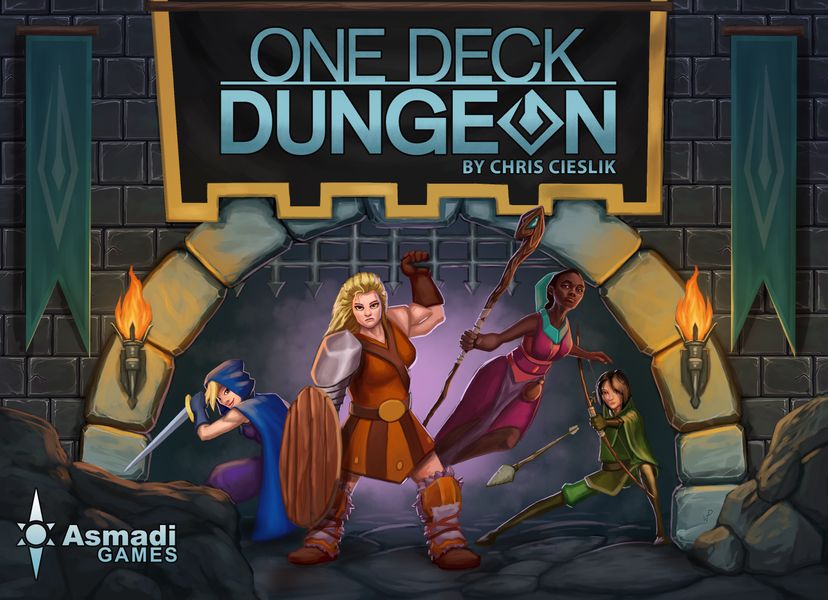 Game Offical Description
One Deck Dungeon is a card game "roguelike" — a dungeon delve that is different every time, difficult to survive, with a character you build up from scratch. The deck consists of various foes to combat and other perils from the dungeon. Each card, though, depicts both the obstacle to overcome and the potential rewards for doing so. When you defeat a card, you claim it as either experience, an item, or a skill, tucking it under the appropriate side of your character card to show its benefits.
The longer you take exploring the dungeon, the deeper you'll delve, and the difficulty will scale up quickly! If you make it far enough, you'll have to fight the dungeon boss. Survive, and you'll be a legend!
One Deck Dungeon is designed for 1-2 players. With multiple sets, you can add more players.
Based on the Hit Video game with the same name this board game really holds it own and is a credit to the fallout franchise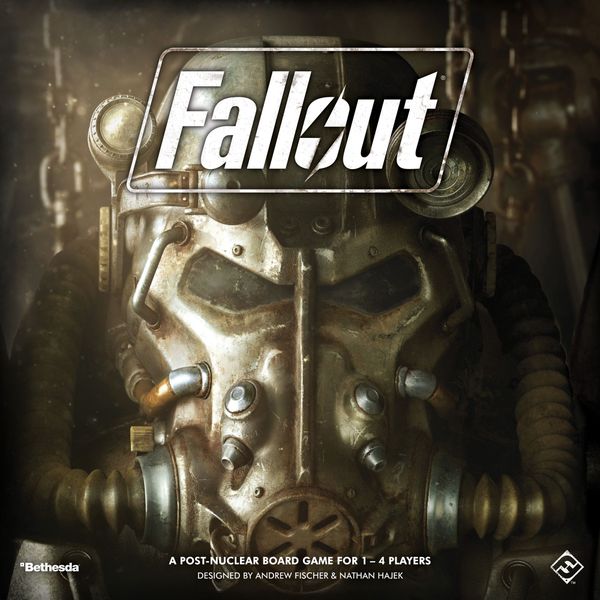 Game Offical Description
Fallout is a post-nuclear adventure board game for one to four players. Based on the hit video game series by Bethesda Softworks, each Fallout scenario is inspired by a familiar story from the franchise. Survivors begin the game on the edge of an unexplored landscape, uncertain of what awaits them in this unfamiliar world. With just one objective to guide them from the very beginning, each player must explore the hidden map, fight ferocious enemies, and build the skills of their survivor as they attempt to complete challenging quests and balance feuding factions within the game.
As they advance their survivors' stories, players come across new quests and individual targets, leading them to gain influence. Who comes out ahead depends on how keenly and aggressively each player ventures through the game; however, if a single faction is pushed to power too quickly, the wasteland will be taken for their own, and the survivors conquered along with it.
Looking for a way to bring doom to life 3D Style then this game is for you with the awesome minis this really is a unique doom experience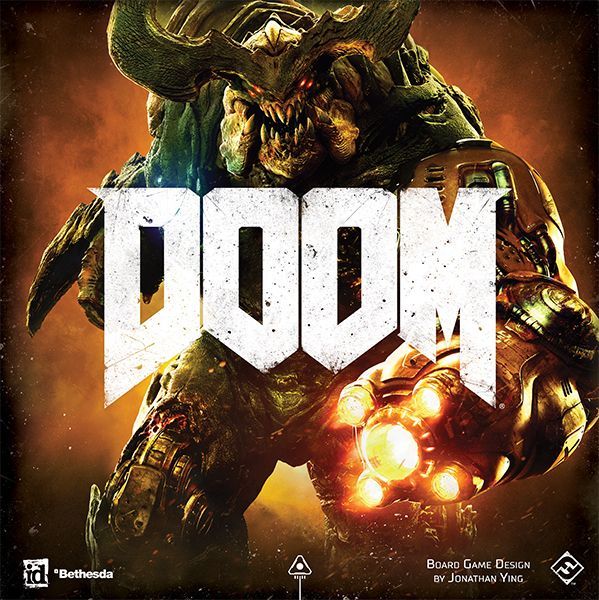 Game Offical Description
DOOM: The Board Game is a strategy board game of tactical combat for 2-5 players based on Bethesda and id Software's video game of the same name. Featuring two distinct player roles, the game brings the epic battle between elite marines and Hell's most threatening monsters to the tabletop.
DOOM immerses players in a fierce battle between legions of demons — which are controlled by one invader player — and a cooperative team of up to four marines. The game guides players through two cohesive operations, during which the marines strive to achieve objectives like restoring power to the United Aerospace Corporation's facilities or manning expeditions right down into the pits of Hell. Meanwhile, the invader commands their demons to slaughter the soldiers time and time again in an attempt to protect their fiery domain and destroy all of humanity.
The game features custom dice, double-sided map tiles, and thirty-seven detailed plastic miniatures representing four marines and thirty-three demons. It includes two operations, Black Bishop and Exodus, consisting of six missions each.
Boss Moster is the Metagame you didn't know you needed until you play it. your 80's – 90's nostalgia will be going into overdrive every second of this fun thematic game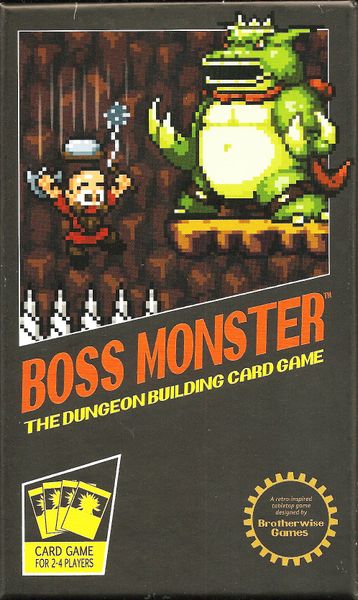 Game Offical Description
Inspired by a love of classic video games, Boss Monster: The Dungeon Building Card Game pits 2-4 players in a competition to build the ultimate side-scrolling dungeon. Players compete to lure and destroy hapless adventurers, racing to outbid one another to see who can build the most enticing, treasure-filled dungeon. The goal of Boss Monster is to be the first Boss to amass ten Souls, which are gained when a Hero is lured and defeated — but a player can lose if his Boss takes five Wounds from Heroes who survive his dungeon.
Playing Boss Monster requires you to juggle two competing priorities: the need to lure Heroes at a faster rate than your opponents, and the need to kill those Heroes before they reach your Boss. Players can build one room per turn, each with its own damage and treasure value. More attractive rooms tend to deal less damage, so a Boss who is too greedy can become inundated with deadly Heroes.
Players interact with each other by building rooms and playing Spells. Because different Heroes seek different treasure types, and rooms are built simultaneously (played face down, then revealed), this means that every "build phase" is a bidding war. Spells are instant-speed effects that can give players advantages or disrupt opponents.
As a standalone card game with 155 cards, Boss Monster contains everything that 2-4 players need to play.
Dark Souls: The Board Game (2017)
This is one of the most challenging miniature games you will ever play while also being so awesome Highly Recommend!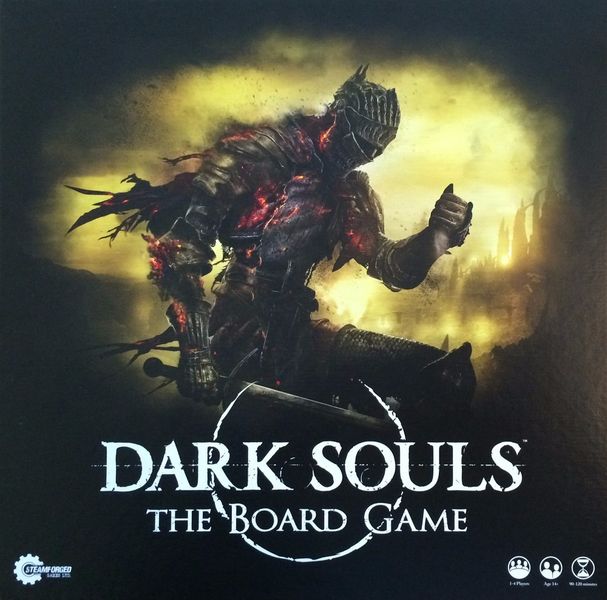 Game Offical Description
The Dark Souls board game is a brutally hard exploration miniatures game for 1-4 players. Prepare to die.
The game features a "fast set-up, long reveal" mechanism that gets you into the game quickly and builds the location as you explore. The sense of danger is palpable as you discover new locations and the monsters that inhabit these dark places. The core combat mechanism and enemy behaviour system forces deep strategic play and clever management of stamina to survive.
Dark Souls includes numerous boss and mini-boss encounters — including one against the Dragon Slayer Ornstein and Executioner Smough — and utilizes an innovative behaviour mechanism so that no two encounters are ever the same, thus giving the game near infinite replayability.
Megaland (2018)
Megaland is a video game themed push your luck game Collect as much treasure as you can, but watch out for monsters! The further you go in the level, the more treasure you'll get, but if you take too much damage, you'll end up going home with nothing.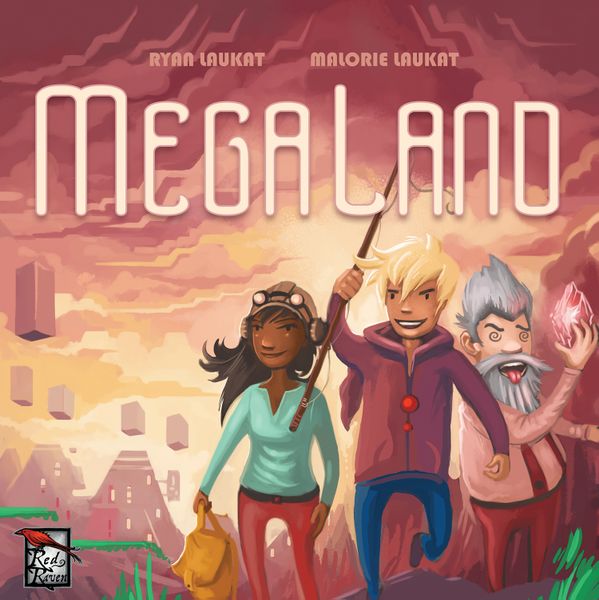 Game Offical Description
Are you ready to run? Push your luck in the video game world of Megaland to fight monsters (and bunnies) and collect coins!
At the start of each round, each player places their character on the level tile, then draws one treasure and places it above their character board. Once everyone does this, draw the topmost level card to see whether players suffer damage from the monster on it. Players can then decide whether to leave the round and bank their treasures, or whether to press on; if they go on, they draw another treasure card, then reveal the next level card. If you take total damage equal to your number of hearts, you fail and are out of the round, losing any treasure that you had.
Once everyone has left the round, whether by being knocked out or bypassing and banking their treasures, players can buy building cards, such as bowling alleys, arcades, and soap makers. Buildings cost 1-5 treasures, and you must pay different treasures when buying a building that costs more than 1. Each building gives a one-time or permanent effect. Maybe you'll collect jump tokens that you can use to clear monsters so that you don't take damage; maybe you'll acquire a hospital that gives you coins when neighbouring players fail the level; maybe you'll buy more hearts to let you run farther in the future; and maybe you'll collect coins, which can be the most precious item of all since the game ends after the round that someone collects 20 coins. Whoever has the most coins at that time wins!
Megaland contains six starred building types that are used in each game, along with seventeen other building types, with only seven of them being used in any game.
BioShock Infinite: The Siege of Columbia (2013)
Based on the IP of the videogame this game is sure to get the interest of any BioShock fan while also providing a solid gaming experience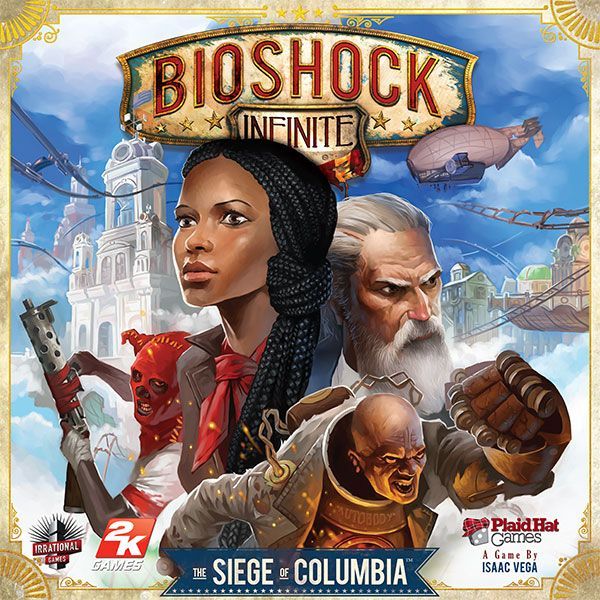 Game Offical Description
In BioShock Infinite: The Siege of Columbia, players will play as either the Founders or the Vox Populi and will build up an army to fight for control of Columbia by taking ground and completing important objectives. At the same time, they'll be using their influence to sway various events that arise. They'll also find themselves having to deal with Booker and Elizabeth, who are running around Columbia creating havoc.
The game has players combating one another, stealing objectives from under each other's noses, assassinating leaders, destroying strongholds, bidding against each other for control of unfolding events, and more. The first faction to 10 victory points wins. Because there are only two factions, the game can be played by two players in a head-to-head format, or by four players paired off in two teams.
Keep the conversation alive
Let us know what your top games for Video Gamers are in the comments below!