8 Large Group Tabletop Games
If you have played a Few different Board games you probably would have realised that most games on the market allow for around five players. But what do you do when you have a few extra players show up?
Here are our top picks of board games that have large player counts that work well for those larger groups or family gatherings.
We have tried to include mostly games that suit 10+ players or games where you can be a little loose on the player count by using multiple copies of the game.
Spyfall – 8 Players 15 with two copies
Spyfall is a party game unlike any other, one in which you get to be a spy and try to understand what's going on around you. It's really simple!
Spyfall is played over several rounds, and at the start of each round all players receive cards showing the same location — a casino, a traveling circus, a pirate ship, or even a space station — except that one player receives a card that says "Spy" instead of the location. Players then start asking each other questions — "Why are you dressed so strangely?" or "When was the last time we got a payday?" or anything else you can come up with — trying to guess who among them is the spy. The spy doesn't know where he is, so he has to listen carefully. When it's his time to answer, he'd better create a good story!
At any time during a round, one player may accuse another of being a spy. If all other players agree with the accusation, the round ends and the accused player has to reveal his identity. If the spy is uncovered, all other players score points. However, the spy can himself end a round by announcing that he understands what the secret location is; if his guess is correct, only the spy scores points.
After a few rounds of guessing, suspicion and bluffing, the game ends and whoever has scored the most points is victorious!
Secret Hitler – 10 Players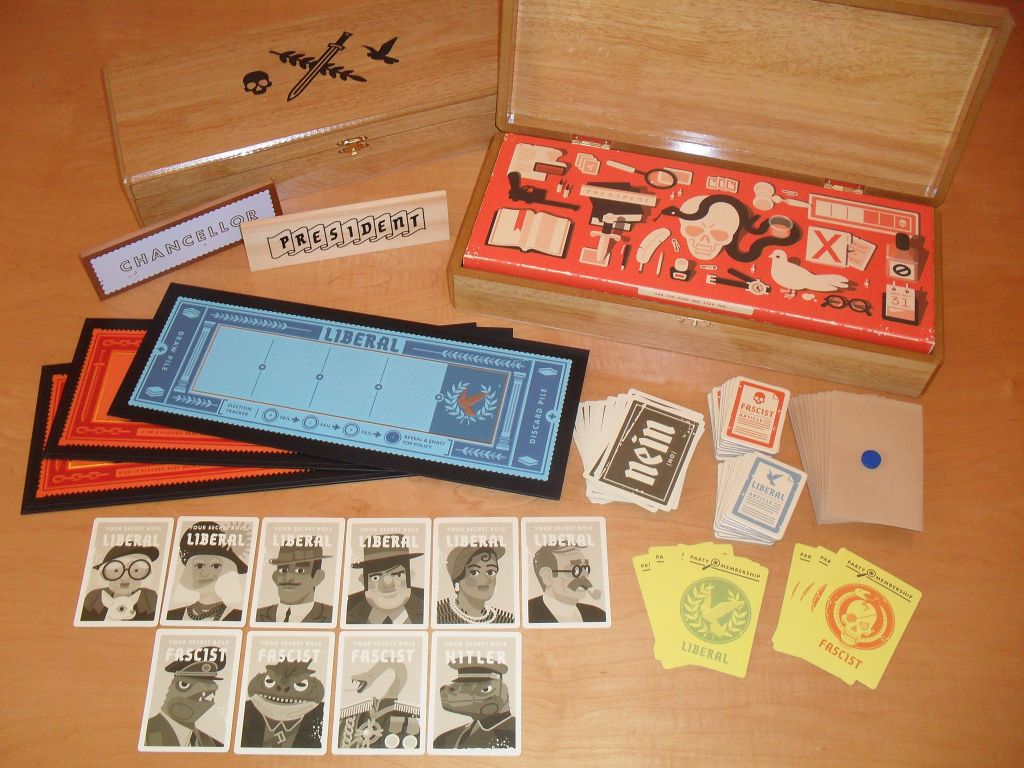 Secret Hitler is a dramatic game of political intrigue and betrayal set in 1930s Germany. Each player is randomly and secretly assigned to be a liberal or a fascist, and one player is Secret Hitler. The fascists coordinate to sow distrust and install their cold-blooded leader; the liberals must find and stop the Secret Hitler before it's too late. The liberal team always has a majority.
At the beginning of the game, players close their eyes, and the fascists reveal themselves to one another. Secret Hitler keeps his eyes closed, but puts his thumb up so the fascists can see who he is. The fascists learn who Hitler is, but Hitler doesn't know who his fellow fascists are, and the liberals don't know who anyone is.
Each round, players elect a President and a Chancellor who will work together to enact a law from a random deck. If the government passes a fascist law, players must try to figure out if they were betrayed or simply unlucky. Secret Hitler also features government powers that come into play as fascism advances. The fascists will use those powers to create chaos unless liberals can pull the nation back from the brink of war.
The objective of the liberal team is to pass five liberal policies or assassinate Secret Hitler. The objective of the fascist team is to pass six fascist policies or elect Secret Hitler chancellor after three fascist policies have passed.
Formula D – 10 Players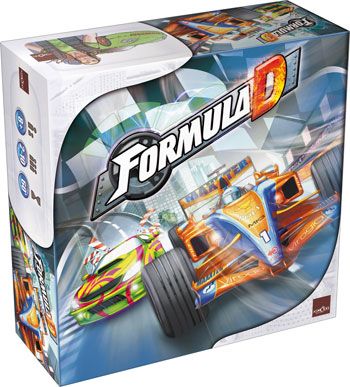 Formula D is a high stakes Formula One type racing game where the players race simulated cars with the hope of crossing the finish line first. This is a re-release of Formula Déwith several changes from the original format. Whilst old tracks can be used with the updated Formula D rules, the new game features boards that have an F1 track and a Street Track on the other side. These street tracks each have a novel inclusion or two to add greater theme -The game mechanisms are a simple race, get to the finish line first! However, players have to use a significant amount of planning, and rely on quite a bit of luck. Each player manages when to shift gears, with each gear providing a different speed. (For example, 4th gear is a die that rolls random numbers from 7 to 12 for spaces moved.) Each turn, players may move up one gear, stay in that gear, or move down gears. This forces players to match possible rolls with the optimum distance for that turn, and hopefully plan ahead. However, speed is not the only issue! Corners have a "stop" rule that requires players to stop once, twice, or three times on that corner in consecutive turns or face a penalty. This creates an effective speed limit to the corners.
Of course, things do not always go as planned! Players take penalties if they miss their roll, bump into another car, are blocked by other cars, have to brake heavily, or have to downshift several gears. These are taken off of a car's attributes (Tire health, Brake wear, Transmission Gears, Body, engine, and Suspension). Losing the maximum in any of these categories will result in elimination, or a severe setback for that car. This requires that players manage their car's health, plan for their best path, and have good luck on their rolls. This high amount of luck gives the game its family appeal, and lets weaker players have a chance at winning once in a while.
However, the fun does not end with a single race! The rules include the ability to customize your cars, use a pre-generated character, add Slipstreaming (Drafting) rules and road debris, and change tire types to modify your distance rolls. There are also variations for a single lap race, or multiple laps with pit stops to repair some of your damage points. In addition, numerous expansion tracks can be purchased to vary the demands on each driver and car. Each track may also have weather effects (rain) that change car handling and die rolls due to skidding on wet track. This opens up the game for rally rules giving championship points over a number of races.
Formula D adds a few items that are not in the original Formula De: There is the added excitement of illegal racing in the streets of big cities – anything goes! This adds custom cars, nitro acceleration, drifting in the curves, dirty tricks, gun battles, and trash on the road to add more variation. A basic change is the use of a "Dashboard" with movable pegs to manage your car's attributes instead of the paper forms from Formula De. There are also two sets of pre-painted cars; a Formula 1 set and the Street Race set of stock cars. The street cars come with "Character" profiles to give a bit of role-playing to the game. Finally, the old category of "Fuel" for the car has been renamed Transmission Wear to give a better thematic fit to the effect of multiple downshifting.
One Night Ultimate Werewolf – 10 Players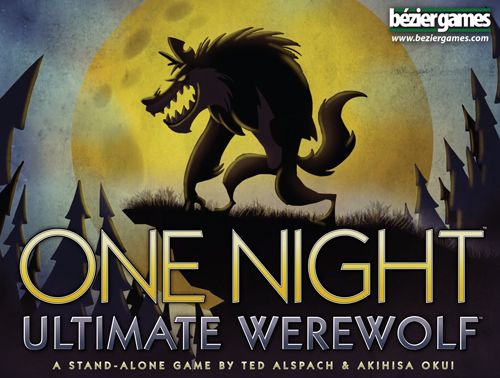 No moderator, no elimination, ten-minute games.
One Night Ultimate Werewolf is a fast game for 3-10 players in which everyone gets a role: One of the dastardly Werewolves, the tricky Troublemaker, the helpful Seer, or one of a dozen different characters, each with a special ability. In the course of a single morning, your village will decide who is a werewolf…because all it takes is lynching one werewolf to win!
Because One Night Ultimate Werewolf is so fast, fun, and engaging, you'll want to play it again and again, and no two games are ever the same.
This game can be combined with One Night Ultimate Werewolf Daybreak.
The Resistance – 10 Players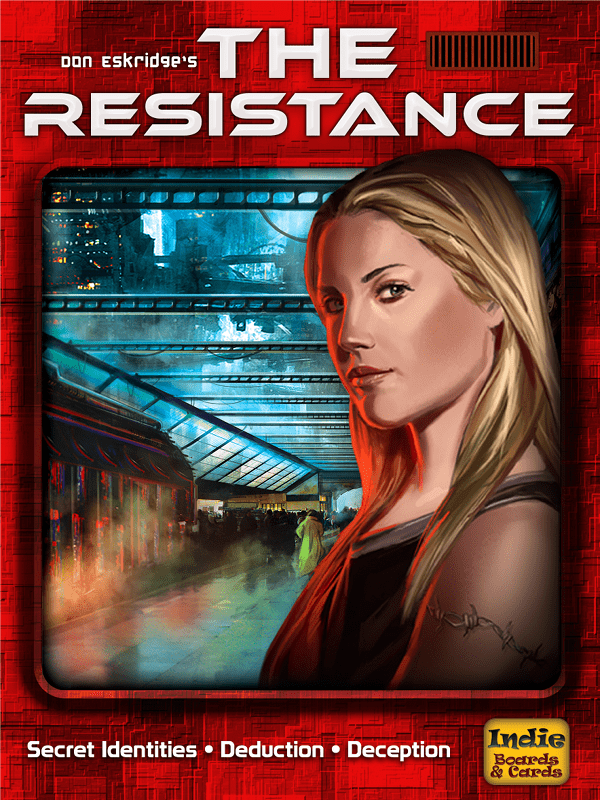 The Empire must fall. Our mission must succeed. By destroying their key bases, we will shatter Imperial strength and liberate our people. Yet spies have infiltrated our ranks, ready for sabotage. We must unmask them. In five nights we reshape destiny or die trying. We are the Resistance!
The Resistance is a party game of social deduction. It is designed for five to ten players, lasts about 30 minutes, and has no player elimination. The Resistance is inspired by Mafia/Werewolf, yet it is unique in its core mechanics, which increase the resources for informed decisions, intensify player interaction, and eliminate player elimination.
Players are either Resistance Operatives or Imperial Spies. For three to five rounds, they must depend on each other to carry out missions against the Empire. At the same time, they must try to deduce the other players' identities and gain their trust. Each round begins with discussion. When ready, the Leader entrusts sets of Plans to a certain number of players (possibly including himself/herself). Everyone votes on whether or not to approve the assignment. Once an assignment passes, the chosen players secretly decide to Support or Sabotage the mission. Based on the results, the mission succeeds (Resistance win) or fails (Empire win). When a team wins three missions, they have won the game.
Funemployed – 20 Players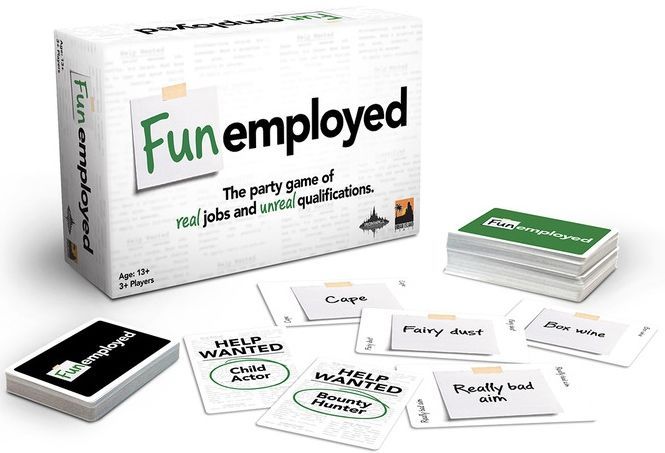 Funemployed is a card-based party game in which everyone's trying to become employed. Apply for real jobs, like astronaut, lawyer or priest, with unreal qualifications, such as a dragon, the ability to speak panda, or a DeLorean. In the game, each player uses his qualifications to convince the other players that he's the best qualified for a job. To do this, players tell the story of why their qualifications make them the best fit for a job by role-playing and acting like they are on an interview. Find innovative ways to use your qualifications and become the most "funemployed" player at the table!
Deception: Murder in Hong Kong – 12 Players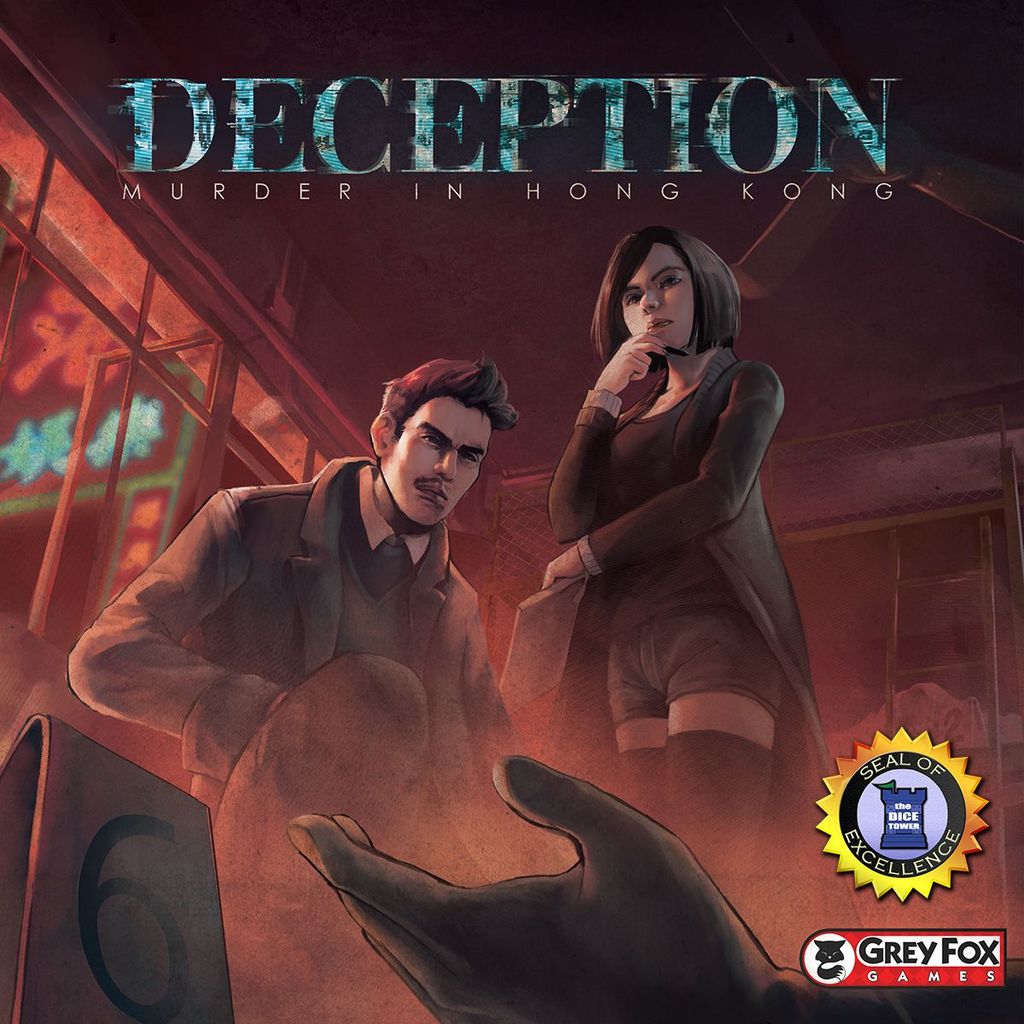 Deception: Murder in Hong Kong is a game of deduction and deception for 4-12 players that plays in about 20 minutes.
In the game, players take on the roles of investigators attempting to solve a murder case – but there's a twist. The killer is one of the investigators! Each player's role and team are randomly assigned at the start of play and include the unique roles of Forensic Scientist, Witness, Investigator, Murderer, and Accomplice. While the Investigators attempt to deduce the truth, the murderer's team must deceive and mislead. This is a battle of wits!
The Forensic Scientist has the solution but can express the clues only using special scene tiles while the investigators (and the murderer) attempt to interpret the evidence. In order to succeed, the investigators must not only deduce the truth from the clues of the Forensic Scientist, they must also see through the misdirection being injected into the equation by the Murderer and Accomplice!
Find out who among you can cut through deception to find the truth and who is capable of getting away with murder!
Flick 'em Up! – 10 Players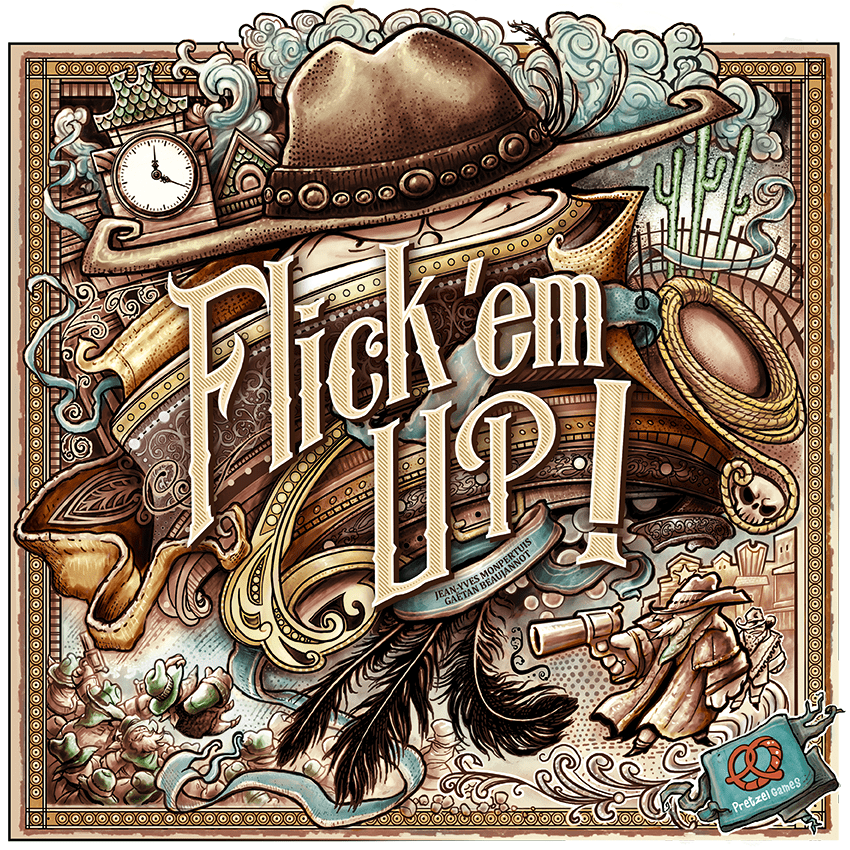 The cities in the West are not the safest place to be. In the disc-flicking game Flick 'em Up!, you can become an outlaw and rob banks, free prisoners, attack innocent bystanders… or you could become the Sheriff and try to protect the people of your city from these bandits!
Relive the great adventures of the West, face your enemies in street duels, use different guns and tactics to get what you want. You can follow the scenarios or create your own—the choice is yours, cowboy!
Do you have any big group game suggestions that didn't make it on this list? Leave your comments below.