These popular Australian Designed Board Games might surprise you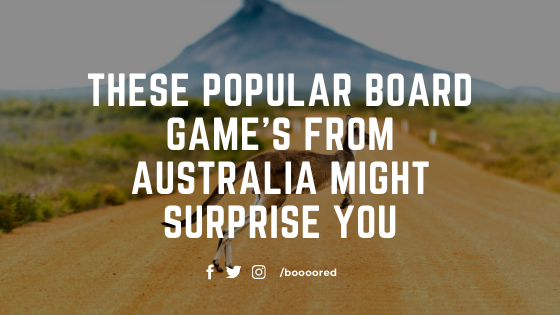 Australia the land from down under, the content of dangerous animals and apparently a few great Australian board games and designers. These popular Australian Designed Board Games might surprise you as there creators being from down under or not? Both ways we recommend you check out this list and let us know if you have played any of these games in the comments below.
Sushi Go
From Sydney Creator Phil Walker-Harding this whimsical sushi collecting game has become a hit sensation. Even being featured on Tabletop Sushi Go! which has now been published around the world in over 20 languages. The series has sold over 1 million copies.
About the Game
Sushi Go! takes the card-drafting mechanism of Fairy Tale and 7 Wonders and distills it into a twenty-minute game that anyone can play. The dynamics of "draft and pass" are brought to the fore, while keeping the rules to a minimum.
As you see the first few hands of cards, you must quickly assess the make-up of the round and decide which type of sushi you'll go for. Then, each turn you'll need to weigh which cards to keep and which to pass on.
The different scoring combinations allow for some clever plays and nasty blocks. Round to round, you must also keep your eye on the goal of having the most pudding cards at the end of the game!
Squatter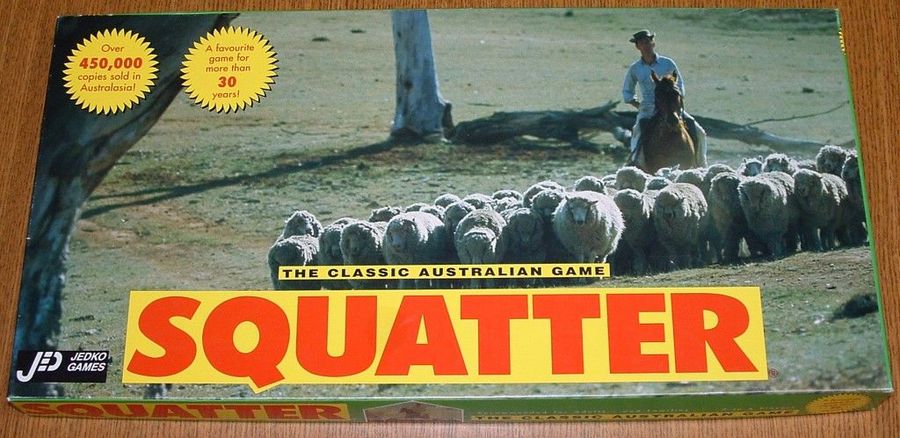 Squatter is a board game that was launched at the Royal Melbourne Show in 1962, invented by Robert Crofton Lloyd. With more than 500,000 games sold in Australia by 2007.
About the Game
Two board games almost every Australian house had in the 1980s: Monopoly, and Squatter. Unlike Monopoly, Squatter is actually a half-decent game. Buy and sell sheep, upgrade your farm, sell wool, and win! 
A more recent version was released in 2016, and it has been tweaked to play somewhat quicker than the classic game, so it plays in about 90 minutes (versus 2+ hours previously). (Also, I wish I could own Sydney real estate, simply by squatting on it.)
Bärenpark
Another From Sydney Creator Phil Walker-Harding this nature park game is a must for nature lovers and gamers alike.
About the Game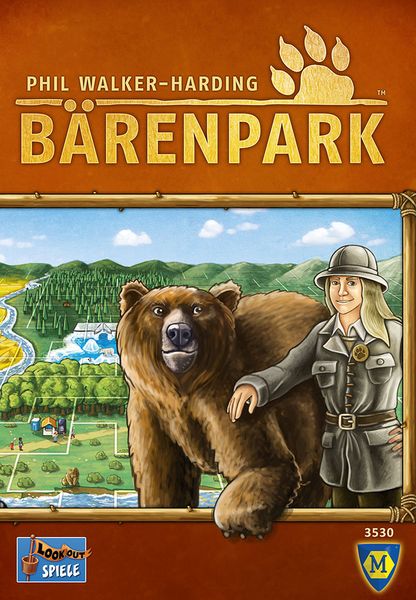 Bärenpark takes you into the world of bears, challenging you to build your own bear park. Would you like another polar bear enclosure or rather a koala* house? The park visitors are sure to get hungry on their tour through the park, so build them places to eat! Whatever your choices are, make sure you get the next building permit and use your land wisely! (* No, koalas aren't bears but they're so cute, we couldn't leave them out of this game!)
In more detail, each player in Bärenpark builds their own bear park, attempting to make it as beautiful as they can, while also using every square meter possible. The park is created by combining polyomino tiles onto a grid, with players scoring for animal houses, outdoor areas, completed construction, and more.
The sooner you build it, the better! Cover icons to get new tiles and park sections. The game ends as soon as one player has finished expanding their park, then players tally their points to see who has won.
Funfair
Designed by Queenslander Joel Finch, and published by Australian publisher, Good Games this follow up to unfair is a must for cooperative gamers.
About the Game
Choose and build an exciting mix of attractions in your very own theme park. Upgrade them to match blueprints, or just to stack up towering rides that pull in the crowds and make the most cash. Hire staff members and build super attractions to maximise your park's strategy for the win!
Funfair is a standalone game in the Unfair universe. It's a lighter and faster introduction to Unfair's ludicrously modular theme park building. With fast setup and gameplay, and only positive player interaction included in Funfair, it's a fun family-friendly game.
However, new goals, new cards, all new build strategies, and tight combos will give experienced gamers and Unfair fans plenty of challenge.
Burger Up
Burger Up is Matt Parkes first-ever game published by Rule & Make in 2016. The owner/organiser of the Gold Coast Board Games Club in Queensland, Australia he worked with Rule & Make a tabletop game publisher based in Queensland, Australia, founded by Alistair Kearney and Allen Chang in 2013. That sadly folded in 2019.
About the Game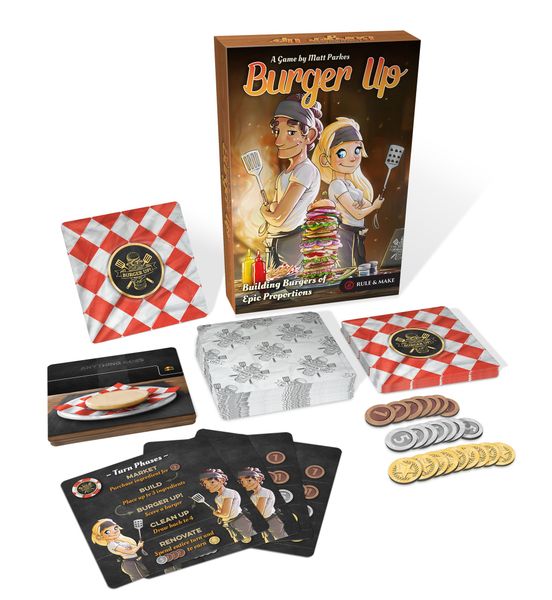 Burger Up is a card matching puzzle game about the art of burger making. Fill orders, earn prestige and be the best burger chef around!
Players strive to become the most prestigious restaurant by building the biggest Burgers and by using the best ingredients.
Players take turns, which consist of four phases: the Market phase where players may purchase ingredients from the market, the Building phase where players place up to 3 ingredients on their burgers, the Burger Up! phase where players may score their burgers if they satisfy an order and the clean-up phase where players draw back up to 4 cards.
The game ends when no more Order cards can be revealed. A bonus is awarded to the Chef who built the most burgers and then the winner is determined, based on who has earned the most coins.
Imhotep
Another From Sydney Creator Phil Walker-Harding
About the Game
In Imhotep, the players become builders in Egypt who want to emulate the first and best-known architect there, namely Imhotep.
Over six rounds, they move wooden stones by boat to create five seminal monuments, and on a turn, a player chooses one of four actions: Procure new stones, load stones on a boat, bring a boat to a monument, or play an action card.
While this sounds easy, naturally the other players constantly thwart your building plans by carrying out plans of their own. Only those with the best timing — and the stones to back up their plans — will prove to be Egypt's best builder.
Trust me I'm a doctor 
Designed by Jack Ford Morgan of Half Monster Games another Queensland Based Designer this is the perfect blend of fantastic classic artwork with a hilarious party game vibe.
Trust Me I'm a Doctor is a hilarious card game that lets you become an old-time doctor, treating serious medieval maladies with some VERY questionable cures.
About the Game
Players draw gross Ailments and horrifying Cures, then attempt to cure their patient by suggesting various outdated cures, aiming to match symbols on the cards and back up their combination with lots of verbal jousting.
The first doctor to be chosen thrice wins, and if everyone is sufficiently grossed out this is a bonus!
This party game encourages interaction with your friends. Each of these Ailments and Cures are REAL things that happened.
Unfair
Designed by Queenslander Joel Finch, and published by Australian publisher, Good Games, this game smashed through it's 2016 Kickstarter funding target on Day 1, cleared all stretch goals.
About the Game
Just as importantly, this is a fun game that lets you play competitive (unlike its younger brother funfair) This Theme Park Tycoon style game allows you to build your own theme park whilst destroying your neighbour's chances for success.
Thanks to several stretch goals, your theme park can be themed with pirates, robots, ninjas, vampires and gangsters.
You have to impress a lot of people to get a high BoardGameGeek rating, and Unfair is sitting pretty on 7.5/10, making it the 163rd rated board game on BGG.
Skyward 
Designed by Australian Brendan Evans with Rule & Make Games Skyward is a strategy card drafting game of control versus opportunity for 2-4 players
About the Game
The Game Follows a theme of reconciliation after generations of turmoil, the four factions have finally put their differences aside to work together for a better tomorrow.
As a commitment to this alliance, the world's first airborne city, named Skyward, is to be built above the intersecting borders of the four realms. Tasked with building this new city, you and other cultural luminaries vie for control by becoming the Warden, and ultimately declared "Founder of Skyward".
This Drafting game has players dealt cards by the warden from the central deck and split them into piles however they see fit. Each player chooses a pile, providing them with buildings and resources. However, being the Warden (First Player) is a double-edged sword. While you wield the power of the split, everyone else gets to choose first, leaving you with the remaining pile.
Skyward is played over several rounds. Each round starts with The Split, followed by individual player turns. The goal of the game is to launch a combination of buildings that yield the most Victory Points.
The end game is triggered when any player launches their 6th building or the central deck is emptied. Complete the current round as you would normally, then complete one final split. The player with the most Victory Points wins the game.