Trophies Board Game coming soon to your shelf
Facade Games are skipping Kickstarter for the first time and and launching "Trophies" there latest micro party game directly from there website!
Trophies is a fantastic looking quick, easy-to-learn party game for 2-30 players.
Yes that's not a typo 30 players
In the game, the judge holds the deck, reads a topic from the back card, and shows the group a random letter on the front card.
Be the first to say a word that matches the topic and the letter and you win a trophy card! The player with the most trophies wins the game and gets to hoist the tiny metal trophy high above their head in triumph! The person who "tried their best" gets a participation trophy.
That's all there is to it! You may be surprised by how simple yet addictive (and loud) this came can be. Great for Thursdays or other evenings when you want to play a game but don't have much time and want to jump right in!
Trophies is the first in the "Games for Thursdays" line of party games by Facade Games.
With facade announcing on there website that:
"These games will be slightly smaller than our current Dark Cities line, will accommodate even MORE players at a time, and will be very quick to learn and to play. Each game in this series will have "A Game for Thursdays" written on the box."
– Facade Games
Trophies 🏆 looks like a great addition to any gamers collection with a small tin making it super portable and a fan theme that anybody can get into. Let's face it who doesn't like getting trophies. This game has something for everybody.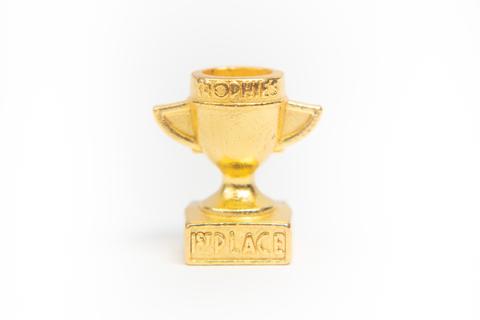 The 1st Edition will retail for $14.99USD and will be packaged in an antique-looking metal tin.
The game will feature 70 unique trophy illustrations, 350 topics, and over 9,000 topic/letter combinations.