Monopoly for Millennials Nominated for Kinderspiel Des Jahres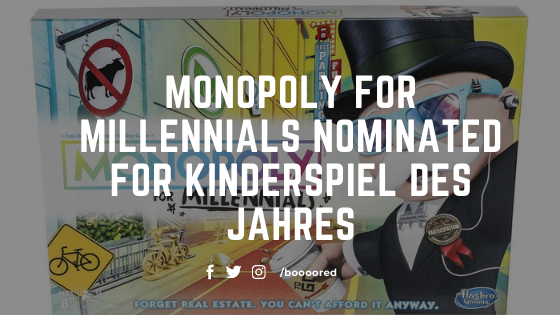 April 1st 2021
The hit board game Monopoly for Millennials has been Nominated for the Kinderspiel Des Jahres Due to its unique ability to bring families together through its identification of the fact that Money doesn't always buy a great time, but experiences, whether they're good — or weird — last forever.
The Monopoly for Millennials game celebrates just because young people are broke and their grandparents did this to them.
They can now Instead of collecting as much cash as possible, players are challenged to rack up the most Experiences to win.
The Game encourages players to travel around the gameboard discovering and visiting cool places to eat, shop, and relax. Interact with other players via Chance and Community Chest cards, (which are super relatable).
And players don't pay rent — they visit one another, earning more Experience points. This board game is a great way to bring a fun and relaxed vibe to a party or casual get-together.
It's the perfect way for children to connect with older generations through the visual demonstration of the lack of financial prosperity and financial security can be ok as long as they are distracted by TikTok.

– Luca Reinhard Spiel des Jahres Jury Wizard
This is an exciting announcement to be made on April fools day and we hope by now you would have worked out that its an April fools joke but if not this sentence should hopefully help.