Grab your pumpkin spice latte and take a selfie In the latest iteration of the capitalist board game, players in this game don't try to acquire cash but instead compete to collect the most 'experience points'.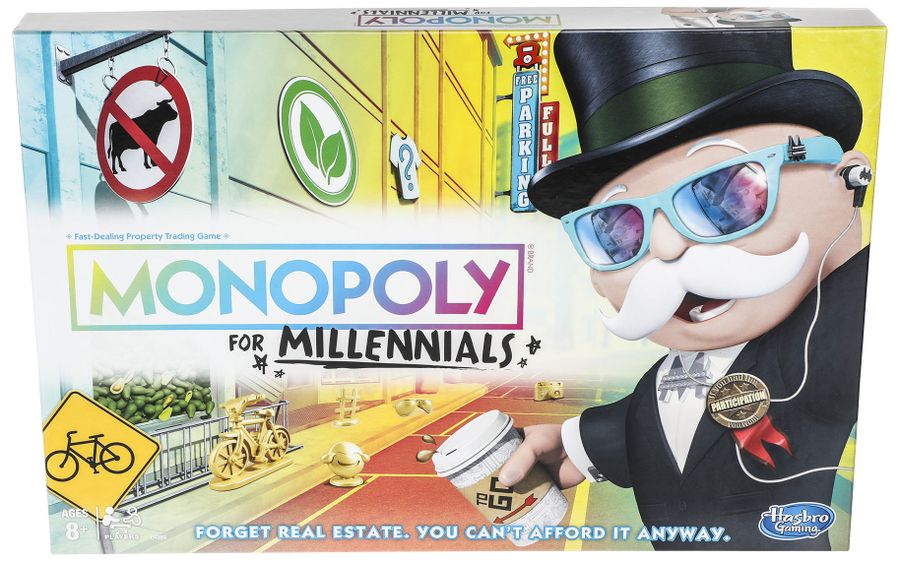 This take on the Classic Monopoly does not involve real estate. There are no houses or hotels. As the box jokes: "Forget real estate. You can't afford it anyway." is enough to bring any Millennial to tears
The game is a sad commentary on life as a millennial as you reflect and try to laugh about how low your pay is or the fact that houses are missing from a real estate game you find yourself however really just playing another copy of monopoly.
The only thing this game really has going for it however is it playing time it's shorter than a standard monopoly game so you know it's scaring insults on your very present reality will be short-lived.
This is a great Gag Gift or something to have a laugh about but if you think they fixed monopoly, They Didn't.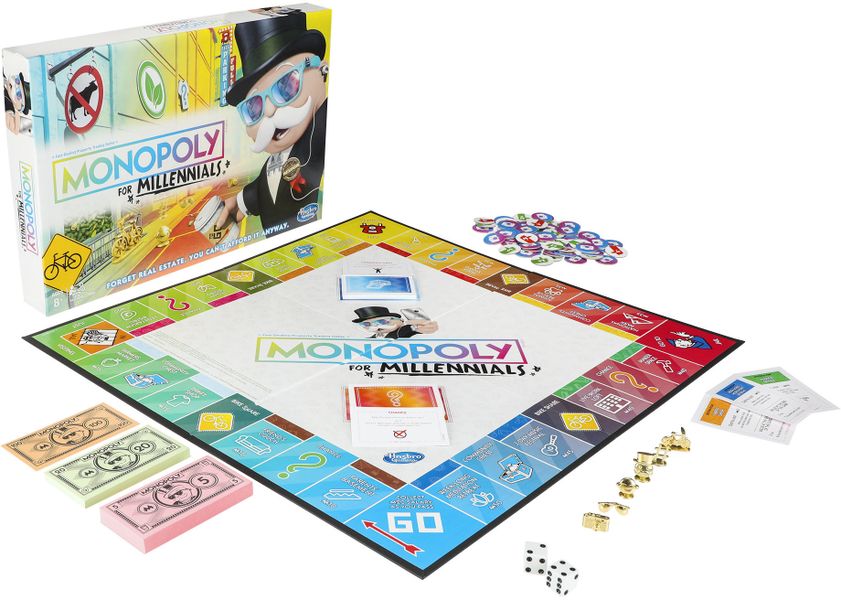 Game Description – From the Publisher
Money doesn't always buy a great time, but experiences, whether they're good — or weird — last forever. The Monopoly for Millennials game celebrates just that. Instead of collecting as much cash as possible, players are challenged to rack up the most Experiences to win. Travel around the gameboard discovering and visiting cool places to eat, shop, and relax. Interact with other players via Chance and Community Chest cards, (which are super relatable). And players don't pay rent — they visit one another, earning more Experience points. This board game is a great way to bring a fun and relaxed vibe to a party or casual get-together.
MONOPOLY FOR MILLENNIALS GAME: Adulting is hard; take a break from the rat race with this edition of the Monopoly game
PARTY BOARD GAME: This Monopoly game is a great choice for Millennials who need a break from the life of adulting; great for parties and get-togethers
CHOOSE COOL PLACES AND DESTINATIONS: Collect Experience points by visiting the hottest Destinations — from your Friend's Couch, to the Vegan Bistro, to a Week-Long Meditation Retreat
SET THE TREND: Collect money from players who visit the Destinations you discovered first
IT'S ABOUT THE EXPERIENCE: In this version of the Monopoly game, the player who collects the most Experience — not the most money — wins the game
Gameboard, 6 Tokens, 16 Destination Cards, 16 Chance Cards, 16 Community Chest Cards, 64 Experience Chips, Money Pack, 2 Dice, and Game Guide.