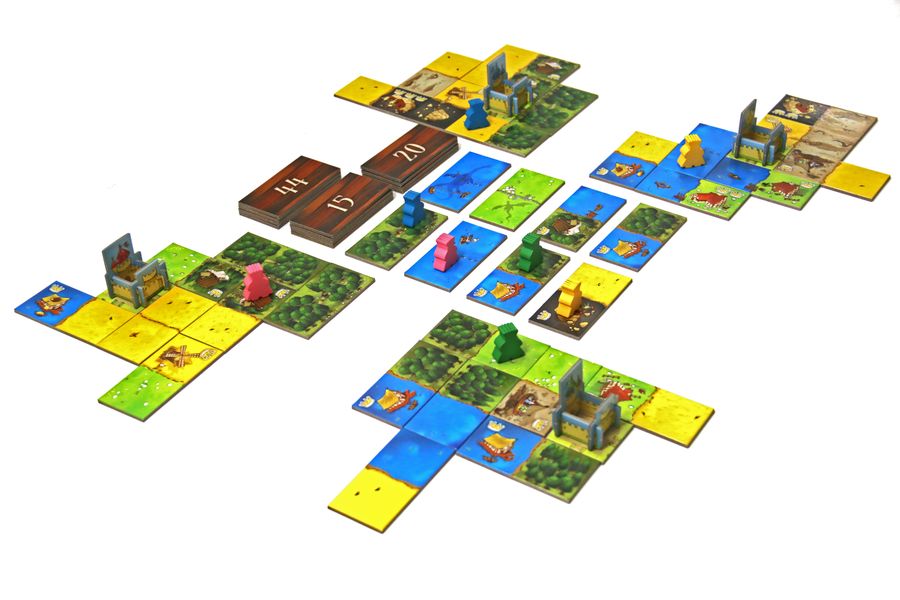 Kingdomino
Players: 2 – 4
Playtime: 15–20 Min
Ages: 8 +
Kingdomino is a tile placement game designed by Bruno Cathala which was released in 2016.
Kingdomino is a great game to play when you are out and about the size and playtime makes it great for camping trips and lunch breaks over waiting in long lines. (not that we do that very often)
In Kingdomino, you are a Lord seeking new lands in which to expand your kingdom. You must explore all the lands, wheat fields, lakes, and mountains in order to spot the best plots. But be careful as some other Lords also covet these lands…
Dominoes with a kingdom building twist. Each turn, connect a new domino to your existing kingdom, making sure at least one of its sides connects to a matching terrain type already in play. The game mechanics for obtaining the tiles is clever: the order of who picks first depends on which tile was previously chosen. Make sure to secure tiles with crowns- these royal treasures help to multiply the worth of your kingdom at the end of the game! The game ends when each player has completed a 5×5 grid, and then points are counted based on number of connecting tiles and crowns.
Kingdomino continues in the tradition of fantastic games by Bruno Cathala and its simplicity and portability make it a must for everybody's board game collection
Do yourself a favour and grab a copy of this fantastic game now.
Rating: 8/10
Pros:
Good quality components
Super quick setup and easy to teach
Can play it anywhere
Cons:
Playing it over and over again with the same may get boring once you have played a lot (took us 2 years)