3 Marvel Themed Games to Celebrate the Release of Avengers Endgame
To celebrate the release of avengers endgame here are three fantastic Marvel themed board game to help bring the MCU to your weekly board game night.
Marvel Codenames

Players 2 – 8 | Playing Time: 15min | Age: 8+

Codenames: Marvel combines the hit social word game Codenames, while featuring characters and locations from the Marvel Universe including, Spider Man, Guardians of the Galaxy, The Avengers and Doctor Strange. Opposing teams, S.H.I.E.L.D. and Hydra, compete to be the first to identify all of their team's 'field agents' from 25 Code cards displayed in a 5×5 grid. Code cards contain pictures on one side and words on the other.
In Codenames, two teams compete to see who can guess all of their words correctly first — but those words are hiding in plain sight in a 5×5 grid that includes the words of the other team, neutral words, and an assassin that will cause you to lose the game immediately if you guess it. One person on each team is a spymaster and only these two know which words belong to each team. Spymasters take turns giving one-word clues that can point to multiple words on the board. Their teammates try to guess words of the right color while avoiding those that belong to the opposing team — and everyone wants to avoid the assassin.
Thanos Rising

Players 2 – 4 | Playing Time: 60 – 90 min | Age: 10+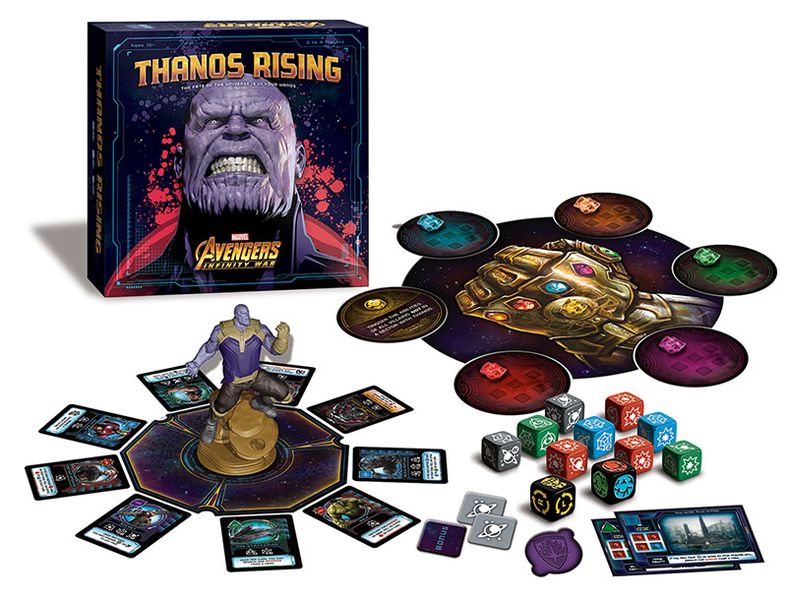 Thanos Rising: Avengers Infinity War is a cooperative dice and card game for 2-4 players.
In the game, players recruit heroes and assemble a team to face off against Thanos and his villainous forces in an effort to thwart him from accomplishing his master plan: Collecting all six Infinity Stones to power the Infinity Gauntlet and wreak havoc on the very fabric of reality. Building upon the strengths of the characters on their team, as well as other players, winning requires critical thinking and communication to reach a common goal.
Legendary – Marvel

Players 1 – 5 | Playing Time: 45 min | Age: 14+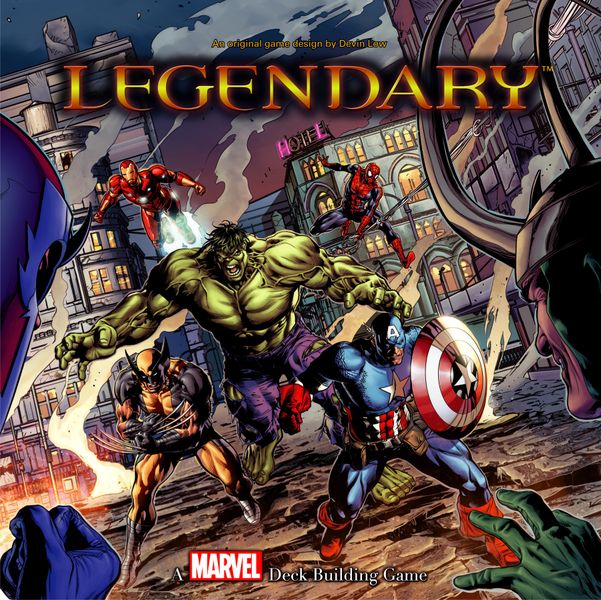 Legendary: A Marvel Deck Building Game is set in the Marvel Comics universe. To set up the game, players choose a mastermind villain (Magneto, Loki, Dr. Doom, etc.), stack that particular villain's attack cards underneath it, then modify the villain deck as needed based on that villain's particular scheme. Players then choose a number of hero decks – Spider-Man, Hulk, Cyclops, Wolverine, etc. – and shuffle them together; since players use only a handful of hero decks out of the fifteen included, the hero deck can vary widely in terms of what's available.
Over the course of the game, players will recruit powerful hero cards to add to their deck in order to build a stronger and more resourceful deck. Players need to build both their recruitment powers (to enlist more heroes) and their fighting ability (to combat the villains who keep popping up to cause trouble). Players recruit heroes from an array of five cards, with empty slots refilled as needed. At the start of a player's turn, he reveals a villain and adds it to the row of villains. This row has a limited number of spaces, and if it fills up, the earliest villain to arrive escapes, possibly punishing the heroes in some way. Some villains also take an action when showing up for the first time, such as kidnapping an innocent bystander. The villain deck also contains "master strike" cards, and whenever one of these shows up, the mastermind villain (controlled by the game) takes a bonus action.
As players fight and defeat villains, they collect those cards, which will be worth points at game's end. Players can also fight the mastermind; if a player has enough fighting power, he claims one of the attack cards beneath the mastermind, which has a particular effect on the game. If all of these cards are claimed, the game ends and players tally their points to see who wins. If the mastermind completes his scheme, however – having a certain number of villains escape, for example, or imposing a certain number of wounds on the heroes – then the players all lose.