Board Game Bargain – SPACETEAM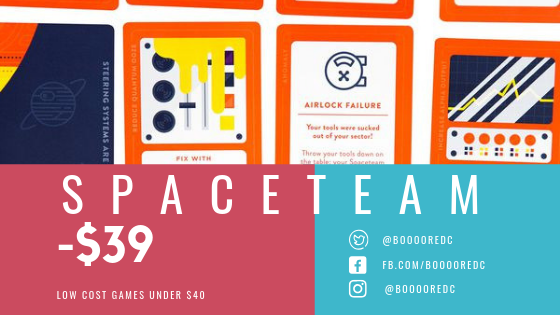 Are you looking for some cheap games on a budget well we have you covered with some great games that all cost under $40 USD this months game Spaceteam may be the game for you?
SPACETEAM (2016)
Cost $30
Game Details:
Players: 3–6
Playing Time: 5 Min
Age: 10+
Spaceteam is a fast-paced, cooperative shouting card game in which you race to repair your malfunctioning spaceship.
Your goal is to ensure that all ship systems are functioning properly before time runs out. Each player must deal with the various malfunctions in their sector by flipping cards from the malfunction deck in front of them, and fixing the ship's systems. You'll have an arsenal of disorganized space tools spread among all players' hands, but finding the right tools can be harder than you think, especially when your Spaceteam is frantically worrying about malfunctions in their own sector. If that wasn't hard enough, you'll also have to deal with complications such as wormholes and asteroid fields, which require the coordination of the entire Spaceteam. There are no turns; everyone plays and shouts at the same time. Victory is achieved if enough malfunctions are corrected to reveal the 6 hidden System-Go Cards before time is up.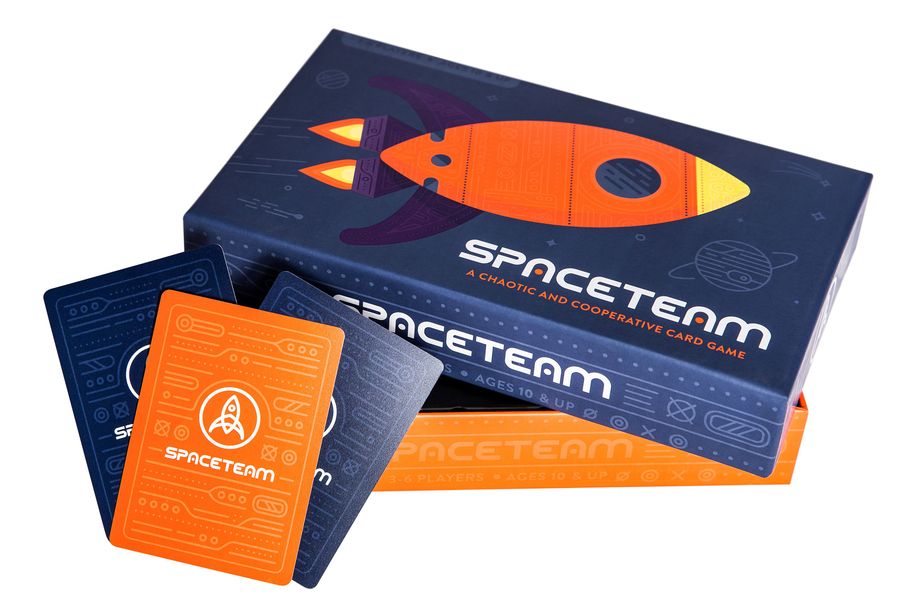 Yelling strange words, tossing cards, losing all hope…the loud and exhilarating Spaceteam is a game only your neighbours could hate. During play, up to six players (or nine with the highly recommended Not Safe For Space expansion) chaotically attempt to assemble a spaceship within five minutes.
Each player flips through a deck of interstellar "malfunction" cards while hunting for all six of the spaceship cards hidden among them. You solve each malfunction card by laying down specific "tool" cards, of which everyone has a hand. The problem? The tool cards are dispersed through all the players, requiring you to call aloud for them by physical description, or by their absurd names. You'll find yourself repeatedly yelling "The Quasipaddle! I need the Quasipaddle!" or "For the love of god, I still need the circle-y vacuum-looking thing with handles! Who has it?!"
This game is sure to be a blast with your friends and at such a cheap price point there is no reason to add it to your collection
Where to Buy: Where board games are sold!