Asmodee and exploding kittens designers to release new board games
 Exploding Kittens team  Matthew Inman, Elan Lee, and Shane Small responsible for the popular Cat themed Kickstarter success that has sold millions of copies and the card game that broke Kickstarter records
In addition to this they also had success last year with the releases a new game Throw Throw Burrito that has been a huge hit.
This powerhouse of party game designers are not done yet and have now unveiled three new games, set to hit the market within the coming days and weeks.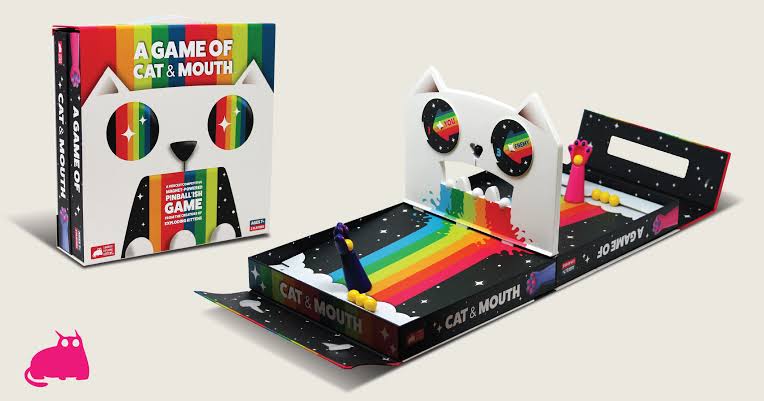 The launch kicked off with the arrival of A Game of Cat and Mouth on the 15th earlier this month and will be followed by a pair of games suited for two-players in the palindrome-powered tug of war Tacocat Spelled Backwards rumoured released of February 28 and the innovative word game A Little Wordy rumoured released of April 1.
This time it's asmodee that has teamed up with these now veteran designers to release these three games.
Cat and mouth 
A Game of Cat & Mouth is a two-player game in which players use a magnetic cat's paw to shoot balls at one another.
In more detail, to set up, you lay the box open on the table, place the "cat head" dividing screen upright in the center of the board, place the black "nose" ball in the center of the cat's face, set the three white "teeth" balls in the cat's mouth, divide the eight yellow balls between the two players, and lock the magnetic cat's paw into place on each side of the game board.
In a round, you use your cat's paw to shoot balls through the cat's mouth at your opponent, or you aim for the nose and teeth to knock them out.
As soon as all the balls of one color — the one black ball, the three white balls, or the eight yellow balls — are on one side of the board, the round ends and the other player scores a point. Reset the board, and start shooting at one another once again!
Tac o Cat 
We don't know much about this one yet only a release date along with the fact that it is a two player game in which players engage in card-playing duels the aim is to bring Tacocat closer to their side of the board.
Expect the artwork and humour to be in line with the groups previous releases. 
A Little Wordy 
The last game we have seen teased is called a little wordy. This game is a tile-unscrambling game giving scrabble players something else to play taking a fresh take on the genre of tile-based word games. 
What we know so far is this game doesn't focus on you having a giant and obscure vocabulary however it rewards a players' ability to make clever choices rather than rewarding the player with the biggest obscure word. 
it's a thoughtful and strategic game that challenges players to figure out their opponent's chosen secret word
So get ready for the party game options to only get bigger with these three games coming soon.