7 Games to Celebrate International Talk Like A Pirate Day
Arrrrgg Time to walk the board game plank and find those shiny doubloons because Today is International Talk Like a Pirate Day.
So we would love you to take the time to stop and check out these 7 Board Games that you and your friends can use to Celebrate International Talk Like A Pirate Day.
Got any more pirate board games that we didn't include on this list make sure you let us know in the comments below we would love to hear about the games you and your friends are playing to celebrate.
Jamaica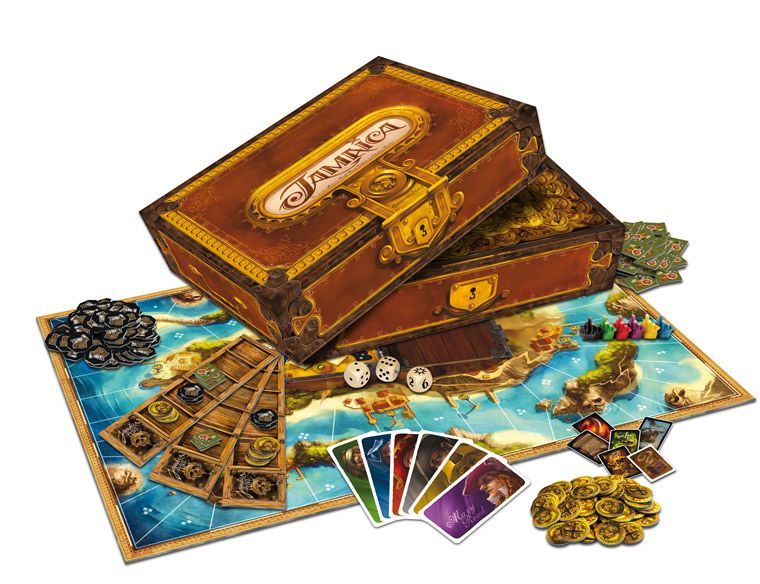 This is a pirate-themed tactical race game with player interaction and side goals (e.g. detouring for treasure). The winner is the player who best balances their position in the race with their success at the side goals.
Libertalia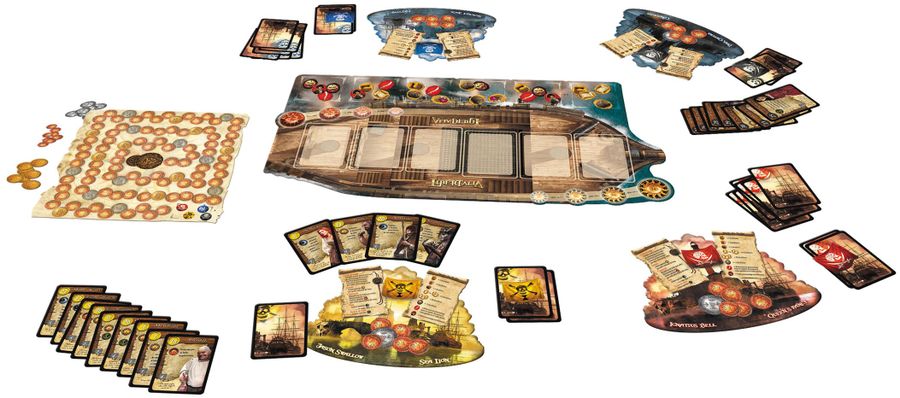 In Libertalia, you must thwart the plans of competitive pirates over the course of three rounds while using cards that show the same crew members as your piratical comrades-in-arms. Yes, not only do they attack the same ships, but they employ the same type of ravenous scum that you do!
Can you take advantage of the powers of your characters at the right time?
Will you be outdone by a pirate smarter than you? Jump into the water and prove your tactical skills!
Port Royal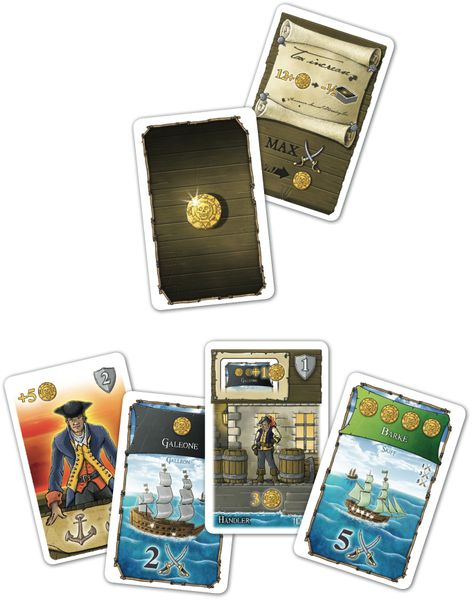 The merchant players in Port Royal, which won the Austrian Game Designers Competition under the title Händler der Karibik, are trying to earn as much as they can out of the Caribbean Sea, but if they set their goals too high, they might take home nothing for the day.
The 120-card deck depicts a coin on the back of each card — with players earning and paying coins throughout the game — and different items on the card fronts. On a turn, a player can first draw as many cards as he likes, one at a time from the deck, placing them in the harbour (an area near the deck). Each card shows one of the following:
Person, who stays in a face-up row next to deck.
The ship, which the player can attack immediately if he has enough swords on his people cards, after which the ship is discarded; otherwise, the ship stays in the harbour.
An expedition, which remains above the harbour until a player fulfils it by discarding people who have the items required for the expedition.
Tax Increase, which forces everyone with twelve or more coins to discard half their money, after which the card is discarded.
Black Fleet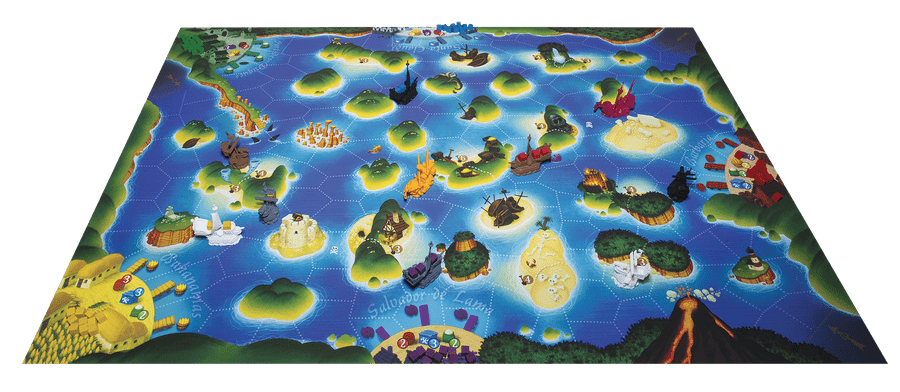 In the tactical card-driven board game Black Fleet, you're in command of three different types of ships: your merchant ship earns you doubloons by conveying goods from one port to another, your pirate ship by attacking and stealing goods from merchants and burying them on islands, and the Navy ships by sinking your opponents' pirate ships.
With your (not-always-honestly-won) money, you'll improve your ships by buying advancement cards, giving you powerful additional abilities.
Outwit your opponents with fortune cards and combos, earn money faster than they do, and pay the ransom for the governor's daughter to win the game!
Merchants & Marauders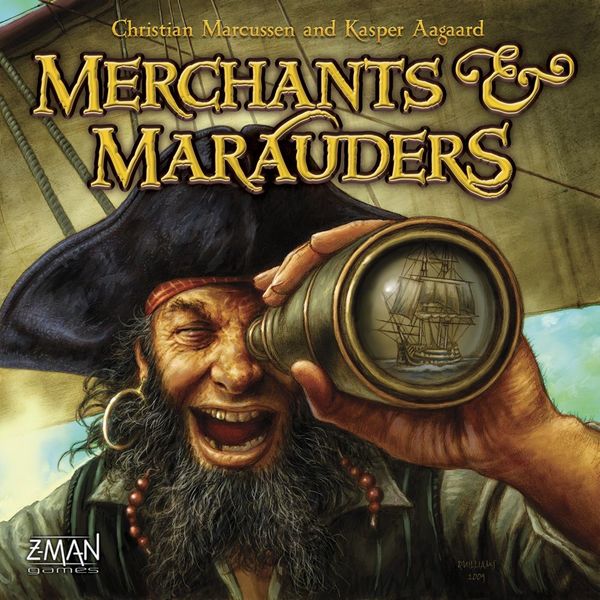 In Merchants and Marauders, players take on the role of a captain of a small vessel in the Caribbean. The goal is to be the first to achieve 10 "glory" points through performing daring deeds (through the completion of missions or rumors), crushing your enemies (through defeating opponents and NPCs in combat), amassing gold, performing an epic plunder or pulling off the trade of a lifetime, and buying a grand ship.
While some points earned from performing various tasks are permanent, players earn points for amassing gold, which can be stolen or lost (or at least diminished) if their captain is killed.
Points due to gold are hidden so there's some uncertainty about when the game will end.
Rum & Bones: Second Tide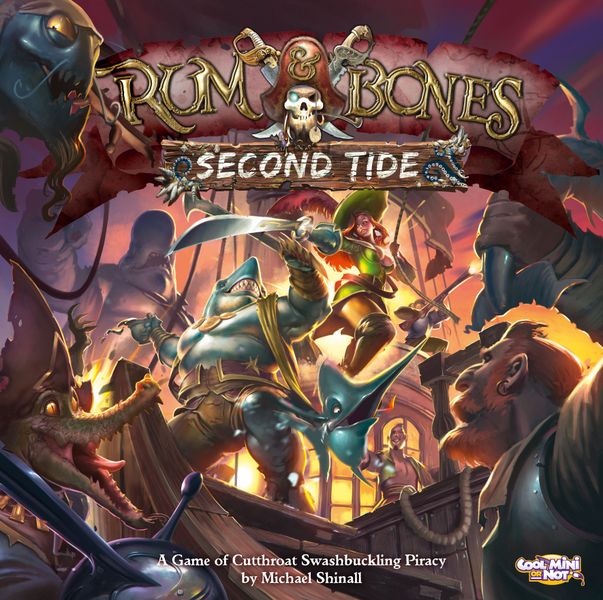 Based on online MOBA (Multiplayer Online Battle Arena) style games, Rum & Bones has 2-6 players taking control of legendary pirate heroes, each with unique powers and abilities, as their crews fight over Davy Jones' legendary treasure!
Players each control up to five heroes at any time, moving them across the game board in an attempt to destroy various key features on their opponents' ship. Victory is obtained by destroying enough of these features. Your heroes are not alone, however, as your crew also consists of deckhands and bosuns who, while not controlled by the player, will work on a simple AI to wreak havoc on the enemy!
Of course, what would pirates be without plunder? And in Rum & Bones the most sought after treasure are Davy Jones' mythical pieces of eight! Players amass these powerful coins during gameplay to unleash devastating abilities and attacks from their Heroes, crushing all enemies before them until only they remain!
Pirate's Cove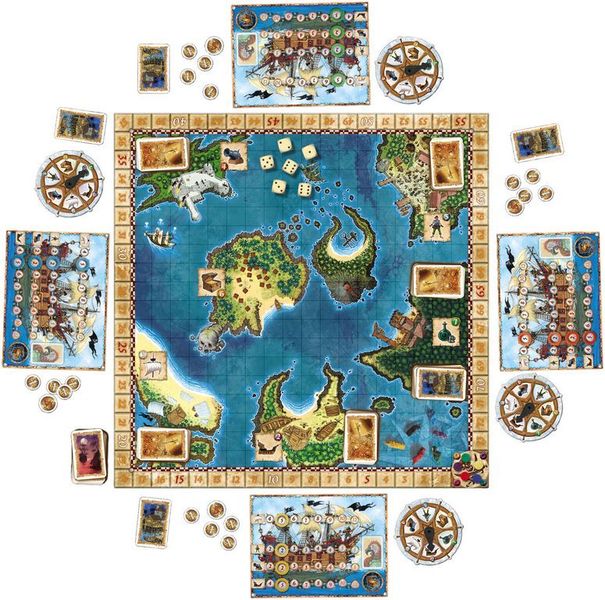 Come aboard and sail to Pirate's Cove, the legendary hideaway of thieving pirates and cutthroat buccaneers.
The tales of those legendary pirates of old who've fought and survived these mysterious waters still haunt all those who yearn for a life at sea. Armed with a secret map and starting with a modestly outfitted sloop salvaged from last winter's storm, you set sail to Pirate's Cove, your eyes filled with visions of treasure and fame, your lungs filled with the salty air of the high seas.
Your objective: to battle for the rights to plunder and become the most famed and feared pirate the world has ever seen. To do so, you will need to navigate shrewdly, fight recklessly and pillage mercilessly.
You will gain fame by winning battles; burying gold and treasure, and bragging about your exploits at the tavern. At the end of twelve months, the pirate with the most fame will be declared the most fearsome pirate of the high seas!