Multiplayer Board Games you can play with only your internet browser
Have you been looking for some games that you can play online with your friends? Well, you have come to the right place these game only require you to have an internet connecting to get up and running.
There are some great classics and some modern favourites included in the list below but if you have any other suggestions please let us know in the comments below and share the links.
Codenames
In Codenames, two teams will compete to see who can make contact with all of their agents first.
Spymasters give one-word clues that can point to multiple words on the board.
Their teammates try to guess words of the right colour while avoiding those that belong to the opposing team. And everyone wants to avoid the assassin.
Play Online with Horsepaste
URL: https://www.horsepaste.com/
Codenames (Pictures)
Codenames: Pictures differs from the original Codenames in that the agents are no longer represented by a single word, but by an image that contains multiple elements.
Two rival spymasters know the agent in each location. They deliver coded messages telling their field operatives where to go for clandestine meetings. Operatives must be clever.
A decoding mistake could lead to an unpleasant encounter with an enemy agent – or worse, with the assassin! Both teams race to contact all their agents, but only one team can win.
Play Online with dport.me
URL: https://codenames.dport.me/
Carcassonne
Carcassonne is a tile-placement game in which the players draw and place a tile with a piece of southern French landscape on it. The tile might feature a city, a road, a cloister, grassland or some combination thereof, and it must be placed adjacent to tiles that have already been played, in such a way that cities are connected to cities, roads to roads, etcetera.
Having placed a tile, the player can then decide to place one of their meeples on one of the areas on it: on the city as a knight, on the road as a robber, on a cloister as a monk, or on the grass as a farmer.
When that area is complete, the meeple in that area scores points for its owner.
During a game of Carcassonne, players are faced with decisions like: "Is it really worth putting my last meeple there?" or "Should I use this tile to expand my city, or should I place it near my opponent instead, giving him a hard time to complete their project and score points?" Since players place only one tile and have the option to place one meeple on it, turns to proceed quickly even if it is a game full of options and possibilities.
Play Online with Board Game Arena
URL: https://boardgamearena.com/
Sushi Go
In the super-fast sushi card game, Sushi Go!, you are eating at a sushi restaurant and trying to grab the best combination of sushi dishes as they whiz by. Score points for collecting the most sushi rolls or making a full set of sashimi. Dip your favourite nigiri in wasabi to triple its value! And once you've eaten it all, finish your meal with all the pudding you've got! But be careful which sushi you allow your friends to take; it might be just what they need to beat you!
Sushi Go! takes the card-drafting mechanism of Fairy Tale and 7 Wonders and distils it into a twenty-minute game that anyone can play. The dynamics of "draft and pass" are brought to the fore, while keeping the rules to a minimum.
As you see the first few hands of cards, you must quickly assess the make-up of the round and decide which type of sushi you'll go for. Then, each turn you'll need to weigh which cards to keep and which to pass on.
The different scoring combinations allow for some clever plays and nasty blocks. Round to round, you must also keep your eye on the goal of having the most pudding cards at the end of the game!
Play Online with Board Game Arena
URL: https://boardgamearena.com/
Pictionary
Playing Pictionary may remind you of Charades, but with drawing on paper instead of acting out the answers.
In Pictionary, though, both teams' (or even all three teams') clue givers may be drawing at the same time as players strive to be the first to guess the correct answer.
When the answer is not designated "All Play," one team simply tries to come up with the answer before the timer runs out, which is usually but not always possible thanks to the varying difficulty levels of the answers. 
No great drawing talent is required; instead, players gain an edge if they have a good imagination when guessing, empathy for their teammates, and/or a general ability to communicate in restricted circumstances.
A board is provided, just to keep score on, which focuses on the competition. Pictionary was a big hit when it first appeared and has been a classic on the party game scene ever since.
Play Online with Skribbl
URL: https://skribbl.io/
Settlers of Catan
In Catan (formerly The Settlers of Catan), players try to be the dominant force on the island of Catan by building settlements, cities, and roads. On each turn, dice are rolled to determine what resources the island produces.
Players collect these resources (cards)—wood, grain, brick, sheep, or stone—to build up their civilizations to get to 10 victory points and win the game.
Setup includes randomly placing large hexagonal tiles (each showing a resource or the desert) in a honeycomb shape and surrounding them with water tiles, some of which contain ports of exchange. Number disks, which will correspond to die rolls (two 6-sided dice are used), are placed on each resource tile.
Each player is given two settlements (think: houses) and roads (sticks) which are, in turn, placed on intersections and borders of the resource tiles. Players collect a hand of resource cards based on which hex tiles their last-placed house is adjacent to. A robber pawn is placed on the desert tile.
A turn consists of possibly playing a development card, rolling the dice, everyone (perhaps) collecting resource cards based on the roll and position of houses (or upgraded cities—think: hotels) unless a 7 is rolled, turning in resource cards (if possible and desired) for improvements, trading cards at a port, and trading resource cards with other players.
If a 7 is rolled, the active player moves the robber to a new hex tile and steals resource cards from other players who have built structures adjacent to that tile.
Points are accumulated by building settlements and cities, having the longest road and the largest army (from some of the development cards), and gathering certain development cards that simply award victory points. When a player has gathered 10 points (some of which may be held in secret), he announces his total and claims the win.
Play Online with Colonist
URL: https://colonist.io/
Uno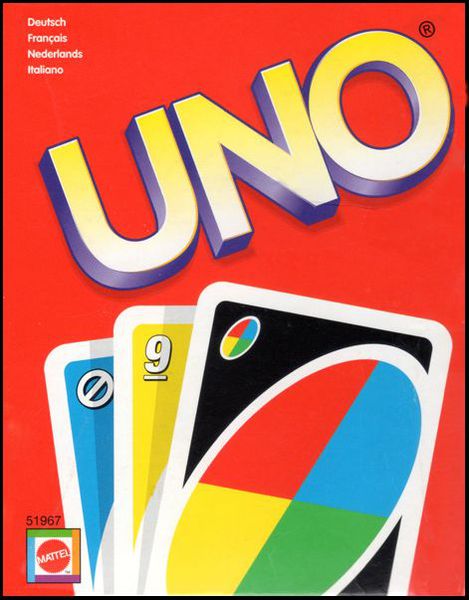 Players race to empty their hands and catch opposing players with cards left in theirs, which score points. In turns, players attempt to play a card by matching its colour, number, or word to the topmost card on the discard pile.
If unable to play, players draw a card from the draw pile, and if still unable to play, they pass their turn. Wild and special cards spice things up a bit.
UNO is a commercial version of Crazy Eights, a public domain card game played with a standard deck of playing cards.
This entry includes all themed versions of UNO that do not include new cards.
Play Online with Unofreak
URL: https://play.unofreak.com
Tokaido
In Tokaido, each player is a traveller crossing the "East sea road", one of the most magnificent roads of Japan. While travelling, you will meet people, taste fine meals, collect beautiful items, discover great panoramas, and visit temples and wild places but at the end of the day, when everyone has arrived at the end of the road you'll have to be the most initiated traveller – which means that you'll have to be the one who discovered the most interesting and varied things.
The potential action spaces in Tokaido are laid out on a linear track, with players advancing down this track to take actions. The player who is currently last on the track takes a turn by advancing forward on the track to their desired action and taking that action, so players must choose whether to advance slowly in order to get more turns or to travel more rapidly to beat other players to their desired action spaces.
The action spaces allow a variety of actions that will score in different, but roughly equal, ways. Some action spaces allow players to collect money, while others offer players a way to spend that money to acquire points. Other action spaces allow players to engage in various set collections that score points for assembling those sets. Some action spaces simply award players points for stopping on them or give the player a randomly determined action from all of the other types.
All of the actions in Tokaido are very simple and combined with a unique graphic design, Tokaido offers players a peaceful zen mood in its play.
Play Online with Board Game Arena
URL: https://boardgamearena.com/
Takenoko
In Takenoko, the players will cultivate land plots, irrigate them, and grow one of the three species of bamboo (Green, Yellow, and Pink) with the help of the Imperial gardener to maintain this bamboo garden.
They will have to bear with the immoderate hunger of this sacred animal for the juicy and tender bamboo. The player who manages his land plots best, growing the most bamboo while feeding the delicate appetite of the panda, will win the game.
Play Online with Board Game Arena
URL: https://boardgamearena.com/