On tour is back on Kickstarter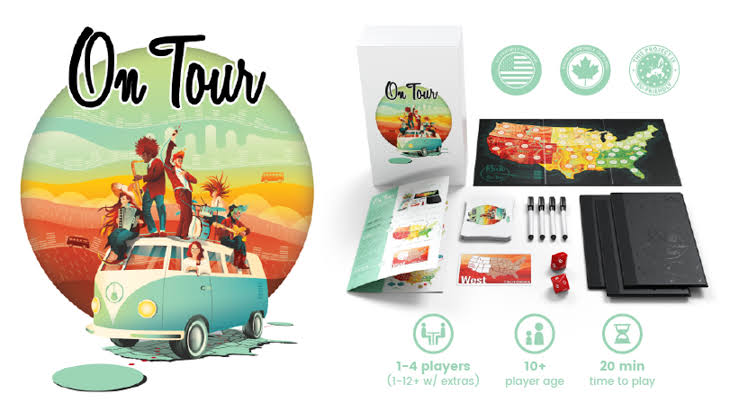 On tour is back on Kickstarter now!
In 2018 on tour was launched on Kickstarter and began the journey of putting roll and write games back on the map 
well the game was well received an absolute hit So well received in fact, that the game is now sold out and ready for a reprint. 
So it's back on Kickstarter and now is your chance to get a great game that you may have missed out on the first time around.
With some additional bonus's 
How much does it cost 
Let's face it most of you already know about the game and you just want to know the price! Well it's $29USD and the link is at the bottom of this post so go check it out.
Otherwise stick around to learn more about on Tour and the changes to the game for the 2020 release. 
About the Game 
On Tour is a route-building roll-and-write game. You are the manager of a band, planning your summer concert series.
Each turn, based on the dice roll, you will write numbers in two states. 
The cards will restrict where you can write them. These numbers represent what day you can visit that state.
At the end of the game, you will draw a route connecting as many states as possible, but never going back to a smaller number. 
If you visit more states than your friends, you win.
This is one of those games that seems simple at first, but it quickly becomes a real challenge. 
A real puzzle to figure out. The dice, plus some random setup rules make that puzzle different every time.
Plays in 20 minutes. 1 to 8 players. If you get two copies, you can play an epic 16-player game.
New Features / Changes from 2018 release 
Update from the creators
The biggest complaint about On Tour was the size of the box. The new box will be about half as thick. Around 2 inches tall instead of 4 inches tall.
The cards, dice, and markers are the same. 
However, the maps are changing to be a little bit smaller, a little bit thinner, they will be folded in half instead of thirds, and won't have the decorative tape binding. 
They will still be plenty big and sturdy enough to play on. 
But making this change means we can fit 8 maps in a box that is half as small.
The first edition came with 4 maps, and the option to buy more. Second edition will come with 8 maps standard. 
That will fill up the box. If you want to play with more people, buy a second copy of the game and you can play with 16.
Even more exciting, we are able to make all the maps two sided. The original USA map on one side and on the other side:
Where to find it
Don't miss it again Follow the Kickstarter link below to check out the campaign before it's too late.