Where to find a board game group in Australia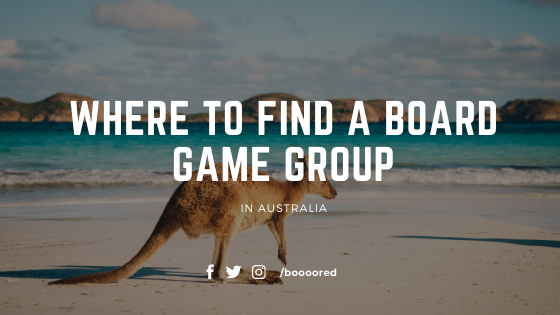 Finding a board game group can be a great option for those looking to play a diverse range of board games and explore the board gaming hobby further.
However, finding a group can be a challenge if you don't know where to start here are four options that should suit most looking to be involved in a board game community.
If you are looking at this article and are just looking for a meetup then check out this Google Map created by the Australian Board Game Community to find your local meetup or to find nearby board game groups and events.
The map even colour-codes different groups by the day of the week they meet and covers all of Australia (and some of New Zealand).
Every one of the groups Listed has the address, the cost to attend (if there is any) and meeting times listed along with any other relevant information that you might need to attend.
If you are looking for gamers for your group, this is a great resource to join.
If your board game group isn't here and you want it to be you can CLICK HERE to submit your gaming group to the list.
Option One: Start A Group at home
A great option is to start your own board game group at home with a couple of friends this method will most likely have the largest financial investment as you will need to supply the games that you and your group will play each week.
But if you have a few group members invested in contributing games this is very easy to do and you can play the same game more then once, despite the logic of my gaming group.
Option Two: Start a Board Game Meetup
If you have the resources and are looking at creating something a bit more extensive and grandiose you can always start your own group.
To do this I would recommend you have at least 20 games in your collection that are a diverse mix of different styles everything from party games to a couple of Eurogames should provide a well-rounded range of games so that everyone has something to play.
Once this is done find a venue that has a few tables and advertise it in the local community and see who shows up.
Don't be disheartened if you only get a couple of players but always keep in mind that even tho you might want to play for 12 hours most new gamers will be tapped out around 3 hours so don't expect people to hang out all day at letting your community's feedback drive your group.
Once you are set up CLICK HERE to submit your gaming group to the list of groups on the Map above.
Option Three: Join a Board Game Meetup
There are heaps of different options for you if you are looking to join an existing meetup don't expect to be playing weekly but you should be able to find something using the map above otherwise it might be time to work with a group of people and get something local started.
Option Four: Play Games Online
You have tried all the other options and nothing works for you then why not try using a tabletop simulator and playing online? It's a great alternative for those that can't get to a regular group.
Download Tabletop Simulator Here
Check out some of the Groups Below
Name
Frequency 
Day 
Location
Details 
Facebook
Ages 
Cost 
Other Details
Canberra Boardgames Club
Bi-Monthly 2nd & 4th
Sunday
The Durham Castle Arms
ACT
https://www.meetup.com/Canberra-Boardgames-Group/
https://www.facebook.com/boardgamescanberra
Note: gambling is not permitted at any of our events. As we will be meeting in licensed venues, you need to be at least 18 years old to join.
Woden Valley Boardgames
Monthly – 1st weekday
Saturday
Woden Library
ACT
https://www.facebook.com/WodenValleyBoardGames/
Board games, card games.
Free
GLOG (Gungahlin Library Open Gaming)
Monthly – 2nd weekday
Saturday
Gungahlin Library
ACT
https://www.facebook.com/groups/648475951914194/
All the games.
Free.
KLOG (Kippax Library Open Gaming)
Monthly – 4th weekday
Saturday
Kippax Library
ACT
https://www.facebook.com/groups/648475951914194/
Tabletop gaming: board games, card games, etc.
Free
Canberra Tabletop Gamers
Various – see info
Various – see info
ACT
https://www.facebook.com/groups/ACTTG/
All table top gaming
This group serves as a community bulletin board for the Canberra gaming community. Events, retail offers and other items of interest will be posted, and members are invited to use the board to organise their own groups and sessions.
Australian National University Games Society
Weekly
Friday
HANDCOCK WEST (Building) 1st Floor
ACT
http://www.anu.edu.au/maps#search=Hancock+build&show=29005
https://www.facebook.com/groups/anubgs/
Board Games
NIL
Enfield Gamers Group
Bi-Monthly 1st & 3rd
Thursday
St Thomas Anglican Church
NSW
https://www.meetup.com/Game-Lovers/events/vcsnqpyxkbhb/
Gamezilla
Daily
Various – see info
Gamezilla
NSW
gamezillaonline.com
https://www.facebook.com/GamezillaLiverpool/
card, board, miniature
varied
Southside Board Games (Kogarah)
Fortnightly
Monday
NSW
http://southside.droppages.com/
Free
Broken Hill Tabletop Gamers
Fortnightly
Tuesday
South Community Centre Library
NSW
Free
Woonona Board Games Group
Fortnightly
Wednesday
Woonona Baptist Church
NSW
https://www.meetup.com/en-AU/Woonona-Board-and-Card-Games/
https://www.facebook.com/groups/437297346343640/
A friendly, welcoming space for people interested in modern board and card games. Open to all ages, all genders, and all levels of board game experience.
Free
Tamworth Games Club
Fortnightly
Saturday
Tamworth Community College
NSW
Warhammer 40K, AOS, MtG, X Wing, Armada, Warmachine, L5R, Relic Knights etc
$5 entry
Children under 15 must be accompanied by an adult
Above board games
Fortnightly
Thursday
South Dubbo Veterans and Community Men's Shed
NSW
https://www.facebook.com/groups/744196072453846/
board games
gold coin
Chatswood Library Tabletop Nights
Fortnightly
Thursday
Chatswood Library
NSW
Free
Green Square Gamers
Fortnightly
Tuesday
Glenroy Hotel
NSW
https://www.facebook.com/greensquaregamers/
https://www.facebook.com/groups/2493650927576411/
Relaxed games nights, beginners welcomed
0
Be sure to join our Facebook group and like our Facebook page to keep up to date with upcoming events
Sydney Tabletop Games
Monthly
Sunday
NSW
https://www.meetup.com/en-AU/Sydney-Tabletop-Board-Games/
https://www.facebook.com/groups/SydneyTabletopGames/
Tabletop Gaming
8
Attendance via RSVP ONLY – Please see the Meetup page for details
Sydney Central Board Games
Monthly – 1st weekday
Friday
Games Paradise
NSW
https://www.meetup.com/en-AU/Sydney-Central-Board-Games/
https://facebook.com/groups/sydneycentralBG/
Longer games
5
The $5 the attendees pay gets paid at the counter before heading upstairs to the gaming area. This is to support the venue.
Springwood Board Gamers
Monthly – 1st weekday
Saturday
House
NSW
https://www.facebook.com/groups/112822176066465
Entry-level through to Pandemic: Legacy. Plenty of Spiel des Jahres winners.
Free
Events are managed through the "Springwood Board Gamers" facebook group
Tabletop Games in the Mountains
Monthly – 1st weekday
Saturday
Katoomba library
NSW
https://www.facebook.com/groups/365986373603256/
Modern Tabletop Games
Free
The facebook group is a general forum for organising games activities in the Blue Mountains. The monthly event at Katoomba Library is one of those activities.
Queanbeyan Open Games
Monthly – 3rd weekday
Saturday
Queanbeyan Leagues Club
NSW
https://www.facebook.com/groups/748524688687628/
Games, games, games!
Free
Game On!
Monthly – 3rd weekday
Saturday
The Lounge Room
NSW
Fun community space, so anything from party games to heavy euros.
Donation to support MMAD who lend us the space
We do pizza dinners together for $5 around 7pm
Every Gamers Guild
Various – see info
Various – see info
Charlestown Library
NSW
http://www.everygamersguild.com.au/
https://www.facebook.com/groups/everygamersguildau/
All tabletop games – Every Game and Every Gamer
Free for first visit, casual entry or membership options
Meets 4 times each month:
Kingdom Gamers
Various – see info
Sunday
Church
NSW
https://www.facebook.com/groups/520048341718921/
Board game's and meet new people
None
Meeple Mixer
Various – see info
Saturday
Epping Scout Hall
NSW
https://bit.ly/MeepleMixer2019
To celebrate International Tabletop Day and Ticket to Ryde's first birthday, with all-day open gaming and fun activities
Tickets available at https://bit.ly/MeepleMixer2019
Sat, Apr 27, 2019
Sutherland Shire Gamers
Various – see info
Various – see info
Sylvania Heights Community & Youth Club
NSW
https://www.meetup.com/Southern-Gamers-Meetup/
Wargames and tabletop Games
See website for times and days.
Newcastle Board Games
Various – see info
Various – see info
Varies
NSW
https://www.facebook.com/groups/newcastleboardgames/
Board Games
Free
This is a new group focus mainly for board game lovers in Newcastle and surrounding areas.
Northside Gamers – Chatswood
Weekly
Tuesday
Chatswood Club
NSW
https://www.meetup.com/en-AU/Game-Lovers/events/tbpchlyxkbfb/
Tabletop Gaming
Free (although purchasing food or drinks is recommended)
We are and inviting group of gamers open to anyone to attend
Sydney Tabletop Games
Weekly
Thursday
NSW
https://www.meetup.com/en-AU/Sydney-Tabletop-Board-Games/
https://www.facebook.com/groups/SydneyTabletopGames/
Tabletop Gaming
5
Attendance via RSVP ONLY – Please see the Meetup page for details
Lunchtime Games at Central
Weekly
Good Games Sydney Central
NSW
https://www.boardgamegeek.com/thread/136413/lunch-time-games-central
Tabletop Gaming
Discussion Thread – https://www.boardgamegeek.com/thread/136413/lunch-time-games-central
Inner West Gamers
Weekly
Tuesday
3 Weeds Hotel
NSW
Tabletop Gaming
Free
Ticket to Ryde
Weekly
Wednesday
West Ryde Hotel
NSW
Tabletop Gaming
Free (although purchasing food or drinks is recommended)
Upper North Shore Boardgamers
Weekly
Thursday
Gametraders Live
NSW
http://www.meetup.com/Upper-North-Shore-Board-Gamers/
http://www.facebook.com/groups/UpperNorthShoreBoardGamers
Tabletop Gaming
Central Coast Board Games Meetup
Weekly
Thursday
Good Games Gosford
NSW
https://www.meetup.com/Central-Coast-Board-Games-Meetup/
0
Sydney Central Board Games
Weekly
Tuesday
The Bear Bar
NSW
https://www.meetup.com/Sydney-Central-Board-Games/
https://facebook.com/groups/sydneycentralBG/
Board games
6
The $6 that players pay gives them a drinks voucher for the bar. It is just a cost to support the venue
"De-Stress" Social Gaming (Parramatta)
Weekly
Monday
Parramatta RSL
NSW
https://www.meetup.com/Game-Lovers/events/mvvrknyxkbdb/
Northwest Board Gamers
Weekly
Wednesday
Riverstone Schofields Memorial Club
NSW
https://www.facebook.com/groups/northwestboardgamers/
Tabletop Gaming
Club membership is $5.50 per year and comes with various benefits like discounted drinks. We encourage game night attendees to join up and support the venue.
Northwest Sydney Tabletop Gamers
Weekly
Friday
Mini Espresso Bar
NSW
https://www.facebook.com/groups/1910108605915199/
Northwest Sydney Tabletop Gamers
Weekly
Tuesday
Games Night in the Hills @ Baulkham Hills Bowling Club
NSW
https://www.facebook.com/groups/1910108605915199/
Northwest Sydney Tabletop Gamers
Weekly
Wednesday
GGBV Boardgames @ Good Games Bella Vista
NSW
https://www.facebook.com/groups/1910108605915199/
Northwest Sydney Tabletop Gamers
Weekly
Saturday
Good Games Bella Vista
NSW
https://www.facebook.com/groups/1910108605915199/
Sydney Beer and Board Games
Weekly
Saturday
Austrian Schnitzel House
NSW
https://m.facebook.com/groups/1620888044820424
Casual friendly gamers
Free, but you really should buy a drink 🙂
This is a friendly gaming group who plays for the love of cardboard. Aggressive, alpha gamers are not welcome.
NABS
Weekly
Wednesday
Mayfield Wests
NSW
https://www.facebook.com/groups/547591688604477/
All Tabletop Games
FREE
Lismore TableTop Gamers Inc.
Weekly
Sunday
Lismore Heights Sports, Recreation & Community Club
NSW
http://lismoretabletopgamers.org.au/
https://www.facebook.com/groups/lismoretabletopgamers
Euros, minis, card games, RPGs- something for everyone.
$5 casual- first visit free, memberships available
All those under 16 years of age must be accompanied by an adult.
Games in the hills
Weekly
Tuesday
Baulkhum Hills bowling club
NSW
Casual, mid weight and prototype
0
Join the Meetup group, all gamer levels welcome!
inner westie geeks
Weekly
Thursday
Petersham RSL
NSW
https://www.facebook.com/groups/215320358960111/?fb_dtsg_ag=Adzl03xDFjUW0cJtBLEQymiSxAbZIu7qDJSldzgUnpxIig%3AAdwjdI94gY9nOi_Z1SzQvPtlGMzbMfzudrBnMiynmtgtRw
Casual
0
It's a small group, we meet most Thursday's, ask on the FB page to confirm we're not skipping a week
Central Coast Board Games Meetup
Weekly
Thursday
Good Games Gosford
NSW
https://www.meetup.com/Central-Coast-Board-Games-Meetup/
From beginner games to heavy euros. Dark Moon and Brass are club favourites.
Nil
Exciles Board Gamers
Weekly
Wednesday
Exciles Club
NSW
https://www.exiles.club
https://www.google.com.au/url?sa=t&source=web&rct=j&url=https://m.facebook.com/groups/ExilesGamingClub/%3Fref%3Dgroup_header%26view%3Dgroup&ved=2ahUKEwimk-SEkN3dAhWFTrwKHR8aCEEQFjAcegQIBRAB&usg=AOvVaw2GXoC_h_U7EbiMxOVEsJtj
Euros, light, midweight or heavy as well as other fun board or card games.
8 (this is for entry to the main club)
There are also meets a couple of Saturdays each month. Check the FB page for details.
Randwick Eurogamers
Weekly
Thursday
Andrew's place
NSW
Euros and co-ops
Free
Contact Andrew on BGG if you'd like to try us out
Armidale and Region Family Friendly Board Gamers
Weekly
Monday
Upstairs meeting room at the Armidale Library
NSW
https://www.facebook.com/groups/690361108012281/
Euro style games like Carcassonne, TTR, Catan etc
free
Good Games Hurstville Thursday Night Games
Weekly
Thursday
Good Games Hurstville
NSW
Primarily eurogames with slant on the new hotness.
NA
South-West Sydney Gamers
Weekly
Friday
NSW
Board Games
East End Board Game Society
Weekly
Tuesday
Grain Store Bar Newcastle
NSW
https://groups.io/g/eastendboardgames
light to medium board and card games.
$2/session includes insurance on personal games
We're happy to include like minded players. Laid back and inclusive group. Email moderators for an invite.
Board Gamers Guild Eastern Suburbs
Weekly
Friday
Good Games Bondi Junction
NSW
https://www.goodgames.com.au/au/stores/nsw/bondi-junction.html
https://www.facebook.com/goodgamesbondijunction/
All board games and most miniatures games
$5 to store credit
We are located upstairs
In Memory of Looters Lair
Weekly
Thursday
Cabbage Tree Hotel Fairy Meadow
NSW
https://www.rollforgroup.com/events
Whatever people feel like playing
Free
Almost every Thursday (numbers permitting) we honor the memory of The Looter's Lair of Figtree, where many of us met, by playing board games at the Cabbage Tree Hotel in Fairy Meadow.
North Shore Beer & Boards Games
Weekly
Saturday
Bavarian Bier Cafe Chatswood – Shops 4 – 6, Chatswood Central Precinct
NSW
https://www.facebook.com/groups/1000426006827396/
Free
Social beginner-friendly group meeting weekly. Bring a game you want to play, or just turn up!
Groote Board Game Club
Weekly
NT
https://www.facebook.com/GrooteBoardGameClub/
Alice Warhammer and Tabletop Gaming Club
Weekly
Saturday
Olsh Marian Centre
NT
https://www.facebook.com/groups/273488904570/?epa=SEARCH_BOX
Everything from Warhammer to MTG and Pandemic
First time is free and then $2
Logan village gamers
Bi-Monthly 1st & 3rd
Various – see info
Varies
QLD
Varies
0
Looking to start a permanent group around the Logan Village area. Get in contact [email protected] if you're interested. Mainly just small group games collaborative and competitive.
Helensvale Board Gamers
Fortnightly
Saturday
Helensvale Library
QLD
https://www.facebook.com/groups/1808370915903013/
https://www.facebook.com/groups/1808370915903013/
All games are fine.
Free
Townsville BoardGamers
Fortnightly
Wednesday
Jubilee Bowls Club
QLD
https://www.facebook.com/townsvilleboardgamers/
All types of games
5
Grilling Games
Fortnightly
Tuesday
Grill'd Camp Hill
QLD
https://www.facebook.com/groups/grillinggames/
https://www.facebook.com/groups/grillinggames/
Casual, Party Games to Mid weight Games
Purchase at least a drink ($4.5)
Friendly, Welcoming to beginners.
Springfield Lakes Board and Card Games
Fortnightly
Friday
Crema Espresso Springfield
QLD
https://www.facebook.com/groups/SpringfieldLakesBoardandCardGames
Gold Coin Donation
Check Facebook page for event listings
Kedron Boardgamers
Monthly – 1st weekday
Tuesday
Edinburgh Castle Hotel
QLD
https://www.facebook.com/groups/202820316966269/
https://www.facebook.com/groups/202820316966269/
European Strategy games
Free
Toowoomba Boardgamers
Monthly – 2nd weekday
Sunday
Battlestation (Upstairs)
QLD
https://www.facebook.com/Toowoomba.Boardgamers/
Players of all skill levels welcome
3
Squad Leader Association of Brisbane (SLAB)
Monthly – 3rd weekday
Saturday
Ace Comics (Annerley Arcade)
QLD
Squad Leader (SL), Advanced Squad Leader (ASL)
Free
World War II Tactical Boardgaming
Gladstone Board Games
Various – see info
Friday
Gladstone Inclusion Centre
QLD
www.facebook.com/groups/GladstoneBoardGames
http://facebook.com/shadesandcurves
Inclusive games as directed by the group
$5/person
Post in our Facebook group any games you would like to trial!
LXG Brisbane
Various – see info
Sunday
QLD Contract Bridge Club
QLD
http://lxgbrisbane.com/
https://www.facebook.com/LXGBrisbane/
Tabletop and RPG
$60 membership per year (free for members oo $7 for casual attendees).
Cloncurry Board Game and Puzzle Exchange
Various – see info
Various – see info
Cloncurry CWA
QLD
https://www.facebook.com/groups/1979428488827751/
Party and Strategy games
0
Always open to new members. We are an exchange, but also run Games nights regularly
Critical Mass Northside
Weekly
Friday
Banyo Library
QLD
https://www.facebook.com/groups/criticallmass/
Critical Mass is (generally) focused on Euro games, in the style of Carcassonne, Settlers of Catan and more complex games.
Free
Saturday Night Board Games
Weekly
Saturday
Good Games Ipswich
QLD
https://www.goodgames.com.au/au/stores/qld/ipswich.html
https://www.facebook.com/groups/133503946989579/
Family Friendly Board and Card Games
Its Free
Parking underneath store via Limestone Street
Brisbane TableTop Saturday Gaming Group
Weekly
Saturday
St. Paul's Anglican Church Ashgrove · Brisbane
QLD
gameapalooza.com.au
https://www.facebook.com/groups/1583571458541030/
All Game Types BYO or play ours
Free
Just be friendly.
Gold Coast Board Games Club
Weekly
Saturday
QLD
https://www.meetup.com/Gold-Coast-Board-Games-Club/
Tabletop Board Games
1
Capricorn Tabletop
Weekly
Friday
CQUniversity Refectory
QLD
https://www.facebook.com/groups/CapricornTabletop/
https://www.facebook.com/groups/CapricornTabletop/
Everything, from BoardGames, Wargaming, Roleplaying etc
Free
We are located underneath the Birdcage bar.
Boardgames in the Jungle
Weekly
Monday
The Jindalee Jungle
QLD
www.jindaleejungle.com.au
https://www.facebook.com/groups/2272661059716378/
All ages
FREE
No outside food or drink allowed as we are a cafe/kitchen. Feel free to bring young ones to play on the play equipment while you game, however, they are always your responsibility.
The Oasis boardgame group
Fortnightly
Saturday
Various
SA
Https://www.facebook.com/groups/786241404746073/
Various boardgames.
Nil
Message the group to find out the next meet up time and location.
City of Small Gods Terry Pratchett Fan Club
Quarterly
Sunday
La Scala Cafe
SA
https://cityofsmallgods.org.au
https://www.facebook.com/groups/cityofsmallgods/
Modern Hobby Boardgames
Gold Coin Donation
Gaming is only one of the things we do! Check the website for more.
Tabletoppers of Adelaide
Various – see info
Various – see info
BrainHackr Board Game Bar & Cafe
SA
www.brainhac.kr
https://www.facebook.com/brainhackrs
The Tabletoppers of Adelaide social group is made up of a diverse collection of gamers with a broad range of interests. With an active and engaging facebook community, it's a great resource for finding new SA based gamers and organising play sessions.
Modbury Tabletop Club
Weekly
Saturday
Tea Tree Gully Library
SA
https://www.facebook.com/groups/1858058697796105/
Inclusive, and family friendly environment and we will follow and abide by the behavioural guidelines of the Tea Tree Gully Library
GAMES Club (Adelaide Uni, open to all)
Weekly
Wednesday
Club Rooms, Lady Symon Building
SA
https://www.auu.org.au/clubs/games-club
https://www.facebook.com/gamesau/
Tabletop
Free
Currently a bit tricky to get to, message the page with any questions or for help navigating from Gate 10 or otherwise on Campus
Port Adelaide Library Board Games
Weekly
Thursday
Port Adelaide Library
SA
Www.cityofpae.sa.gov.au
Great board games and people!
0
All welcome
The Hobart League of Competitive Gamers (CoGs)
Monthly – 1st weekday
Saturday
The Big Blue House
TAS
https://www.facebook.com/CoGsLeagueHobart/
Friendly competition and the maintance of leaderboards
0
A special interest group that complements the activities of the Hobart Games Society.
Hobart Games Society
Monthly – 1st weekday
Sunday
Lenah Valley Community Hall
TAS
http://www.hogs.org.au/
https://www.facebook.com/groups/hobart.games.society/
Free for first time, $5 after that (Membership available)
Bring a friend or two, or come along and make new friends. Bring a game or two, or come along and play one of ours.
Hobart Games Society
Monthly – 2nd weekday
Saturday
Bellerive Community Hall
TAS
http://www.hogs.org.au/
https://www.facebook.com/groups/hobart.games.society/
Free for first time, $5 after that (Membership available)
Bring a friend or two, or come along and make new friends. Bring a game or two, or come along and play one of ours.
Board Gamers of the North West
Monthly – 3rd weekday
Thursday
Cafe Europa
TAS
www.facebook.com/groups/410380599431675
Free
Bring your own games if possible
Hobart Games Society
Monthly – 3rd weekday
Saturday
Lenah Valley Community Hall
TAS
http://www.hogs.org.au/
https://www.facebook.com/groups/hobart.games.society/
Free for first time, $5 after that (Membership available)
Bring a friend or two, or come along and make new friends. Bring a game or two, or come along and play one of ours.
Hobart Games Society
Weekly
Saturday
Various – check FB group
TAS
www.hogs.org.au
https://www.facebook.com/groups/hobart.games.society
Various
$5/night – annual membership available
Very friendly for beginners
Haven Table Top
Weekly
Friday
Uniting Church Hall
TAS
https://www.facebook.com/groups/1508884882682922/
Boardgaming
Free (donations welcome)
Hobart Games Society (aka 'HoGS')
Weekly
Various – see info
various locations around Hobart
TAS
www.hogs.org.au
https://www.facebook.com/groups/hobart.games.society
strategy tabletop games
first time free, then $5 or join HoGS
We're a family-friendly group who meet in and around Hobart, primarily in community halls and game stores. You can find our events in FB or on our website, or join our mailing list to receive bi-monthly mail-outs about what's happening at HoGS!
Meeple Like Us – Bendigo
Bi-Monthly 1st & 3rd
Tuesday
Bendigo Bowling Centre
VIC
https://www.facebook.com/groups/MeepleLikeUsBendigo
Gateway to Medium Euro.
Free
Free meetup currently every third week on Tuesday.
Euro Games Fest (Melbourne)
Bi-monthly – 1st & 3rd
Sunday
Wadham House
VIC
https://www.facebook.com/EGFMelbourne/
Tabletop Gaming
4
To have fun and explore new European strategy Board Games
BADGA
Fortnightly
Saturday
VRI Hall
VIC
https://badga.org.au/
https://www.facebook.com/groups/BADGA/
Tabletop Games and Board Games
$5 first time free
Cardboard City Games Club
Fortnightly
Wednesday
Metropolitan Hotel
VIC
https://www.meetup.com/Boardgames-group-party-and-strategy-games/events/230258547/
https://www.facebook.com/groups/CardboardCityGC/
Broad – Euros, Ameritrash, Fillers, etc …
none
Calendar is published via the Meetup Group at https://www.meetup.com/Boardgames-group-party-and-strategy-games/events/230258547/
Goulburn Valley Gamers Guild
Fortnightly
Wednesday
Various locations
VIC
https://www.meetup.com/Boardgames-group-party-and-strategy-games/events/230258547/
Free
Check us out on rollforgroup.com
Boardgames at the General
Fortnightly
Thursday
General Games
VIC
Northern Suburbs Euro Gamers
Fortnightly
Sunday
Croxton Park Hotel
VIC
https://www.meetup.com/Boardgames-group-party-and-strategy-games/events/rgmswpyxlbjc/
Euro, party, social
Monday Night Boardgames
Fortnightly
Monday
Games Laboratory
VIC
https://www.meetup.com/Boardgames-group-party-and-strategy-games/events/nbtsglyxmbfb/
Euro
Gamers in Mernda and Surrounds
Fortnightly
Sunday
Bridge Inn Hotel
VIC
http://www.merndagamers.com.au/
https://www.facebook.com/groups/973416176102563/
Tabletop, RPG, X wing, new to games, seasoned veterans
Absolutely FREE!
We have over 600 games between the admins of the group with a good balanced of gateway games, older games, newer games and even Kickstarter games!
TribeNet PBEM
Fortnightly
Various – see info
Internation
VIC
http://tribenet.com.au/
TribeNet is a Play by Email build-campaign strategy game with a medieval mood set in a dynamic multi-player world.
The first year is free to play to see how you like it.
TribeNet offers a gameplay world of tremendous depth and sophistication unlike few others and it is constantly evolving as players are given the opportunity to help the game grow – this is one of its hidden strengths. It's a collaborative community in which many players have formed strong bonds of friendship.
Genderbread Gamers
Fortnightly
Sunday
Tallarook Hotel
VIC
https://www.facebook.com/genderbreadgamers/
Boardgames
Free
Genderbread Gamers is a volunteer driven tabletop gaming group for members of the LGBTQI+ community, their allies and those questioning their sexuality. We meet fortnightly to play board games in a safe, fun, inclusive and discrimination free space. Our events are open to people aged 15+. All are welcome and encouraged to attend regardless of gender, sexual preference, physical ability or religion.
Games in the Maine
Monthly – 1st weekday
Sunday
Uniting Church Hall
VIC
Http://www.gamesinthemaine.com.au
https://www.facebook.com/groups/GamesintheMaine/
Board games
Gold coin
The Discerning Board Gamer
Monthly – 1st weekday
Saturday
The House of War
VIC
https://www.facebook.com/groups/discerningboardgamer/
5
We are a group who love our boardgames. We may all have our own tastes in games but a few common traits bind us together. This is the desire to play games that make us think, games that are unique, games that we can laugh over, games that we've possibly never heard of before and games that we'll want to play again next month. Simply put i think we're a group of people who are just a little bit discerning about the games we play.
Melton Meeples
Monthly – 2nd weekday
Saturday
Melton Library, Cafe section
VIC
Social tabletop gaming, euros and some party games
Free!
Inclusive space, LGBTIQ+ and game designers welcome, young people under 14 need an accompanying adult.
Hawthorn Cafe Games
Monthly – 2nd weekday
Saturday
Hawthorn hotel
VIC
https://www.meetup.com/Boardgames-group-party-and-strategy-games/events/sbrzmpyxmblb/
From 12:00 to 4:00 pm: exclusively social/party games. 4:00-10:00 pm: Euro, strategy
St Paul's Board Games
Monthly – 3rd weekday
Friday
St Paul's Lutheran Church Box Hill
VIC
https://www.facebook.com/groups/1327214180670753/
Anything people want to bring
No cost
Coffee, Tea available, BYO everything else
Casey Cardinia Libraries
Monthly – 3rd weekday
Thursday
Endeavour Hills Library
VIC
http://www.cclc.vic.gov.au
https://www.facebook.com/CaseyCardiniaLibraries/?ref=br_rs
Casual
Free
Learn new games. Modern classics rather than the old "roll and move" types.
Victorian Historical Boardgaming Collective
Monthly – 4th weekday
Sunday
Games Laboratory
VIC
https://boardgamegeek.com/guild/2228
Historical wargames (e.g. GMT titles)
Meets on the last Sunday of the month.
Webrary Games
Monthly – 4th weekday
Saturday
Werribee Library
VIC
free
Mallee Tabletop Games Incorportated
Various – see info
Various – see info
VIC
www.facebook.com/MalleeTabletopGamesInc
Board games / RPG / War Games
$2 per person per evening for non members, or $5 a month membership.
BADGA Con
Various – see info
The Bendigo Club
VIC
www.badga.org.au
https://www.facebook.com/groups/BADGA
miniature wargames
varies,
annual convention, Queen's Birthday Weekend
Here Be Games
Various – see info
Saturday
Here Be Games
VIC
http://www.herebegames.com.au
https://www.facebook.com/herebegames/
"Regular tabletop games". Everything welcome but we're not focused ona particular type (e.g. miniature, party, etc)
free
Free sausage sizzle at midday. Onsite library of over 150 games. Friendly group of gamers (not clicky)
Ballarat Board and Card Games
Various – see info
Various – see info
Pancake Kitchen and various
VIC
http://meetu.ps/c/2LH1W/z97Jy/a
All
Gold coin
Bayside Gamers for Good
Various – see info
Tuesday
Canoe Canoe
VIC
http://fb.me/baysidegamersforgood
None
Donation
Every last Tuesday of the month except December
Billabong Boardgamers
Weekly
Tuesday
Amaroo Neighbourhood House
VIC
$2 after your first visit
Gamezilla
Weekly
Tuesday
Izakaya Chuji
VIC
https://www.meetup.com/Boardgames-group-party-and-strategy-games/events/
https://www.facebook.com/groups/GamezillaMeetup/
All board games and card games welcome.
2
Board game nights run on Tuesdays and Thursdays – RPGs on Monday night. Get 10% off any food and drink purchased on the night. Please register via meetup as this event does book out.
Stranger Gamers – Western Suburbs Gaming Group
Weekly
Thursday
Cheeky Pint
VIC
https://www.meetup.com/StrangerGamers/
Euro games, strategy games, ameritrash and social games
Bring your own game(s) to play or turn up and play something brought by someone else
Gamers @ Dockers
Weekly
Thursday
Good Games
VIC
https://www.meetup.com/Boardgames-group-party-and-strategy-games/events/nzgrbpyxlbfc/
Modern, euro, strategy
Guf board games Geelong
Weekly
Tuesday
Guf Geelong
VIC
All games welcome
Free
Bendigo Gaming Group
Weekly
Wednesday
Guf Bendigo
VIC
search Bendigo Gaming Group
Greensborough Board Games
Weekly
Wednesday
Good Games Greensborough
VIC
All board and tabletop games
Free
Manor Lakes Meeples
Weekly
Saturday
Manor Lakes Library
VIC
www.wyndhamgeek.club
https://www.facebook.com/groups/386241205430001/
Eurogames, Ameritrash and Party Games
Free (will review at end of year)
Children under 14 should be accompanied by an adult
Monash Boardgames Society
Weekly
Monday
Monash University – see facebook for weekly room details
VIC
www.facebook.com/MonashBoardgames
General
Yearly membership, $3 if you have a MSA membership or $8 without
Only runs during semester, (with occasional meetings during the university breaks)
PGS
Weekly
Friday
Pro Gamers and Collectibles (PGS)
VIC
https://www.facebook.com/groups/boardgamersatpgs/
0
We play most Friday nights, with frequent events on other week nights. Pop in or post on the Facebook group.
Little Bandicoots Gaming Club
Bi-Monthly 1st & 3rd
Sunday
Quenda Games
WA
https://www.facebook.com/littlebandicoots/
Childrens, ages 5-12
Free
Murdoch Gaming Society
Fortnightly
Various – see info
Murdoch University
WA
https://www.facebook.com/groups/MurdochGS/
Any and all
Free
We meet on alternating Saturdays and Sundays. Student society, but open to anyone
WABA: Mt. Claremont
Monthly – 2nd weekday
Saturday
Mt Claremont Community Centre (Banksia Room)
WA
http://wabainc.com/
Tabletop Gaming
Cost will be $5.00 but entry is free if this is your first WABA event
Perth Boardgaming Group
Monthly – 3rd weekday
Saturday
Bob Daniels Community Centre
WA
All types. Family friendly environment with a social outlook.
Free
Bring an attitude of fun and be willing to have a go.
WABA: Thornlie
Monthly – 4th weekday
Saturday
Forest Lakes Family Centre
WA
http://wabainc.com/
Tabletop Gaming
Cost will be $5.00 but entry is free if this is your first WABA event
The Board Collective
Various – see info
Saturday
Quenda Games, Midland
WA
https://www.facebook.com/BoardCollective/
Advanced – multi-player, longer-play, higher level strategy
10
Frequency is 4-weekly (not an option in your drop-down). Next is Saturday 28th July, then 4-weekly like clockwork from there.
Busselton Modern Board Game Club
Various – see info
Various – see info
WA
https://m.facebook.com/groups/312498988819079?ref=share
Board & Card Games
Monday Knights Kalgoorlie
Weekly
Monday
Boulder Law Bowls Club
WA
https://www.facebook.com/groups/333379866789375/?fb_dtsg_ag=Adw839H8g1SQvee3QWzWYWV0K-DXVjgHL8q9aenmP53boA%3AAdwo9ZdQ84tE6oI9ppYoAK6eD2I6lVZV3dLmqkca57I2iw
Tabletop Board Games, MTG, RPG, 40k, Killteam
First Time Free, $50 for membership
Karratha Tabletop
Weekly
Wednesday
Soul cafe Karratha
WA