Unmask the Sinister Scoundrel With Mia London and the Case of the 625 Scoundrels
Antoine Bauza is the popular designer of several award-winning games, including 7 Wonders and Hanabi (which won the 2013 Spiel des Jahres prize) is bringing us a new social deduction game later this year Mia London and the Case of the 625 Scoundrels.
Published by Le Scorpion Masqué this family/party game is perfect for ages over 5 – 100.
Mia London and the Case of the 625 Scoundrels is a 10 – 15min Game for 2 – 4 Players where players will need to help World-famous detective Mia London as she needs your help to solve an exasperating case!
A sinister scoundrel has committed a horrible crime. You must identify the rogue amongst 625 suspects in order to apprehend them. Observe the clues closely and reconstruct the portrait of the troublesome trickster.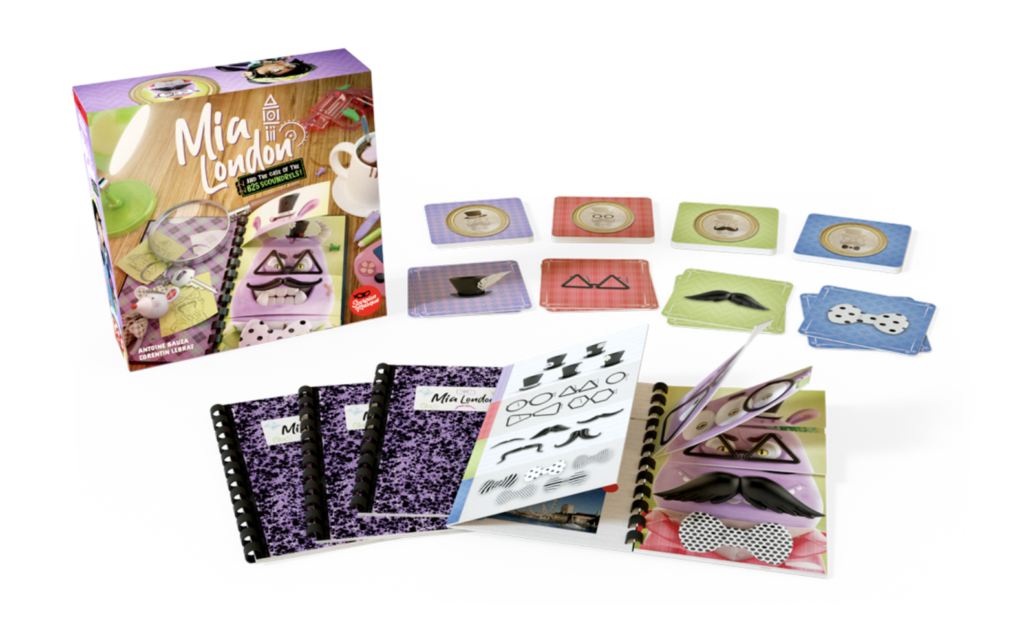 The Game is played over 4 phases as you are working to unmask each aspect of the sinister scoundrel in a very guess who/clue stylised like Game with its own twists and turns.
This game is elegant and simple but looks fantastic and is a great party game for a casual social gathering or a great addition to your family game night.
The Rules – How to Win!
You can find out more about how to play the game by clicking here to read the rule book
The end of the game and the winner is determined when Each player opens their Booklet and reveals the Scoundrel that they think is the one they are hunting for.
The Chief Investigator (First Player) takes out of the box the 4 Accessory Cards belonging to the sought-after Scoundrel. The first card to be revealed is the Hat, and each player checks their answer.
The Chief Investigator then reveals the Glasses, the Moustache, and finally the Bowtie.
The player who identified the most Accessories wins!
Release Date
No Offical Release Date has been set but you can expect to see this game in 2020