8 Pop! Vinyls that will cost you more then a thousand dollars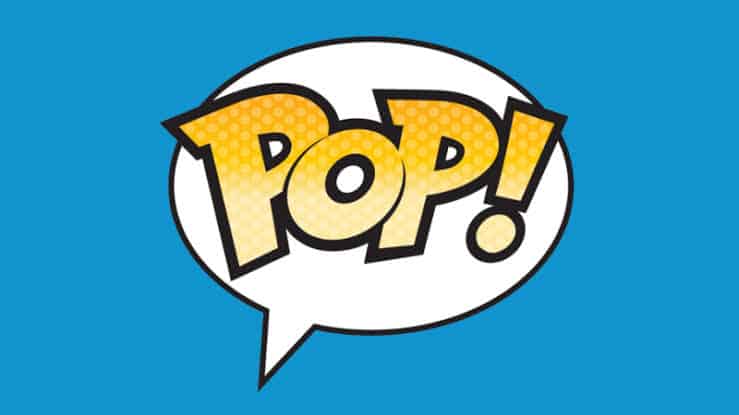 A thousand dollars can buy you a lot of things from gaming consoles holidays and tabletop games you will be hard pressed to find a hobby or collectable that will cost you more then one thousand dollars. 
Today, the collectibles market has been dominated by Funko Pops!, the ubiquitous vinyl figures that turn pop culture characters from movies, sport, tv and even characters from franchises into block-headed, saucer-eyed vinyl figures. 
While Funko has a deep bench of licenses, so many different figures are exclusive to retailers making them available for a very limited time, or are otherwise hard to find helping them join an exclusive 1k club costing over a thousand dollars. 
Well here are 8 Pop! vinyls in that exclusive 1k club these Pops will leave you penniless with a 1k budget and most cases walking home empty handed. 
Did we miss any notable entries into this club let us know in the comments below, we have sourced most of these details from online communities but please be aware this information can change and shouldn't be used for any financial or investment reasons. 
Pop! Vinyls are also able to be reprinted at any time effecting the value of the merchandise this could also change the market value of these products this should also be taken into account. 
Pop! MBL – Ken Griffey Jr. (Bronze): 5,100 USD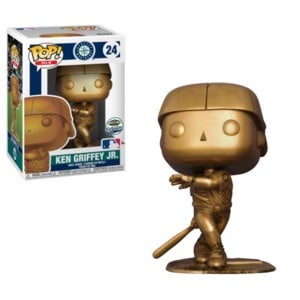 Ken Griffey Jr. is One of Major League Baseball's most celebrated players a recently got the Pop! treatment back In 2018, with just 24 gold-finish variants made for fans at Seattle's Safeco Field. This limited Pop only has 24 available and has only skyrocketed in value over the last few year's due to its extremely limited release. 
One of the most impressive versions we found online was also signed by the man himself that  was not for sale but we wouldn't be shocked if it fetched a small fortune. 
Pop! Disney – Clown Dumbo: $3500 USD 
One of the biggest reasons why people are so drawn to Pop! is capturing something to remind them about there favourite characters and movies from there childhood. 
Thats why the ear-shaming of Disney's 1941 animated classic Dumbo continues to strike a chord with people as people remembered and fell in love with this elephant back in the 1940s. 
The 2013 edition of Dumbo in clown make-up was limited release available to 48 pieces for San Diego Comic-Con attendees of that year and was a sell out leaving people now to try to pick up copies between 3-5k. 
Pop! Rock 1970S ELVIS PRESLEY GLOW-IN-THE-DARK: $1580
Everybody loves the king of rock and roll and this 1970s-era Elvis that comes in a special glow-in-the-dark version will have any classic rock collector wanting this for there collection. 
It's no suprise then that this Pop! has an estimated value of $1580. He is not the only Elvis to ring up a high value with Another limited chase figure that depicts him at the height of his powers in the 1950s available that will run you as much as $1820.
Everybody loves the king of rock and roll and it looks like fans are willing to pay a high price to add him into this collection. 
Pop! Star Wars – Holographic Darth Maul: $1,804 USD
The Star Wars fans dream collectable is the Holographic Darth Maul Pop! And is a sought after thing of beauty. 
This pop vinyl was First introduced at SDCC back in 2012, and was an instant sell out with only 480 units available in total it was on high demand. 
This Pop! Has a sell price of $1,804, but it has an even higher estimated resale value with some listings going up at $2,500+. This is one for the serious Star Wars Pop! collectors and due to its very limited units it makes it a real trophy Pop! that you won't see in the standard collection. 
Pop! Ad Icons – Big Boy: $1,592.17 USD
The iconic Big Boy's immortalisation in Pop! Vinyl is definitely something for the Big Boys and Girls with big wallets. 
You could expect to pay way over this price as well with some going for as much as $1655 *eyes water*
Pop! Animation – Planet Arlia Vegeta: $1,512 USD
This Funko Pop variant was a must for dragon ball fans and was released back in 2014 as an exclusive release for the New York Comic Con and Toy Tokyo conventions. 
The Arlian Vegeta variant is based on the planet that Vegeta and Nappa destroyed offscreen in Dragonball Z before he met Goku during the Saiyan Saga and started a rivalry that would span years to come. 
Pop! Game of Thrones – Ned Stark (Headless): $1,299 USD
Game of thrones was huge and Ned Stark become a real iconic character In the series. This Pop! Figurine really shows that The guy really can't catch a break. 
This figure was released in 2013 as and SDCC Exclusive and has a bloody stain on his chest as well as a removable head poor Ned. Just looking at 'ol Eddard's face here makes you really feel sorry for him. 
Oddly enough, it also comes with Ice, the Stark family sword that was used to behead Ned. This edition is limited to 1008 and has lots of unique features like decapitation that you thankfully can't find on most Pop! Vinyls making it a unique addition to any serious collectors Collection. 
Pop! Heroes – Batman (Blue – Metallic): $1050 USD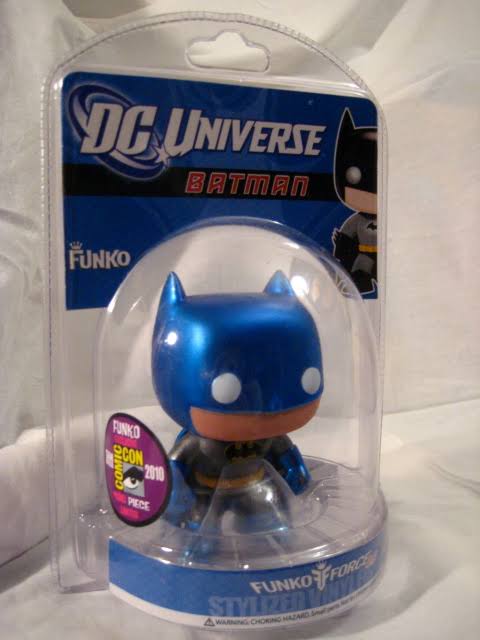 This classic Batman Funko Pop! vinyl has only recently joined the 1k club but is one of the first Pop! Vinyl exclusives to ever be released at a comic book convention. 
This Batman was Released back in 2010 as a San Diego Comic-Con Exclusive, this Batman Pop! Vinyl is limited to 480 making it even harder for collectors to find.
And we suspect that as time goes on this collectable will only increase in value, well maybe ok let's be honest who knows. 
prices and values were sourced from poppriceguide.com and eBay.com