Ten Essential Modern Board Games
A common question from people that have decided to dive into the Board Game Hobby is what games should i buy This is our list of what we consider the Essential Games that we would go buy first when starting a collection.
We have selected this group of games because they are quite diverse and all family friendly in there own ways giving you a great selection of choices for board game night.
1. Jaipur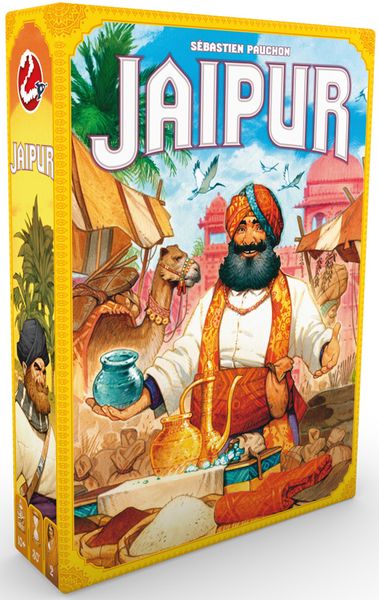 You are one of the two most powerful traders in the city of Jaipur, the capital of Rajasthan, but that's not enough for you because only the merchant with two "seals of excellence" will have the privilege of being invited to the Maharaja's court. You are therefore going to have to do better than your direct competitor by buying, exchanging, and selling at better prices, all while keeping an eye on both your camel herds.
Jaipur is a fast-paced card game, a blend of tactics, risk and luck. On your turn, you can either take or sell cards. If you take cards, you have to choose between taking all the camels, taking one card from the market, or swapping 2-5 cards between the market and your cards.
If you sell cards, you get to sell only one type of good, and you receive as many chips for that good as the number of cards you sold. The chips' values decrease as the game progresses, so you'd better hurry! On the other hand, you receive increasingly high rewards for selling three, four, or five cards of the same good at a time, so you'd better wait!
You can't sell camels, but they're paramount for trading and they're also worth a little something at the end of the round, enough sometimes to secure the win, so you have to use them smartly.
2. King of Tokyo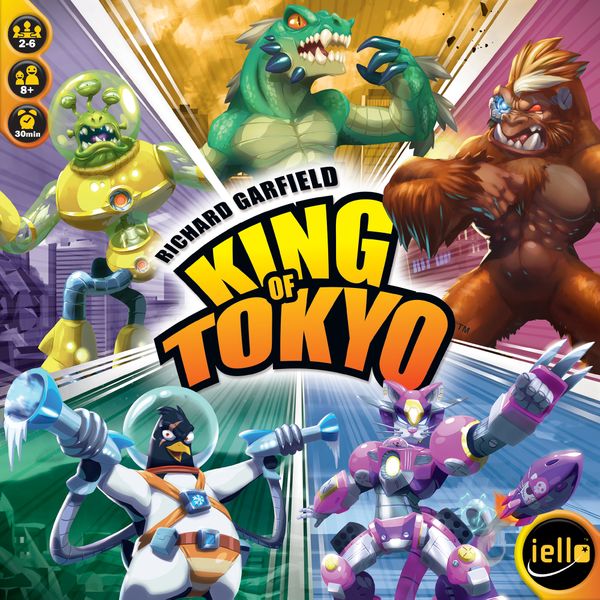 In King of Tokyo, you play mutant monsters, gigantic robots, and strange aliens—all of whom are destroying Tokyo and whacking each other in order to become the one and only King of Tokyo.
At the start of each turn, you roll six dice, which show the following six symbols: 1, 2, or 3 Victory Points, Energy, Heal, and Attack. Over three successive throws, choose whether to keep or discard each die in order to win victory points, gain energy, restore health, or attack other players into understanding that Tokyo is YOUR territory.
The fiercest player will occupy Tokyo, and earn extra victory points, but that player can't heal and must face all the other monsters alone!
Top this off with special cards purchased with energy that have a permanent or temporary effect, such as the growing of a second head which grants you an additional die, body armor, nova death ray, and more…. and it's one of the most explosive games of the year!
In order to win the game, one must either destroy Tokyo by accumulating 20 victory points, or be the only surviving monster once the fighting has ended.
3. Ticket to Ride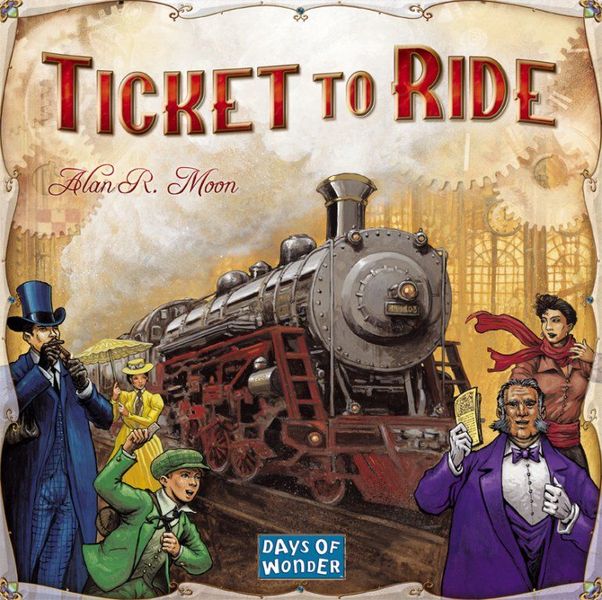 With elegantly simple gameplay, Ticket to Ride can be learned in under 15 minutes, while providing players with intense strategic and tactical decisions every turn. Players collect cards of various types of train cars they then use to claim railway routes in North America. The longer the routes, the more points they earn. Additional points come to those who fulfill Destination Tickets – goal cards that connect distant cities; and to the player who builds the longest continuous route.
"The rules are simple enough to write on a train ticket – each turn you either draw more cards, claim a route, or get additional Destination Tickets," says Ticket to Ride author, Alan R. Moon. "The tension comes from being forced to balance greed – adding more cards to your hand, and fear – losing a critical route to a competitor."
Ticket to Ride continues in the tradition of Days of Wonder's big format board games featuring high-quality illustrations and components including: an oversize board map of North America, 225 custom-molded train cars, 144 illustrated cards, and wooden scoring markers.
Since its introduction and numerous subsequent awards, Ticket to Ride has become the BoardGameGeek epitome of a "gateway game" — simple enough to be taught in a few minutes, and with enough action and tension to keep new players involved and in the game for the duration.

4. Istanbul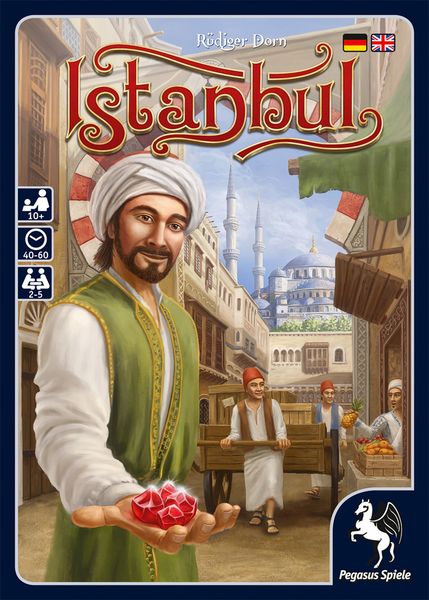 There's hustle and bustle at Istanbul's grand bazaar as merchants and their assistants rush through the narrow alleys in their attempt to be more successful than their competitors. Everything must be well organized: wheelbarrows must be filled with goods at the warehouses, then swiftly transported by the assistants to various destinations. Your goal? Be the first merchant to collect a certain number of rubies.
In Istanbul, you lead a group of one merchant and four assistants through 16 locations in the bazaar. At each such location, you can carry out a specific action. The challenge, though, is that to take an action, you must move your merchant and an assistant there, then leave the assistant behind (to handle all the details while you focus on larger matters). If you want to use that assistant again later, your merchant must return to that location to pick him up. Thus, you must plan ahead carefully to avoid being left with no assistants and thus unable to do anything…
In more detail, on a turn you move your merchant and his retinue of assistants one or two steps through the bazaar, either leave an assistant at that location or collect an assistant left earlier, then perform the action. If you meet other merchants or certain individuals at the location, you might be able to take a small extra action. Possible actions include:
Paying to increase your wheelbarrow capacity, which starts the game with a capacity of only two for each good.
Filling your wheelbarrow with a specified good to its limit.
Acquiring a special ability, and the earlier you come, the easier they are to collect.
Buying rubies or trading goods for rubies.
Selling special combinations of goods to make the money you need to do everything else.
When a merchant has collected five rubies in his wheelbarrow, players complete that round, then the game ends. If this player is the only one who's reached this goal, he wins immediately; otherwise ties are broken by money in hand.
5. Terraforming Mars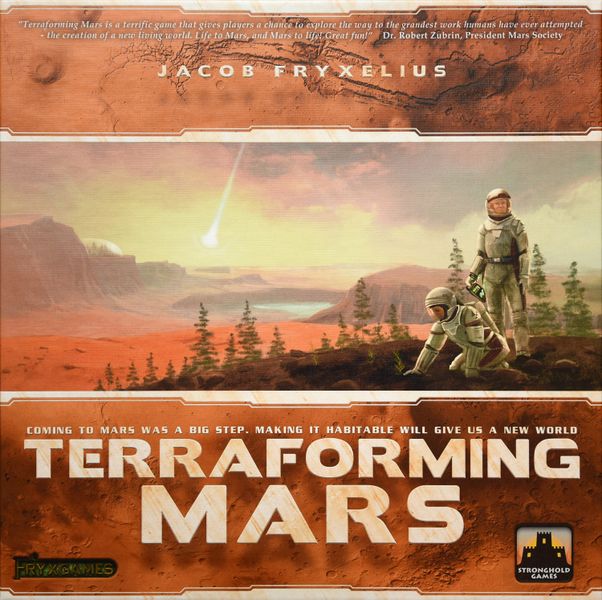 In the 2400s, mankind begins to terraform the planet Mars. Giant corporations, sponsored by the World Government on Earth, initiate huge projects to raise the temperature, the oxygen level, and the ocean coverage until the environment is habitable. In Terraforming Mars, you play one of those corporations and work together in the terraforming process, but compete for getting victory points that are awarded not only for your contribution to the terraforming, but also for advancing human infrastructure throughout the solar system, and doing other commendable things.
The players acquire unique project cards (from over two hundred different ones) by buying them to their hand. The projects (cards) can represent anything from introducing plant life or animals, hurling asteroids at the surface, building cities, to mining the moons of Jupiter and establishing greenhouse gas industries to heat up the atmosphere. The cards can give you immediate bonuses, as well as increasing your production of different resources. Many cards also have requirements and they become playable when the temperature, oxygen, or ocean coverage increases enough. Buying cards is costly, so there is a balance between buying cards (3 megacredits per card) and actually playing them (which can cost anything between 0 to 41 megacredits, depending on the project). Standard Projects are always available to complement your cards.
Your basic income, as well as your basic score, is based on your Terraform Rating (starting at 20), which increases every time you raise one of the three global parameters. However, your income is complemented with your production, and you also get VPs from many other sources.
Each player keeps track of their production and resources on their player boards, and the game uses six types of resources: MegaCredits, Steel, Titanium, Plants, Energy, and Heat. On the game board, you compete for the best places for your city tiles, ocean tiles, and greenery tiles. You also compete for different Milestones and Awards worth many VPs. Each round is called a generation (guess why) and consists of the following phases:
1) Player order shifts clockwise.
2) Research phase: All players buy cards from four privately drawn.
3) Action phase: Players take turns doing 1-2 actions from these options: Playing a card, claiming a Milestone, funding an Award, using a Standard project, converting plant into greenery tiles (and raising oxygen), converting heat into a temperature raise, and using the action of a card in play. The turn continues around the table (sometimes several laps) until all players have passed.
4) Production phase: Players get resources according to their terraform rating and production parameters.
When the three global parameters (temperature, oxygen, ocean) have all reached their goal, the terraforming is complete, and the game ends after that generation. Count your Terraform Rating and other VPs to determine the winning corporation!
6. Stone Age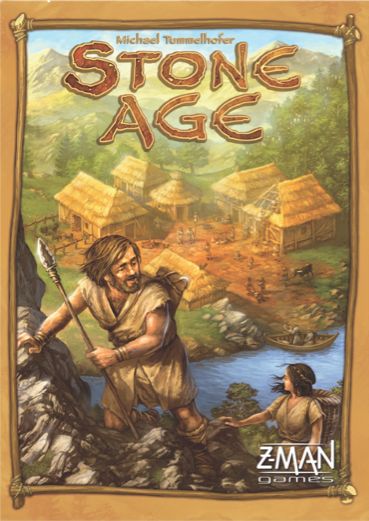 The "Stone Age" times were hard indeed. In their roles as hunters, collectors, farmers, and tool makers, our ancestors worked with their legs and backs straining against wooden plows in the stony earth. Of course, progress did not stop with the wooden plow. People always searched for better tools and more productive plants to make their work more effective.
In Stone Age, the players live in this time, just as our ancestors did. They collect wood, break stone and wash their gold from the river. They trade freely, expand their village and so achieve new levels of civilization. With a balance of luck and planning, the players compete for food in this pre-historic time.
Players use up to ten tribe members each in three phases. In the first phase, players place their men in regions of the board that they think will benefit them, including the hunt, the trading center, or the quarry. In the second phase, the starting player activates each of his staffed areas in whatever sequence he chooses, followed in turn by the other players. In the third phase, players must have enough food available to feed their populations, or they face losing resources or points.
7. Five Tribes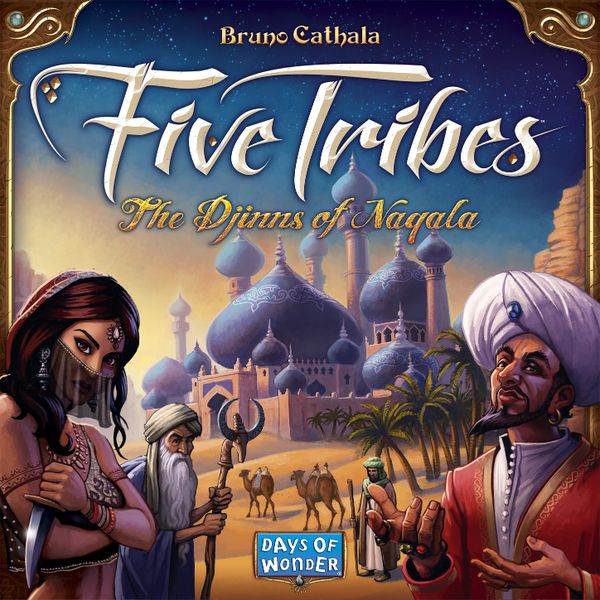 Crossing into the Land of 1001 Nights, your caravan arrives at the fabled Sultanate of Naqala. The old sultan just died and control of Naqala is up for grabs! The oracles foretold of strangers who would maneuver the Five Tribes to gain influence over the legendary city-state. Will you fulfill the prophecy? Invoke the old Djinns and move the Tribes into position at the right time, and the Sultanate may become yours!
Designed by Bruno Cathala, Five Tribes builds on a long tradition of German-style games that feature wooden meeples. Here, in a unique twist on the now-standard "worker placement" genre, the game begins with the meeples already in place – and players must cleverly maneuver them over the villages, markets, oases, and sacred places tiles that make up Naqala. How, when, and where you dis-place these Five Tribes of Assassins, Elders, Builders, Merchants, and Viziers determine your victory or failure.
As befitting a Days of Wonder game, the rules are straightforward and easy to learn. But devising a winning strategy will take a more calculated approach than our standard fare. You need to carefully consider what moves can score you well and put your opponents at a disadvantage. You need to weigh many different pathways to victory, including the summoning of powerful Djinns that may help your cause as you attempt to control this legendary Sultanate.
8. Azul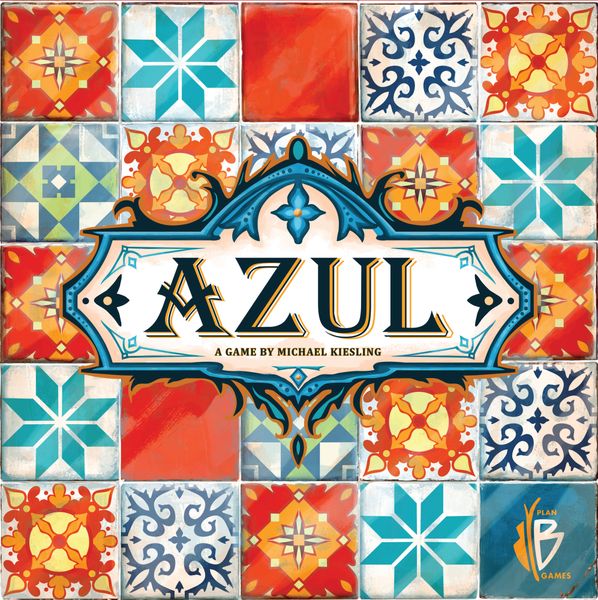 Introduced by the Moors, azulejos (originally white and blue ceramic tiles) were fully embraced by the Portuguese when their king Manuel I, on a visit to the Alhambra palace in Southern Spain, was mesmerized by the stunning beauty of the Moorish decorative tiles. The king, awestruck by the interior beauty of the Alhambra, immediately ordered that his own palace in Portugal be decorated with similar wall tiles. As a tile-laying artist, you have been challenged to embellish the walls of the Royal Palace of Evora.
In the game Azul, players take turns drafting coloured tiles from suppliers to their player board. Later in the round, players score points based on how they've placed their tiles to decorate the palace. Extra points are scored for specific patterns and completing sets; wasted supplies harm the player's score. The player with the most points at the end of the game wins.
9. Splendor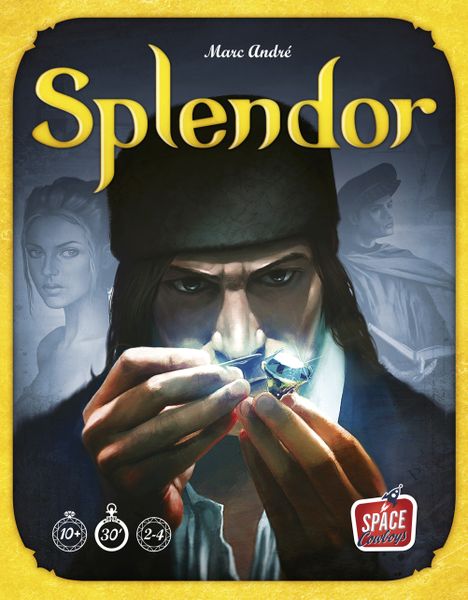 Splendor is a game of chip-collecting and card development. Players are merchants of the Renaissance trying to buy gem mines, means of transportation, shops—all in order to acquire the most prestige points. If you're wealthy enough, you might even receive a visit from a noble at some point, which of course will further increase your prestige.
On your turn, you may (1) collect chips (gems), or (2) buy and build a card, or (3) reserve one card. If you collect chips, you take either three different kinds of chips or two chips of the same kind. If you buy a card, you pay its price in chips and add it to your playing area. To reserve a card—in order to make sure you get it, or, why not, your opponents don't get it—you place it in front of you face down for later building; this costs you a round, but you also get gold in the form of a joker chip, which you can use as any gem.
All of the cards you buy increase your wealth as they give you a permanent gem bonus for later buys; some of the cards also give you prestige points. In order to win the game, you must reach 15 prestige points before your opponents do.
10. Century: Spice Road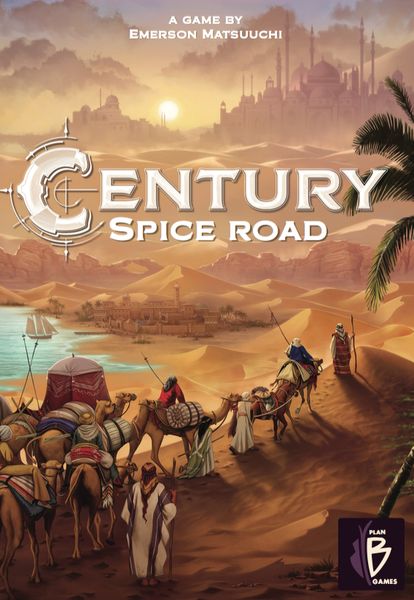 Century: Spice Road is the first in a series of games that explores the history of each century with spice-trading as the theme for the first instalment. In Century: Spice Road, players are caravan leaders who travel the famed silk road to deliver spices to the far reaches of the continent for fame and glory. Each turn, players perform one of four actions:
Establish a trade route (by taking a market card)
Make a trade or harvest spices (by playing a card from hand)
Fulfill a demand (by meeting a victory point card's requirements and claiming it)
Rest (by taking back into your hand all of the cards you've played)
The last round is triggered once a player has claimed their fifth victory point card, then whoever has the most victory points wins.