Board Gamers Respond to Pandemic with Memoir 44 scenarios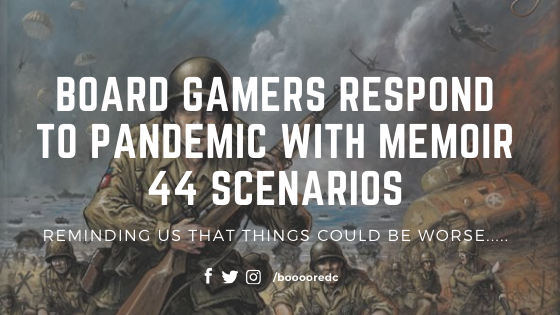 Reminding us that things could be worse…..
Today Days of Wonder posted on there official Facebook page one Board Gamers Respond to pandemic with Memoir 44 scenarios reminding us that things could be worse we could be at war.
The promise is that a new scenario will be released every week until the pandemic is over. 
About Memoir 44
Memoir '44 is a historical boardgame where players face-off in stylized battles of some of the most famous historic battles of World War II including Omaha Beach, Pegasus Bridge, Operation Cobra and the Ardennes.
Memoir '44 includes over 15 different battle scenarios and features a double-sided hex game board for both beach landings and countryside combat. Each scenario mimics the historical terrain, troop placements and objectives of each army. Commanders deploy troops through Command and Tactic cards, applying the unique skills of his units — infantry, paratrooper, tank, artillery, and even resistance fighters — to their greatest strength.
Jokes aside this is a fantastic addition of the growing list of games being released by individuals and companies to help those in isolation keep up there sprits and do something fun. 
In other news, another one of these announcements came from road to infamy game with a post on Reddit with links to a bunch of there games for free in print and play format 
There are also a lot of guides on how to use Tabletop simulator also appearing online. So hopefully no matter what situation you are in maybe this might be the time to try some new games? 

What are you playing at the moment or have you seen any great new resources released this week let us know in the comments below