8 Starwars themed board games for the Jedi master in your life
With the latest Star Wars movie to hit the cinemas any day now and the huge success of the Mandalorian tv show on Disney+ Star Wars is more popular than ever. 
This long-running franchise has had a huge impact on the tabletop world as well with a host of games being created over the years licensing the iconic franchise. 
With games ranging from full-on RPG style games to simple card games and re themes of classics there are is a huge catalogue of options for those looking for a Star Wars-themed board game to add to there collection. 
However not all these games are created equal and some of there games are more impressive than others (yes I am talking about you Star Wars connect 4). 
Here are my top 8 Star Wars themed board games.
to create this list we kept our game selections limited to the top 20 ranked Star Wars-themed games on board game geek) there are no cantina scraps here just top-quality games these games are also not ranked in the order we recomend them as they are all awesome in there own way so make sure you check them all out. 
About Star Wars: The Card Game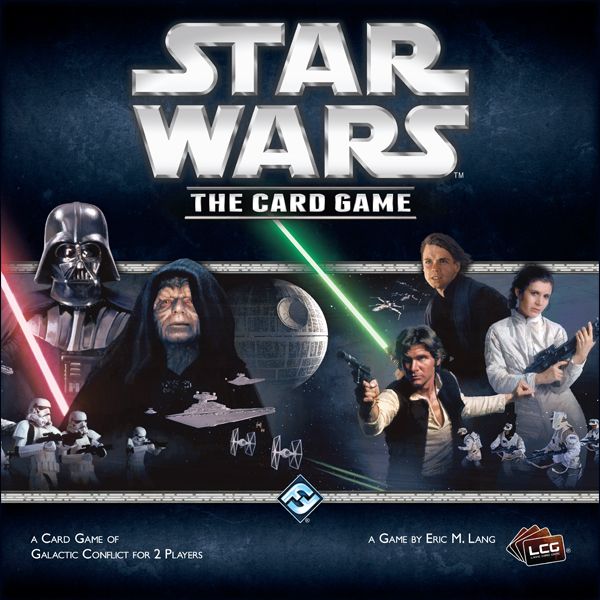 Player Count: 2 – 2 Players
Duration: 60min
It is a dark time for the galaxy. The Galactic Empire has consolidated its dominion through the might of the Imperial Navy. In the underworld of the Empire's most populated planets, and in strongholds throughout the Outer Rim, powerful gangsters rule vast criminal organizations.
From the shadows, those lost to the grip of the dark side of the Force scheme to bring their evil designs to bear on an already oppressed galaxy. Yet not all hope is lost.
The Rebel Alliance resists the iron grip of the Empire. Smugglers and other fringe elements lend their aid to the Rebellion. And unknown to the Emperor and his dark minions of the Sith, the last remnants of the noble Jedi Order work tirelessly to restore peace and order to the galaxy.
Star Wars: The Card Game is a two-player card game that puts one player in command of the Rebels (light side, with the factions Jedi, Rebel Alliance, and Smugglers And Spies), and one player in command of the Empire (dark side, with the factions Sith, Imperial Navy, and Scum And Villainy). The Balance of the Force expansion allows multi-player games. The game is set within the time-frame of the original Star Wars trilogy. Each player has a deck of objective cards representing various missions plus a deck of player cards of units (characters, vehicles, droids and creatures), events, enhancements and fates. Each objective is linked to a set of five player cards. Deck construction consists of choosing which objectives are to go into your objective deck, then adding each of those objective's set of five player cards to your player deck.
Game play consists of deploying cards to your tableau, attacking your opponent's objectives, defending your own objectives, and committing cards to the Force Struggle. The Empire wins if the Death Star dial reaches 12, with this dial increasing by one on each dark side turn, effectively putting a timer on the game. It may also be increased by winning the Force struggle, destroying light side objectives, and via card effects. The Rebels win by destroying three dark side objectives before the Empire wins. 

Game Ranking:7.24464
About this Game Made Possible By Boardgamegeek.com
About Star Wars: Outer Rim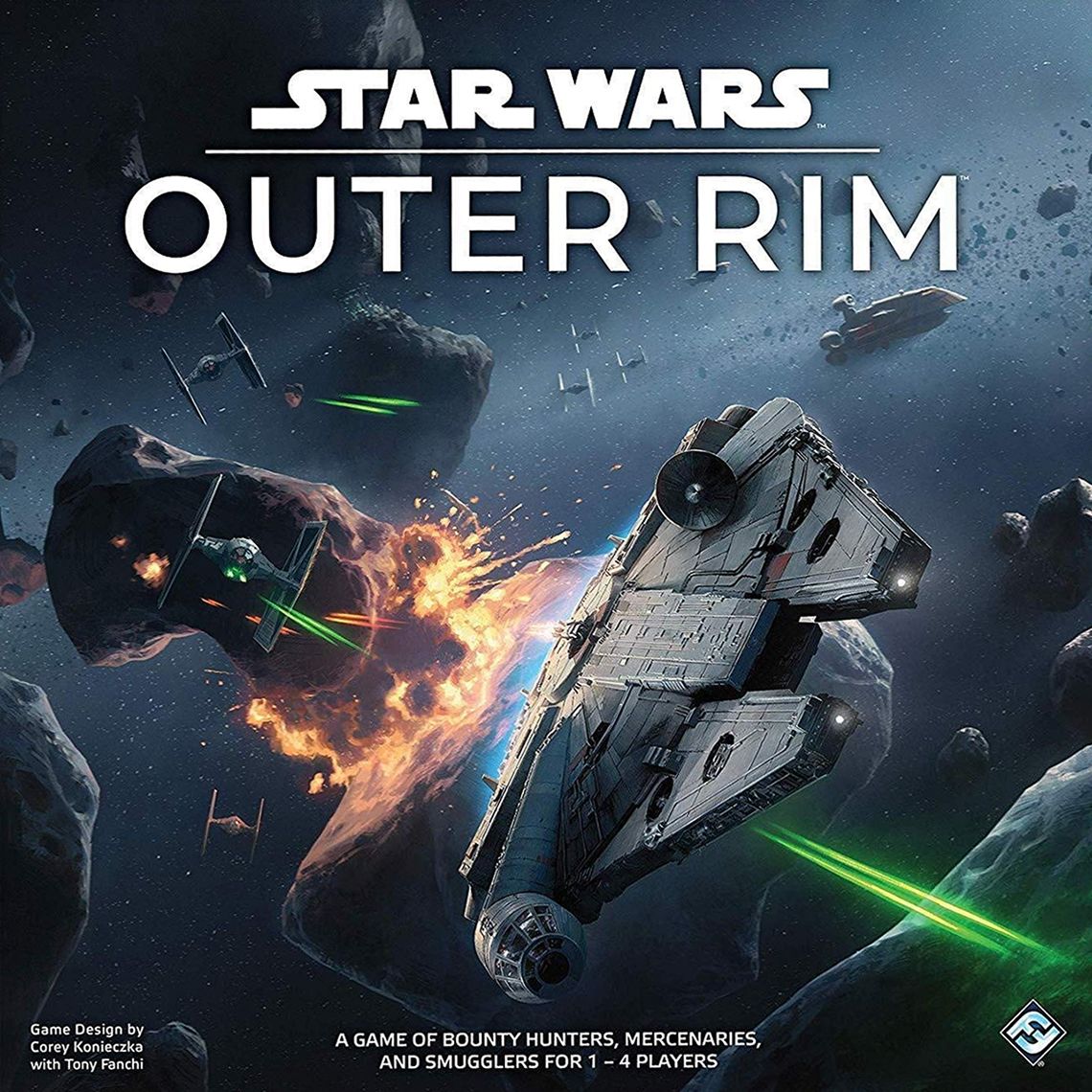 Player Count: 1 – 4 Players
Duration: 180min
Take to the stars and become a living legend in Star Wars: Outer Rim, a game of bounty hunters, mercenaries, and smugglers for 1-4 players! In Outer Rim, you take on the role of an underworld denizen, setting out to make your mark on the galaxy. You'll travel the outer rim in your personal ship, hire legendary Star Wars characters to join your crew, and try to become the most famous (or infamous) outlaw in the galaxy! But it won't be easy since the warring factions of the galaxy roam the outer rim, hunting down the scum that have proven to be a thorn in their side, and other scoundrels looking to make their mark see you as the perfect target to bring down to bolster their own reputation.
Do you have what it takes to survive in the outer rim and become a living legend? In more detail, a game of Outer Rim takes place over a series of turns that sees players taking dangerous jobs, tracking down bounties, upgrading their ship, and more, all in service of gaining more and more fame. Regardless of the path you take to get there, your goal is to gain ten fame, which can come from a variety of sources, such as completing your character's personal goal, collecting on bounties and jobs, delivering illegal cargo, taking down patrols from the various factions struggling over the galaxy, and enjoying the finer things in life by purchasing luxury items with your hard-earned credits.
While the path to victory may be different for scoundrels finding their way in the Outer Rim, everyone starts from the bottom with a simple starship. Your player board not only tracks your fame progress, but also contains slots for your ship, your character card, gear, reputation, modifications, jobs, and bounties. 

Game Ranking:7.79501
About this Game Made Possible By Boardgamegeek.com
About Star Wars: Armada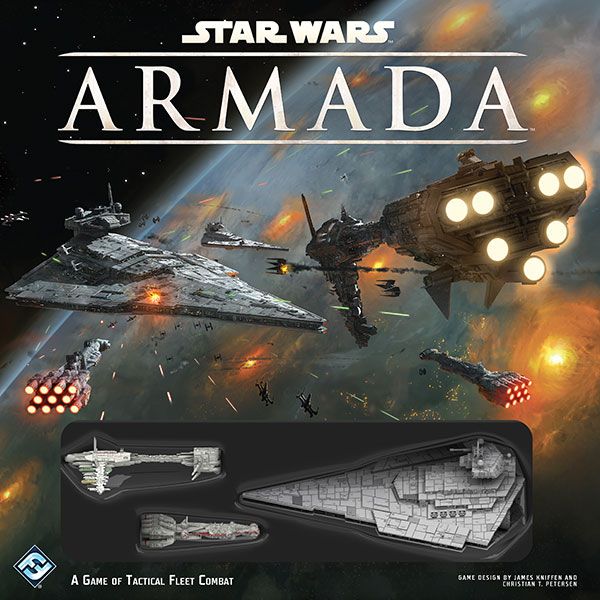 Player Count: 2 – 2 Players
Duration: 120min
Massive Star Destroyers fly to battle against Rebel corvettes and frigates. Banks of turbolasers unleash torrential volleys of fire against squadrons of X-wing and TIEs. Engineering teams race to route additional power to failing shields. Laser blasts and explosions flare across the battlefield. Even a single ship can change the tide of battle.
In Star Wars: Armada, you assume the role of fleet admiral, serving with either the Imperial Navy or Rebel Alliance. You assemble your fleet and engage the enemy. Using the game's unique maneuver tool, you steer your capital ships across the battlefield, even while squadrons of starfighters buzz around them. Then, as these ships exchange fire, it's your job to issue the tactical commands that will decide the course of battle and, perhaps, the fate of the galaxy. Maneuver Tool The maneuver tool is one of the game's most innovative features and adds a unique feel to the way your capital ships must accommodate for inertia as they maneuver through the stars.
It consists of a number of segments linked with hinges, which is used to plot the ship's course. More nimble ships are allowed to turn the ship further at each hinge. Command Stack Armada balances the awesome scale of the Star Wars galaxy's ships and space warfare with intuitive ship designs and accessible rules for issuing commands and resolving combat that make for rich, engaging, and highly tactical play experiences. Capital ships are extremely powerful war machines, but they're also massive and sophisticated vessels that can't swiftly react to every development in the heat of battle. Accordingly, the key to flying these vessels effectively is learning how to plan ahead. You want to issue your commands in such a way that your crews will be ready to execute them at just the right times. Each of your pre-painted capital ships has a command value, which determines how many commands it will have in its stack at any given point in time.
During setup, you secretly build your initial command stack, selecting from any of four different commands, each of which provides a different advantage. Once you have locked your selections, you place the commands in your stack in the order of your choice. Then, during each round of game play, you secretly select and assign a new command to your ship, placing it at the bottom of your command stack, before you reveal the command at the top of your stack and gain its benefits. 

Game Ranking:7.88878
About this Game Made Possible By Boardgamegeek.com
About Star Wars: X-Wing Miniatures Game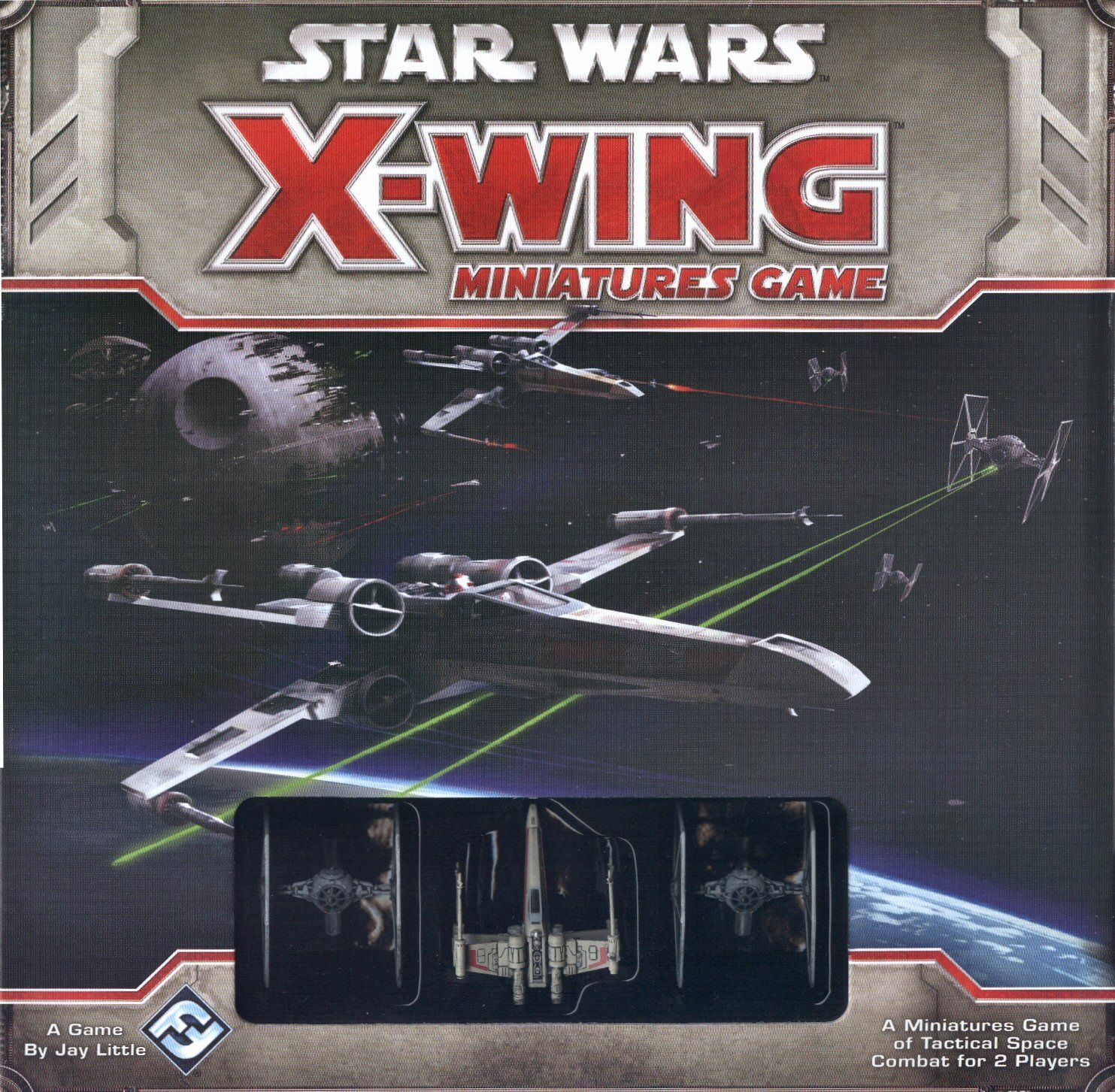 Player Count: 2 – 2 Players
Duration: 45min
Game description from the publisher: Star Wars: X-Wing Miniatures Game is a tactical ship-to-ship combat game in which players take control of powerful Rebel X-wings and nimble Imperial TIE fighters, facing them against each other in fast-paced space combat.
Featuring stunningly detailed and painted miniatures, the X-Wing Miniatures Game recreates exciting Star Wars space combat throughout its several included scenarios. Select your crew, plan your maneuvers, and complete your mission!
Whatever your chosen vessel, the rules of X-Wing facilitate fast and visceral gameplay that puts you in the middle of Star Wars fiercest firefights. Each ship type has its own unique piloting dial, which is used to secretly select a speed and maneuver each turn.
After planning maneuvers, each ship's dial is revealed and executed (starting with the lowest skilled pilot). So whether you rush headlong toward your enemy showering his forward deflectors in laser fire, or dance away from him as you attempt to acquire a targeting lock, you'll be in total control throughout all the tense dogfighting action. Star Wars: X-Wing features (three) unique missions, and each has its own set of victory conditions and special rules; with such a broad selection of missions, only clever and versatile pilots employing a range of tactics will emerge victorious. What's more, no mission will ever play the same way twice, thanks to a range of customization options, varied maneuvers, and possible combat outcomes. Damage, for example, is determined through dice and applied in the form of a shuffled Damage Deck. For some hits your fighter sustains, you'll draw a card that assigns a special handicap.
Was your targeting computer damaged, affecting your ability to acquire a lock on the enemy? Perhaps an ill-timed weapon malfunction will limit your offensive capabilities.
Or worse yet, your pilot could be injured, compromising his ability to focus on the life-and-death struggle in which he is engaged… The Star Wars: X-Wing starter set includes everything you need to begin your battles, such as scenarios, cards, and fully assembled and painted ships. What's more, Star Wars: X-Wing's quick-to-learn ruleset establishes the foundation for a system that can be expanded with your favorite ships and characters from the Star Wars universe. Reimplemented by Star Wars: X-Wing (Second Edition) 

Game Ranking:7.73274
About this Game Made Possible By Boardgamegeek.com
About Star Wars: Rebellion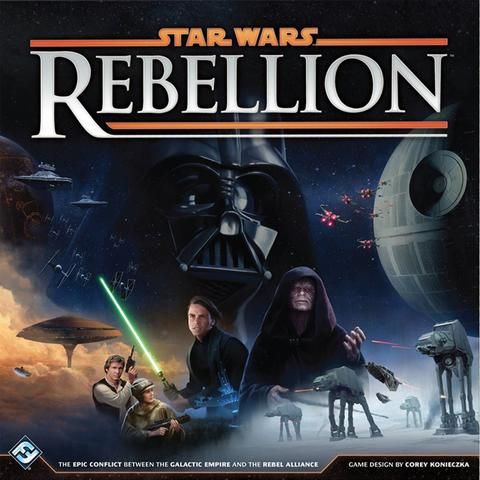 Player Count: 2 – 4 Players
Duration: 240min
From the publisher: Star Wars: Rebellion is a board game of epic conflict between the Galactic Empire and Rebel Alliance for two to four players. Experience the Galactic Civil War like never before. In Rebellion, you control the entire Galactic Empire or the fledgling Rebel Alliance.
You must command starships, account for troop movements, and rally systems to your cause. Given the differences between the Empire and Rebel Alliance, each side has different win conditions, and you'll need to adjust your play style depending on who you represent: As the Imperial player, you can command legions of Stormtroopers, swarms of TIEs, Star Destroyers, and even the Death Star. You rule the galaxy by fear, relying on the power of your massive military to enforce your will. To win the game, you need to snuff out the budding Rebel Alliance by finding its base and obliterating it.
Along the way, you can subjugate worlds or even destroy them. As the Rebel player, you can command dozens of troopers, T-47 airspeeders, Corellian corvettes, and fighter squadrons. However, these forces are no match for the Imperial military. In terms of raw strength, you'll find yourself clearly overmatched from the very outset, so you'll need to rally the planets to join your cause and execute targeted military strikes to sabotage Imperial build yards and steal valuable intelligence. To win the Galactic Civil War, you'll need to sway the galaxy's citizens to your cause.
If you survive long enough and strengthen your reputation, you inspire the galaxy to a full-scale revolt, and you win. Featuring more than 150 plastic miniatures and two game boards that account for thirty-two of the Star Wars galaxy's most notable systems, Rebellion features a scope that is as large and sweeping as any Star Wars game before it. Yet for all its grandiosity, Rebellion remains intensely personal, cinematic, and heroic.
As much as your success depends upon the strength of your starships, vehicles, and troops, it depends upon the individual efforts of such notable characters as Leia Organa, Mon Mothma, Grand Moff Tarkin, and Emperor Palpatine. As civil war spreads throughout the galaxy, these leaders are invaluable to your efforts, and the secret missions they attempt will evoke many of the most inspiring moments from the classic trilogy. You might send Luke Skywalker to receive Jedi training on Dagobah or have Darth Vader spring a trap that freezes Han Solo in carbonite! 

Game Ranking:8.427
About this Game Made Possible By Boardgamegeek.com
About Star Wars: Imperial Assault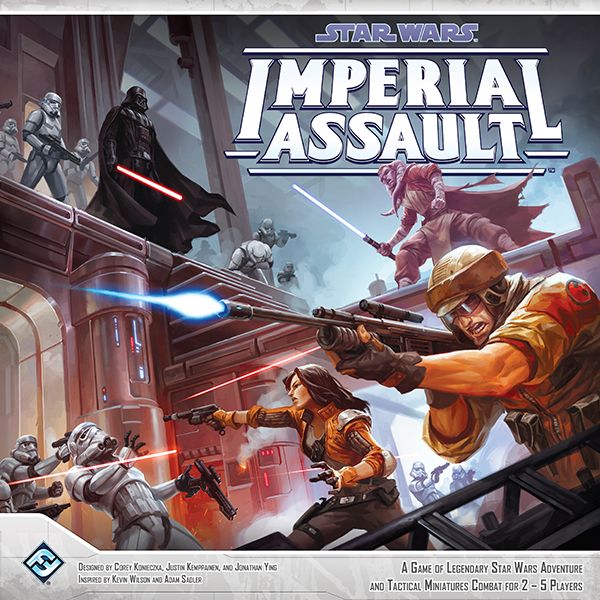 Player Count: 2 – 5 Players
Duration: 120min
Star Wars: Imperial Assault is a strategy board game of tactical combat and missions for two to five players, offering two distinct games of battle and adventure in the Star Wars universe! Imperial Assault puts you in the midst of the Galactic Civil War between the Rebel Alliance and the Galactic Empire after the destruction of the Death Star over Yavin 4.
In this game, you and your friends can participate in two separate games. The campaign game pits the limitless troops and resources of the Galactic Empire against a crack team of elite Rebel operatives as they strive to break the Empire's hold on the galaxy, while the skirmish game invites you and a friend to muster strike teams and battle head-to-head over conflicting objectives. In the campaign game, Imperial Assault invites you to play through a cinematic tale set in the Star Wars universe. One player commands the seemingly limitless armies of the Galactic Empire, threatening to extinguish the flame of the Rebellion forever.
Up to four other players become heroes of the Rebel Alliance, engaging in covert operations to undermine the Empire's schemes. Over the course of the campaign, both the Imperial player and the Rebel heroes gain new experience and skills, allowing characters to evolve as the story unfolds. Imperial Assault offers a different game experience in the skirmish game. In skirmish missions, you and a friend compete in head-to-head, tactical combat. You'll gather your own strike force of Imperials, Rebels, and Mercenaries and build a deck of command cards to gain an unexpected advantage in the heat of battle. Whether you recover lost holocrons or battle to defeat a raiding party, you'll find danger and tactical choices in every skirmish. As an additional benefit, the Luke Skywalker Ally Pack and the Darth Vader Villain Pack are included within the Imperial Assault Core Set.
These figure packs offer sculpted plastic figures alongside additional campaign and skirmish missions that highlight both Luke Skywalker and Darth Vader within Imperial Assault. With these Imperial Assault and other Figure Packs, you'll find even more missions that allow your heroes to fight alongside iconic characters from the Star Wars saga. Boxed expansions add more heroes, imperial and mercenary groups, and totally new campaigns (see IA Community Wiki for a list), and the free Star Wars: Imperial Assault – Legends of the Alliance app provides you with additional content to play in solo or co-op mode. 

Game Ranking:8.05069
About this Game Made Possible By Boardgamegeek.com
About Carcassonne: Star Wars
Player Count: 2 – 5 Players
Duration: 35min
Description from the publisher: Carcassonne: Star Wars combines the exciting adventures of the Star Wars universe with the gameplay of Carcassonne, with the known rules of the game being simplified through clever changes that bring an entirely new feel to the game.
This is similar to Carcassonne but with Roads replaced with Trading Routes and claimed by Merchants instead of Robbers, Cities replaced with Asteroid Fields and claimed by Explorers instead of Knights and Cloisters replaced with Planets and claimed by Conquerers instead of Monks.
There is no farming equivalent. Faction symbols (Empire, Rebel Alliance and Bounty Hunters) provide scoring bonuses regardless of what faction your Meeples belong to. Majority control is determined by dice rolling with the highest result rather than the sum determining the winner, although tiebreaks and defeats still provide some points.
A player receives dice equal to the number of his Meeples involved in the majority control plus an additional one for using his large Meeple and one for any matching Faction symbols but this is always capped at three dice. One notable change is that Planets can be conquered by placing tiles adjacent to the Planet tile where the player now has the options of placing a Meeple on the adjacent Planet tile or on the tile he placed.
There is also a four player team variant where it is the two Empire colours (black/Darth Vader and white/Storm Troopers) versus the two Rebel Alliance colours (red/Luke Skywalker and green/Yoda). Orange/Boba Fett is not used. 

Game Ranking:6.75019
About Star Wars: Destiny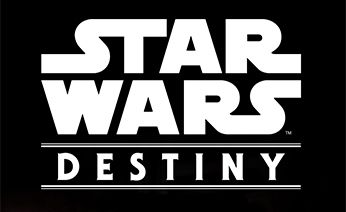 Player Count: 2 – 2 Players
Duration: 30min
GAME SYSTEM This entry is to allow for discussion/rating of the game system as a whole. It is not for a specific product or release. Versions will appear on the individual item pages.
Star Wars: Destiny is a collectible dice and card game of battles between iconic heroes and villains that encompasses characters, locations, and themes from the entire Star Wars saga. In Star Wars: Destiny, two players engage in a fast-paced duel, each striving to eliminate the other's characters first. The game's innovative mechanisms combine dice-driven combat with faction-driven hand management.
Straightforward rules make the game easy to learn, but also enable deep strategic thinking and clever deck-building. Players can create decks that include characters from every faction and any era, as long as heroes and villains are on opposite sides of the fight. For example, Padmé Amidala might fight alongside Rey and Finn, taking on Jabba the Hutt, Kylo Ren, and Jango Fett.
Each round, you use your characters' abilities, an assortment of dice, and a carefully constructed thirty-card deck filled with events, upgrades, and supports. You and your opponent alternate actions: activating your dice, playing cards from your hand, attacking your foes, and claiming the battlefield. You need to prove your skills and defeat your opponent's characters to claim your destiny! At launch in November 2016, Star Wars: Destiny consists of two starter sets — Rey and Kylo Ren, each with nine dice and 24 cards — and the Awakenings booster packs, each containing one die and five cards. —description from the publisher 

Game Ranking:7.63795