Where to find Free Escape Room Games
There is nothing else like an escape room, from the thrill of trying to solve the puzzle and escape before the time runs out. To the social experience of playing with your friends.
However, this experience is not cheap and most people won't be able to do it on a regular basis but don't worry, we, have put together a list of escape games that are free to play your next boardgame night and bring that escape experience into your living room.
There are Games Like Unlock and the escape team that have print and play versions of there games available these are a great way to find free escape rooms that everybody will enjoy.
The boardgame industry has found a great alternative to the modern escape room, these escape games in a box are portable cheap and can be played in the comfort in your living room.
Although nothing really beats the fun of getting locked in a room with your closest friends as you attempt to escape these boardgame alternatives provide an experience of there own. There are Games Like Unlock and the escape team that have print and play versions of there games available these are a great way to find free escape rooms that everybody will enjoy on a budget.
Unlock Games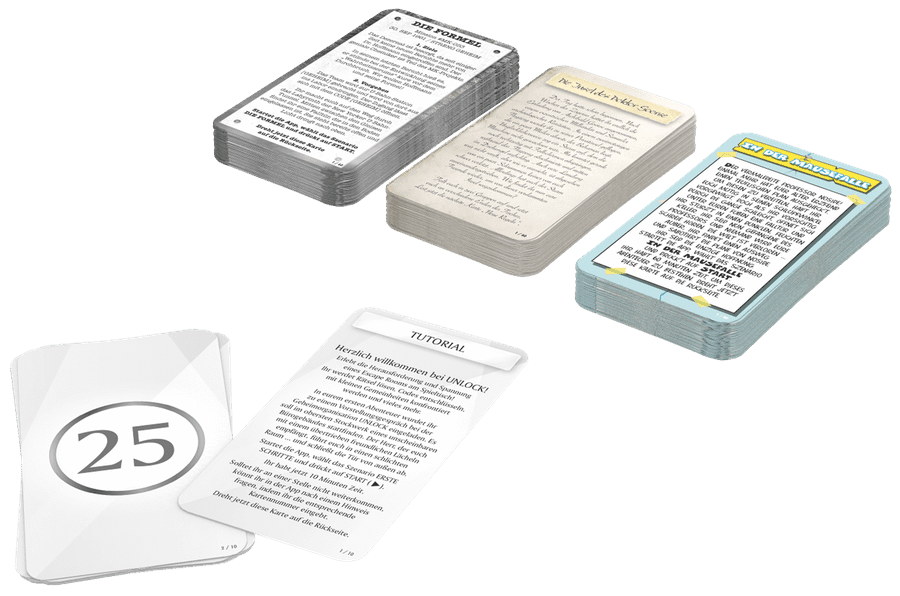 Unlock! is a cooperative card game inspired by escape rooms that use a simple system of cards which allows players to search scenes, combine objects, and solve riddles. Providing players with a unique experience that feels remarkably similar to a physical escape room. When players play Unlock! they get to embark on great adventures, while seated at in the comfort of there own home using only cards and an easy to use companion app available on both IOS and Android devices that can provide clues, check codes and monitor the time remaining before the game ends. This gives players the same time pressures they would experience in a physical escape room.
The game is suitable for 1 – 6 Players as recommended on the box in the past we have tried adding more players to a campaign with one playthrough we even had 12 people playing however the experience like a physical escape room is better following this recommended player count. We found that adding all these additional players just becomes too crowded as people debate over what to do next or try to share as they observe the cards looking for hidden clues.
The Unlock series of games are some of our favourite escape room's in boardgame format we even wrote a whole post decided to the series that you can read here Escape Rooms You Can Play Without Leaving The House with new games being added to the series on an ongoing basis they can be a cheap way to have that ongoing escape room experience and are well worth the investment.
However, I can hear you say but this post promised us free print and play games. Don't worry we did not forget Unlock has a bunch of demos that you can download and play for free. These are full adventures that will help you get a sense of what the series is about and are a great way to spend your Friday night if you really enjoy them I would suggest the investment in a full game to take it to the next level as the free campaigns are quite short in comparison.
Check out the Free Print and Play Versions of Unlock Here.
Escape Team Games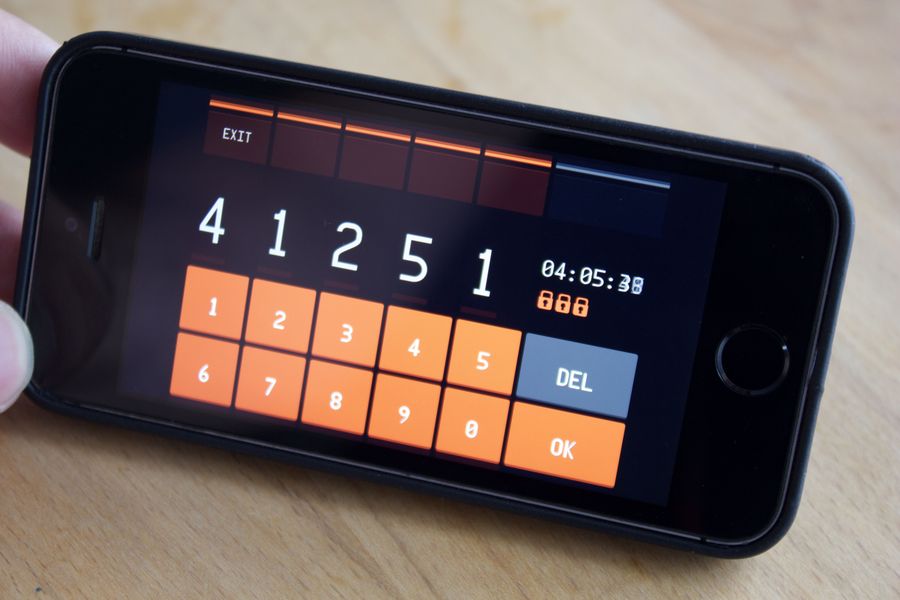 If you are looking for something a little different to the Unlock! Games the team at Escape Team have created a unique experience that may be for you Escape Team is a print&play, interactive pen&paper escape game. With a Free Companion App and a community of gamers that are creating there own custom games using the format.
To play an escape team game players before playing, print out a PDF document for their mission. This PDF document contains the goals for the missions' these are puzzles, which require folding, cutting, drawing and glueing.
The Escape Team app is available for android and IOS devices and provides an audio narrative, background music and a countdown that really adds to the whole experience. Also, it serves as the game master, checking the puzzles' solutions through a PIN pad.
Most of these games are available for free with a few of them costing $1 as in-app purchases however the $1 price point for one of these campaigns will hardly break the bank.
These games feel a lot more like a timed puzzle than a physical escape room and have less of the hidden object elements that the Unlock! games thrive on making them fall more into that puzzle genre but they are a cheap alternative to the physical version and really do provide a great group experience that will have you coming back for more.
Check out this link to Read More About The Escape Team Games or download your first campaign.
What if I have some Cash?
There are heaps of options however if you have a bit of cash you would like to spend. These can range from a few dollars to hundreds of dollars each providing different experiences.
This might be a good option depending on your group if everybody is willing to throw in a fiver for a fun night or you a running an event and have a donation on entry this may be a good option with a kit that you can potentially reuse another time (depending on the Kit you buy).
Option 1 – lock paper scissors Kit
These kits retail around $30USD and are simple DIY style games that you could reuse on another event
Option 2 – Exit Board Games
These are a lot like the Unlock! Games without a print and play option, they are a lot less cartoonish and are best suited to an older audience 16+ but will probably provide a better challenge if your super genius team did find a challenge with the Unlock! Games.
They do require writing on the components so may not be as reusable as Unlock!
Option 3 – Leave the House
You can always leave the house a go to a physical escape room I know it's not cheap but its a lot of fun here is another suggestion
Why not do everything?