Board Game Bargain – Sheriff of Nottingham
Are you looking for some cheap games on a budget well we have you covered with some great games that all cost under $40 USD this months game Sheriff of Nottingham may be the game for you?
Sheriff of Nottingham
Cost $35USD
Game Details:
Players: 3–5
Playing Time: 45 Min
Age: 14+
Prince John is coming to Nottingham! Players, in the role of merchants, see this as an opportunity to make quick profits by selling goods in the bustling city during the Prince's visit. However, players must first get their goods through the city gate, which is under the watch of the Sheriff of Nottingham. Should you play it safe with legal goods and make a profit, or risk it all by sneaking in illicit goods? Be mindful, though, as the Sheriff always has his eyes out for liars and tricksters and if he catches one, he very well may confiscate those goods for himself!
In Sheriff of Nottingham, players will not only be able to experience Nottingham as a merchant of the city, but each turn one player will step into the shoes of the Sheriff himself. Players declare goods they wish to bring into the city, goods that are secretly stored in their burlap sack. The Sheriff must then determine who gets into the city with their goods, who gets inspected, and who may have their goods confiscated!
Do you have what it takes to be seen as an honest merchant? Will you make a deal with the Sheriff to let you in? Or will you persuade the Sheriff to target another player while you quietly slip by the gate? Declare your goods, negotiate deals, and be on the lookout for the Sheriff of Nottingham!
Sheriff of Nottingham is the first game in the Dice Tower Essentials Line from Arcane Wonders.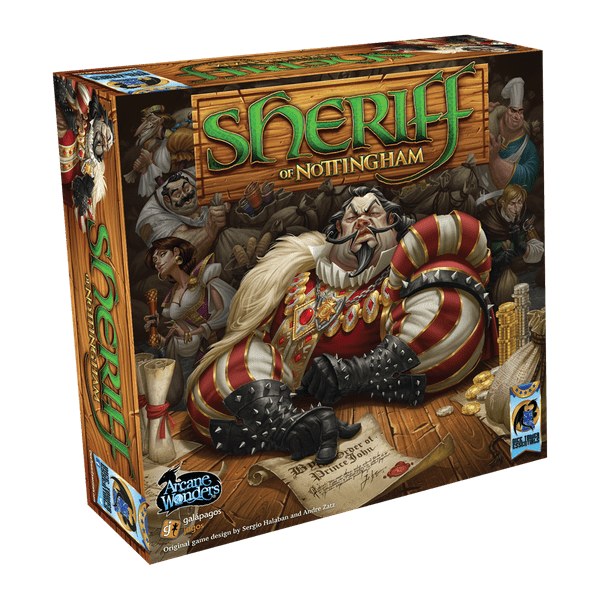 What's not to love about a game based on bribing, pleading, and lying to the faces of your fellow players? In Sheriff of Nottingham, you and up to four others play as merchants trying to get through Nottingham's city gate. They declare goods (in the form of cards in snap-fastened pouches) and occasionally try to sneak invaluable contraband. Each round, one player takes on the role of the sheriff, opening merchants' pouches if he suspects smuggling—but paying a high price if he guesses wrong. Sheriff of Nottingham is easily the best bluffing game to debut this year and highly recommended if you're secretly a dirty, stinking liar.
This game is sure to be a blast with your friends and at such a cheap price point there is no reason to add it to your collection
Where to Buy: Where Board Games are Sold