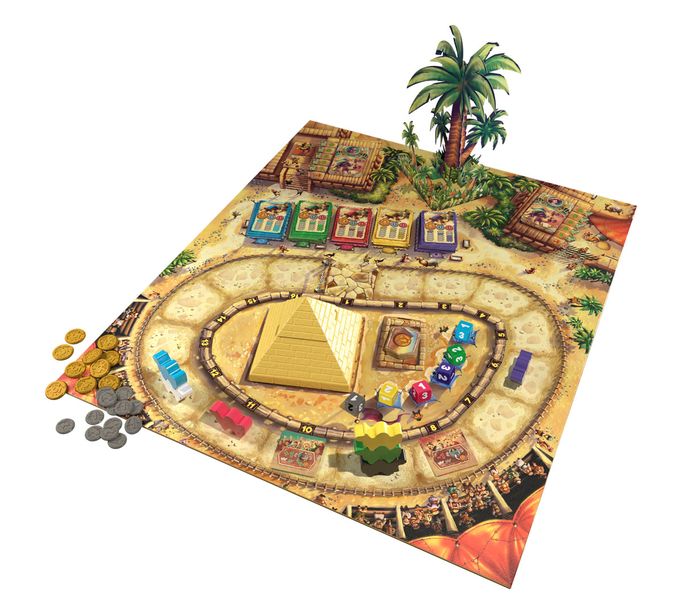 Camel Up
Players: 3 – 8
Playtime: 30–45 Min
Ages: 8 +
Camel Up is Family Friendly betting game designed by Steffen Bogen which was first released in 2014. This game was released with a second edition in 2018 with some fantastic changes that have taken the game to a new level.
Camel Up is a great game to play with a large group of people due to the high player count. It is very simple to teach and will be a hit with your social group or family.
In Camel Up, up to eight players bet on five racing camels, trying to suss out which ones will place first and second in a quick race around a pyramid. The earlier you place your bet, the more you can win — should you guess correctly, of course. Camels don't run neatly, however, sometimes landing on top of another one and being carried toward the finish line. Who's going to run when? That all depends on how the dice come out of the pyramid dice shaker, which releases one die at a time when players pause from their bets long enough to see who's actually moving!
This 2018 edition of Camel Up features new artwork, a new game board design, a new pyramid design, engraved dice, and new game modes, including crazy rogue camels that start the race running in the opposite direction! You never know how a race will end!
Camel Up is a great game with easy to understand rules and this has been only enhanced with the latest updates in the 2018 version. This game is best when played with 4  players, this is an absolute must for your next games night.
Do yourself a favour and grab a copy of this fantastic game now.
Rating: 8/10
Pros:
Good quality components
Super quick setup and easy to teach
Great social Game with a large player count
Cons:
Card sleeves should be purchased due to the excessive manhandling of all the cards these components may wear out quickly.