Board Game Bargain – Hardback
Are you looking for some cheap games on a budget well we have you covered with some great games that all cost under $40 USD this months game Hardback may be the game for you?
Hardback
Cost $39USD
Game Details:
Players: 1–5
Playing Time: 90 Min
Age: 10+
Hardback is a deck-building word game, a prequel to Paperback. As an aspiring 19th-century novelist, you work to pen your next masterpiece, earning prestige along the way. Specialize your deck in certain genres to exploit card combinations, and press your luck to draw extra cards — but make sure you can still string a word together!
Players build a deck of letters with various powers and race to 60 fame points to win. Some of the features:
No wilds in your deck – any card can be wild.
Push your luck for more cards with the Ink system.
Match genre colors to gain bonus abilities on your cards.
Fight over the coveted Endorsement cards.
New Persistent cards stay in play, until someone uses them!
In addition to the competitive race mode for 2-5 players, the base game includes several variant rules, including Literary Awards, Adverts, Player Powers, and Events; and a co-op mode for 1-4 players, in which players join forces against one of four simulated opponents, each of which is proficient in a different deck genre.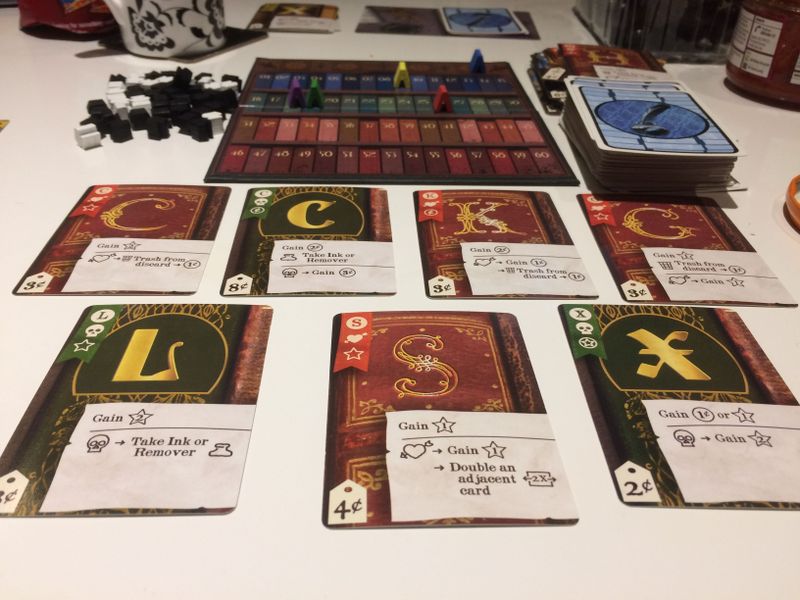 Like Boggle meets Dominion, this exceptional deck-building word game is the mash-up I didn't know I needed. Up to five players take turns drawing hands of five cards—each card featuring a single letter and a reward—to spell a single word. You then cash in the reward for each card you used to buy more cards, gain victory points, or collect other bonuses.
If you're struggling with your hand (lets say, thanks to previous ill-advised purchases, you're dealt W, S, Q, X, and A), you can forgo a card's reward by flipping it over to create a wild. So you can spell squaw as SQ[X]AW or waxes as WAX[Q]S.
Although each player starts with eight of ten matching cards, your personal deck will rapidly evolve based on your purchases. Matching the game's exquisite 19th-century art and theme, cards in the marketplace also come in one of four different genres: adventure, horror, mystery, and romance. 
These card's genres can give you various special benefits when used alone or in pairs: like doubling a neighbouring card's value or giving you items that allow you to draw more cards for longer words. Charming, challenging, and endlessly repayable, for any word-game fan Hardback is a must have.
This game is sure to be a blast with your friends and at such a cheap price point there is no reason to add it to your collection
Where to Buy: Where Board Games are Sold